After a such long and cold winter, the citizens Daggerford are eager to celebrate the
Festival of Fools
: a day of feasting, drinking, and general foolishness. People don brightly-colored and garish clothing, dancing in the street like court jesters and competing with one another to see who can pull off the most foolish (yet harmless) pranks.
During the festivities a concerned villager approaches the party and asks for help. She says that her husband's prank is to try and taunt a frost giant...
Festival of Fools is our ninth limited-time event for Idle Champions, which starts today, lasts until Tuesday, April 10th at noon PDT, and introduces Strix, the Tiefling Sorcerer!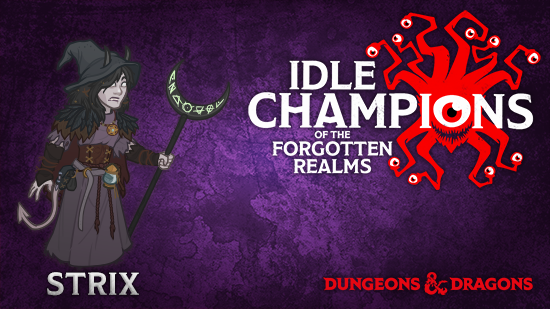 New Champion: Strix
The Sorcerer known as Strix is from Sigil, the City of Doors at the center of the multiverse. Very little is known of Strix's heritage, even to herself, but it was recently discovered that she was a powerful member of the Skizzicks family, who long ago made a pact with Asmodeus, ruler of the Nine Hells, to become Tieflings.
Strix is careful, suspicious, and paranoid. She assumes the worst in everyone and is always ready to run away or hide. She lacks basic manners and maintains poor personal hygiene, exemplified by the collection of filthy oddities she hoards within her robes, including snacks which she refers to as "snicketty snooks."
As a child, Strix witnessed a shadowy creature slaughter her friends at the bakery where she worked, but was spared for unknown reasons. Her survivor's guilt drives her to try and help those in need, no matter the personal cost.
When you want to add Strix to your party, you can swap her with Jamilah.

Festival of Fools Variants
Foolish Variance — Champions randomly do between 0.1% and 199.9% of their actual damage with each hit.


Persistent Foolishness — The Drunken Fool appears randomly in non-boss areas. Only one can be spawned at a time, but he has special abilities each time he appears.


Like Father Like Son — The farmer's son takes up a slot in the formation. He moves to a new slot every 25 areas. Every 15 seconds (in non-boss areas) the farmer's son foolishly summons a Frost Giant to attack the formation unless Strix is adjacent to him.

Features:
Added the Festival of Fools event, our ninth limited-time campaign event! The event will run until Tuesday, April 10th at noon PDT.
Added a new Champion: Strix.
Added a new event Divine Favor: Lliira's Favor.
See the in-game FAQ for more information!