A modron sighting is a rare occurrence outside Mechanus, the plane of true law.
At least, it's
supposed
to be a rare occurrence -- word has it that thousands of modrons have been seen on the march in the wilderness, and they are heading towards Waterdeep!
The Great Modron March 5
introduces
Nordom
a rogue modron separated from his fellow modrons, and brings back
Mehen
, Dragonborn Fighter and adoptive father of Farideh and Havilar of Brimstone Angels, and
Jaheira
, the renowned half-elf druid from Baldur's Gate. Players have until Monday, May 31st at 12PM Pacific to complete their Great Modron March 5 unlocks and objectives.
I. New Champion: Nordom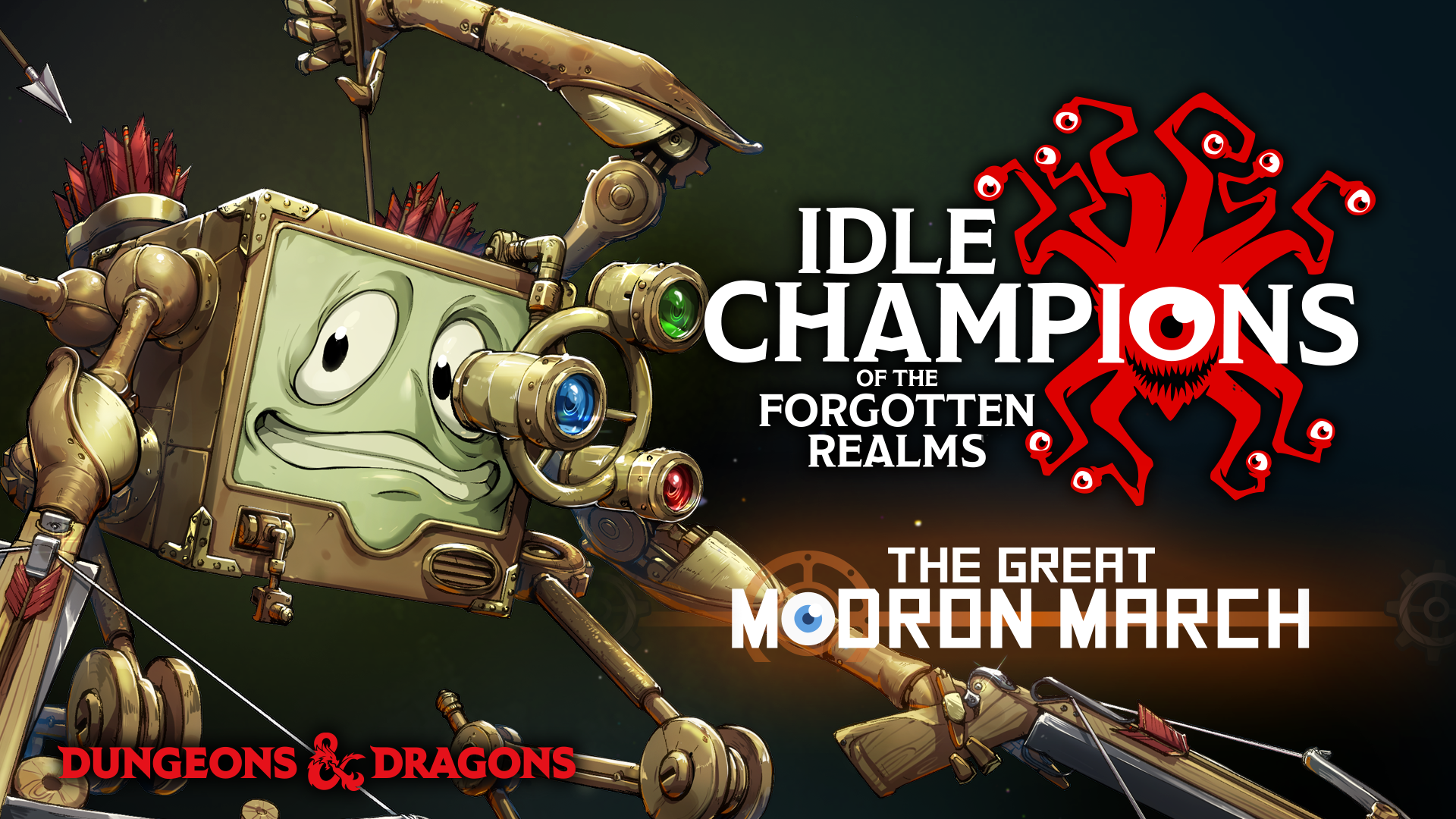 Modrons are the embodiment of law and order, marching in lockstep through the planes. But when Nordom Whistlklik was separated from his fellow modrons, the essence of chaos infected this rogue quadrone. Now with his crossbow-shaped gear spirits in hand, he works to fit his complex new outlook into his logical, if quirky, understanding of the planes.
Nordom is a Support Champion who adopted his new designation when he was called a "backward modron", and now takes on his new role in the formation with all the processing power he can muster. Find out all the details about Nordom in his
Champion Spotlight
!
New Party & New Modron Core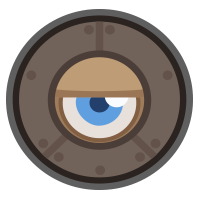 The Great Modron March was the perfect time for some upgrades to Modron Automation. Starting May 18th, if you have at least 4 Champions in each bench slot, you can play
Split The Party 3
from your Adventuring Parties screen! Completing this challenging new adventure variant will unlock a 4th adventuring party, as well as a 4th Core: the Magic Core, which is focused on increasing the damage of Champions who use magic.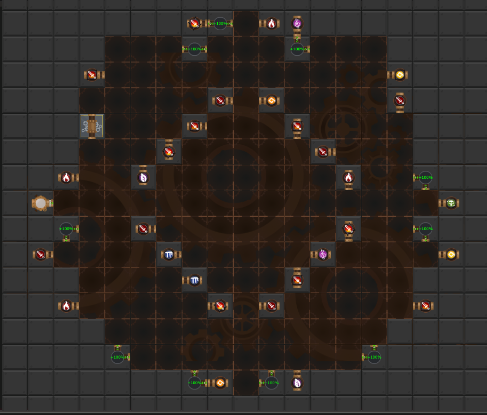 Modron Supercharge System
Additionally, starting today in every Modron Core, any outputs that increase Champion damage can be SUPERCHARGED! Supercharging starts to kick in when at least 500 power is being delivered to an output. Every time the power doubles after that point, the effect of that output is increased 25%, stacking additively and then applying multiplicatively, with a cap of 20 stacks. Set up your core cleverly, and you can
significantly
boost your DPS to help complete those difficult objectives!
New DLC and a More Chests Sale!
Today's launch also includes 4 DLC SKUs: 3 new Skin & Feat packs (Celeste, Spurt, and Penelope) as well as a Theme Pack for Nordom! We're also kicking off a More Chests Sale for the rest of the week. Until Monday, May 23rd at Noon Pacific, get more Gold Chests, Event Chests, or Modron Chests when you pick up most Chest Packs! Check the in game store for more details!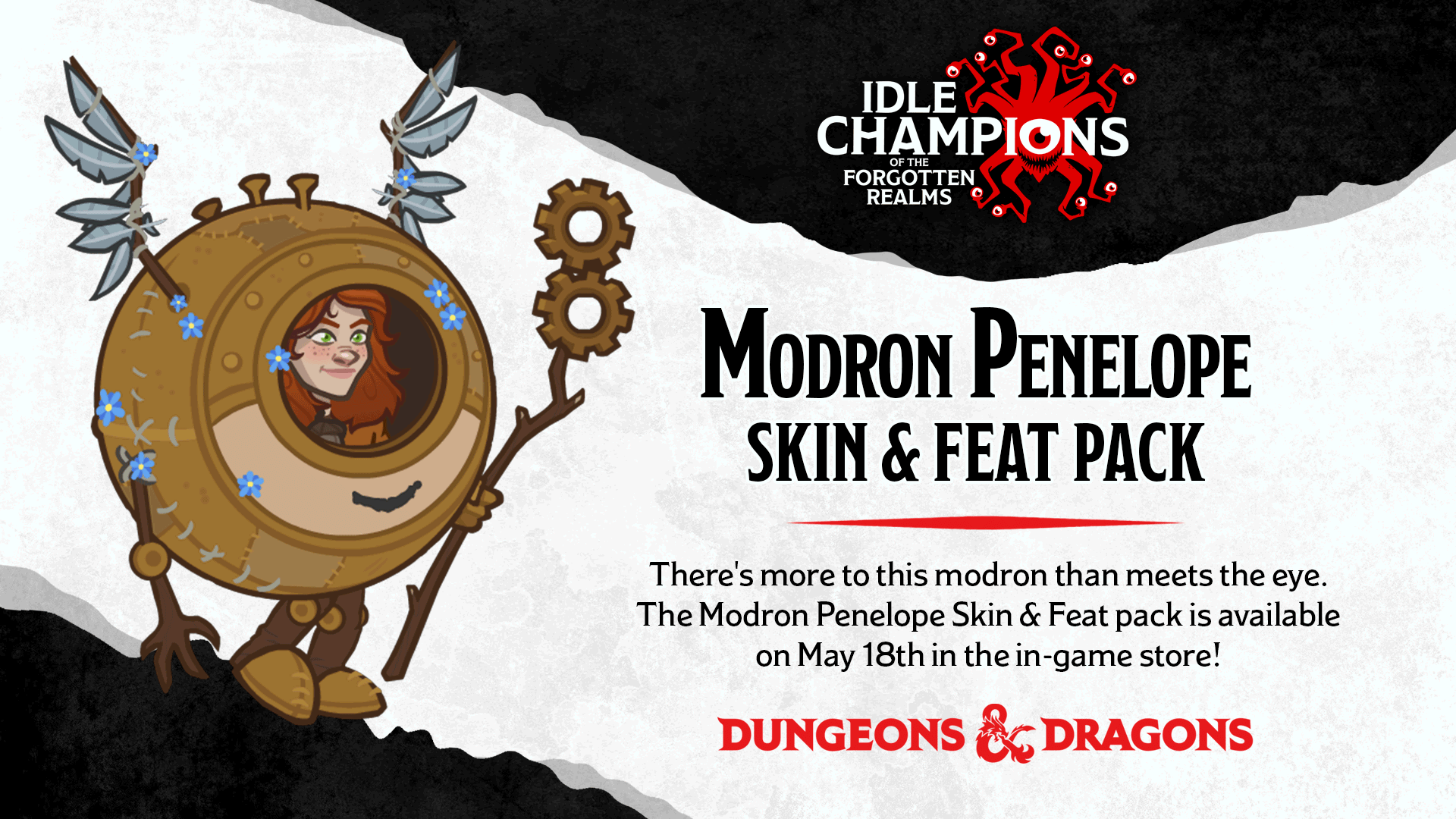 Year Five Variants

Rogue Modron Hunting — Nodrom is being hunted by Duodrones and Pentadrones from the March! They drop no gold, nor do they count towards quest progress. But Nodrom is ready to defend himself, starting in the formation right away!
A Lawful Lot of Champions — Nodrom takes his place in the formation right away, and insists that Chaotic Champions can't join. Only the Lawful ones can do any damage!
Core Strength — The only way through these modrons is to push through with all speed! Fortunately Nodrom will make sure the formation is filled with the strong and the quick!