It's the day before
Shieldmeet
and the Open Lord of Waterdeep has gone missing. Nobody has seen Laeral Silverhand in days, and it is imperative that she be found before the meeting with the Masked Lords begins.
At the behest of the Blackstaff, the Champions are sent to discover what happened...
Midsummer 5
introduces
Valentine
, the Reborn Half-Elf Sorcerer from The Black Dice Society, and brings back
Ellywick Tumblestrum
, the Gnome Planeswalker and Greatest Bard in the Multiverse, and
Beadle & Grimm
, the purveyors of the
Pandemonium Warehouse
and owners of the Giant's Bane Tavern. Players have until Monday, August 1st at 12PM PDT to complete their event unlocks and objectives.
I. New Champion: Valentine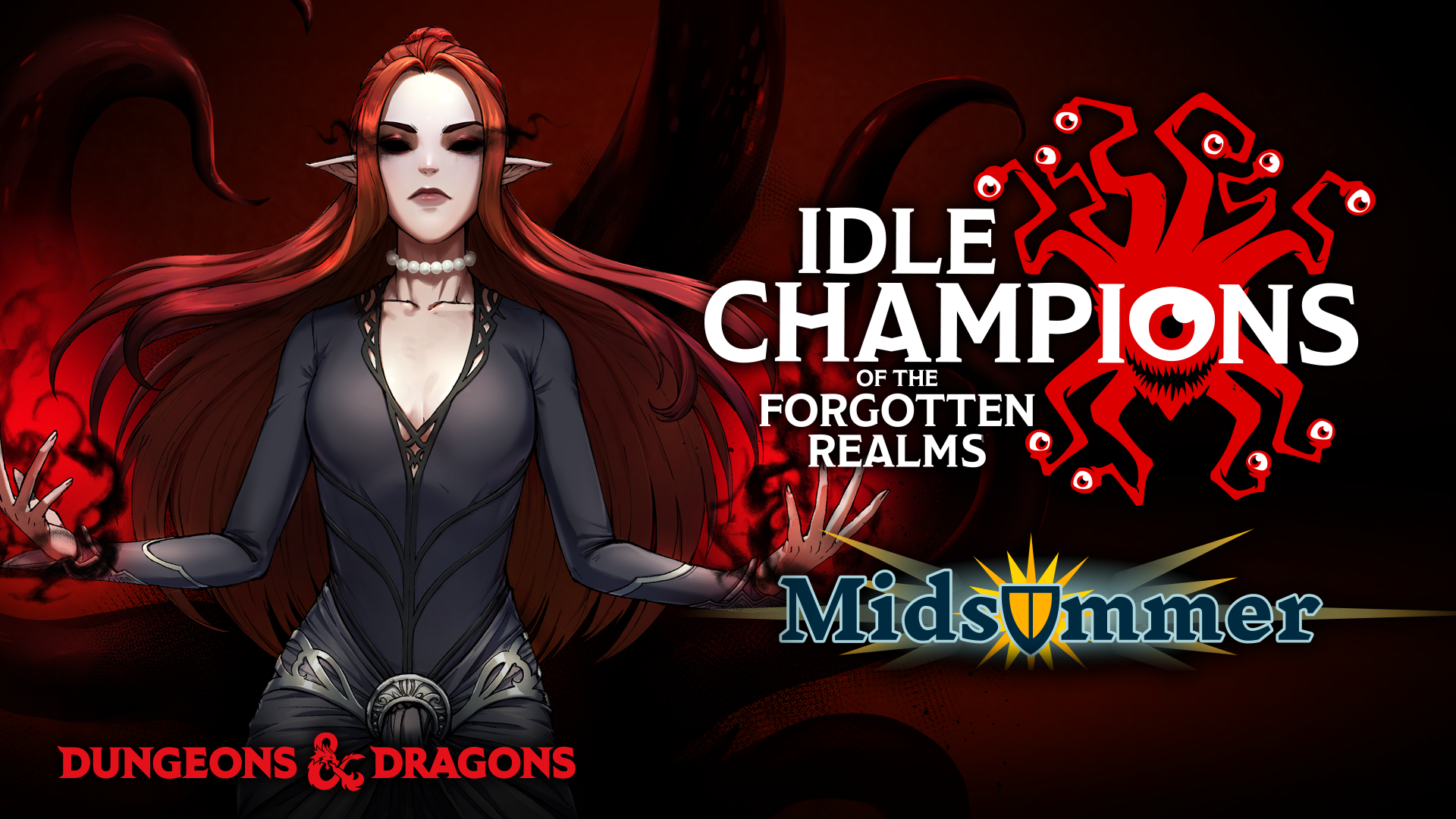 Valentine was once a social butterfly, nightlife connoisseur, and princess of a shady family business until her life ended in sudden tragedy. Through the mysterious will of Bluetspur, Valentine was given a second chance at life, though no miracle comes without consequence. Now she wanders the domains of dread with her companion Tatyana, in search of purpose and power.
Valentine is a Support and Gold Find Champion who takes hold of any incoming positional formation abilities, and uses her telepathic powers to broadcast and boost them, making those abilities more deadly! When you want to add her to your formation, you can swap her with Calliope in slot 5.
For more information on Valentine and all of her mental powers, check out her
Champion Spotlight
!

Year Five Variants
Tregrum's Day Out - Search for the absent Open Lord of Waterdeep with Tregrum, a perfectly normal black cat. Champions might be a bit distracted by this absolutely normal cat.
Stunning Teamwork - Valentine joins the search for the missing Open Lord of Waterdeep, helping keep monsters stunned so the Champions can push forward!


Monsters take 99% less damage when they are not stunned, but stun effects last twice as long.
Complete Area 125.
Positional Play Valentine insists on being the center of attention while the search for the absent Open of Lord Waterdeep continues!


Non-positional formation abilities, other than Valentine's abilities, are disabled.
Complete Area 175.
See in-game for more information!