Today, we're going to go into early detail on our newest Champion: Nerys Kathon, the Human Cleric of Kelemvor and the latest addition to the Heroes of Baldur's Gate!
Nerys will be available in our next Year Two Event, Wintershield, which launches on Wednesday, December 26th. I hope this blog will give you all you need to know about our latest champion. But don't forget that Wintershield is also a chance to collect and gear up Barowin Undurr, the Dwarf Cleric from last year's Wintershield extravaganza!
How you can unlock Nerys:
Nerys is unlocked by playing Wintershield, a limited-time event launching on December 26th at noon Pacific and running until January 7th at noon Pacific. Once you unlock Nerys, she swaps with Arkhan, Zorbu, and Azaka (Slot 12)
Who is Nerys:
Nerys Kathon joined the Heroes of Baldur's Gate on a mission to protect her church, but was soon pulled into a harrowing journey to Barovia and beyond. As a cleric of Kelemvor, she grew up in service to the dying and the dead and developed a cold detachment to anything outside of duties to her faith. Beneath that frosty exterior is a loyal and caring adventurer, but it's a side she rarely shows to anyone outside her closest friends.
Nerys is a member of the Heroes of Baldur's Gate. A group of adventures known well throughout Baldur's Gate and the Sword Coast. Other members include Minsc (and Boo!), Delina, Krydle, and Shandie. Minsc & Delina are already in-game, and Krydle and Shandie may join them sometime in 2019...
The Heroes of Baldur's Gate have been featured in the IDW comic series' written by
Jim Zub
titled
Legends of Baldur's Gate
,
Shadows of the Vampire
,
Frost Giant's Fury
, and the most recent,
Evil at Baldur's Gate
which featured a variant cover on the back of issue 5 drawn by our very own
Adam Kosh!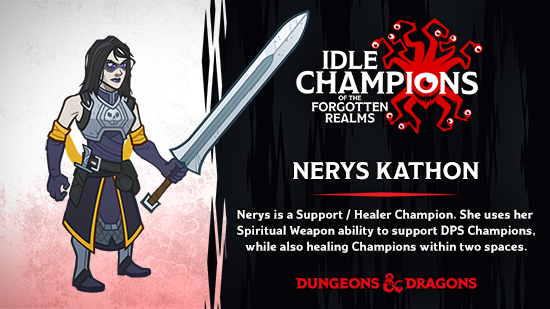 Nerys's Design:
Nerys was created by
Jim Zub
and
Max Dunbar
for the
Shadows of the Vampire
comic series and she's not your typical cleric. To quote Jim: "As a cleric of Kelemvor she sees to the dying and the dead and regards most pain with a sense of cold detachment even as she heals others and helps them deal with their own suffering." Nerys is a devout follower of Kelemvor, known as the God of the Dead. She firmly stands by the idea that death comes to all, and those that die should move on. Because of that belief, she is strongly against the concept of undead.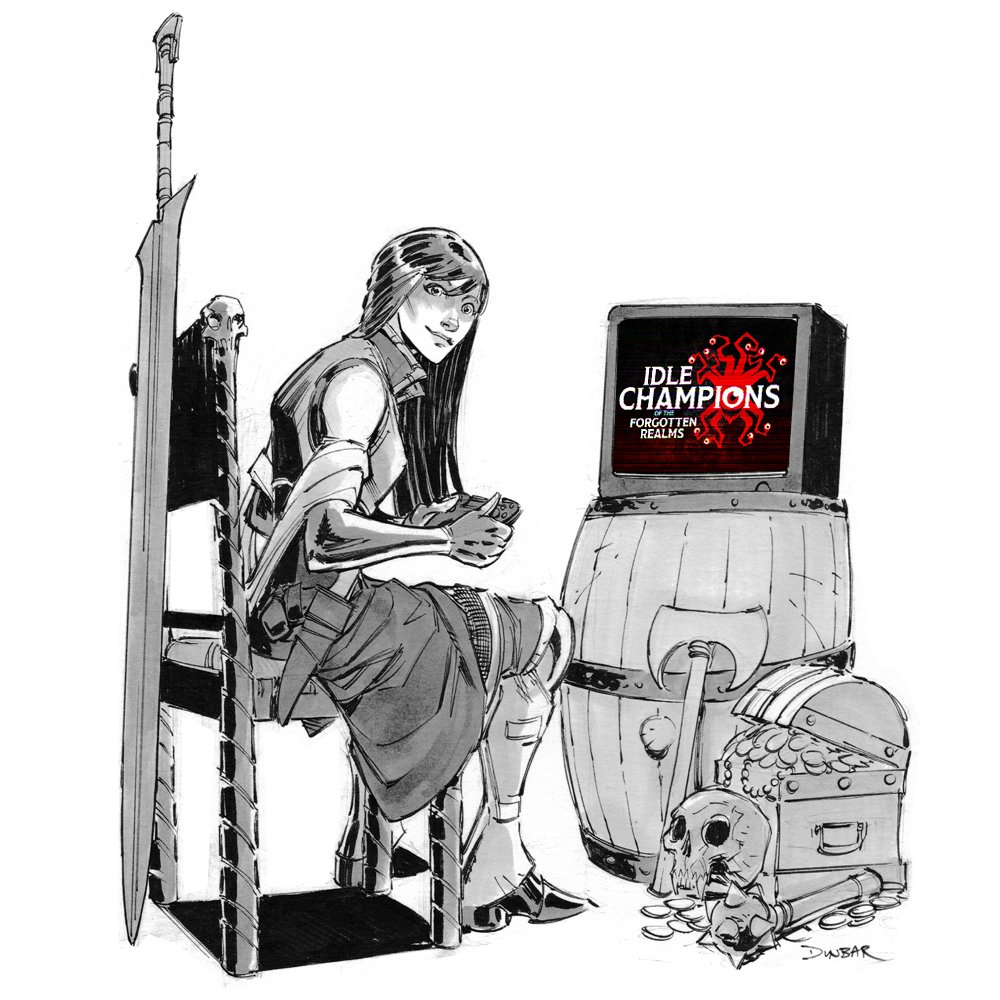 Max Dunbar created a Nerys image for twitter that coincided with our launch on consoles!
We chatted with Jim Zub about what makes Nerys tick and how best we could integrate her with the champions. In the end, we landed on a late-game healer who focuses on helping the team kill enemies and stay alive until it is their time to meet their maker.
Base Attack - Dash and Slash:
Nerys cleaves all targets near the closest enemy.
Formation Ability: Spiritual Weapon:
Nerys' first formation ability unlocks her companion, a spiritual weapon. The spiritual weapon takes the form of her greatsword and attacks with her, doing a high percentage of her damage.
Formation Ability: War Healing:
Nerys' next formation ability unlocks her healing capabilities. As death comes to all, so too does it come to baddies. Whenever an enemy is killed, Nerys heals the most damaged Champion within 2 slots of her.
Formation Ability: Unholy:
Nerys' next formation ability focuses on the type of enemies Nerys abhors: Undead. She increases the damage all champions do to undead monsters. She'll be a great addition to any Tomb of Annihilation adventure!
Formation Ability: Follow My Friend:
Nerys' final formation ability breaks the mold of spiritual weapon a bit, but it works with the spirit of her character. Her
Spiritual Weapon
now follows the Champion with the highest DPS, doing a portion of THEIR damage instead of Nerys'! Once you unlock this upgrade, having Nerys in your party will be a huge DPS boost in addtion to having her added healing capabilities. Speaking of those:
Nerys' Specializations:
Nerys's specializations are all about deciding whether the party needs her to focus on healing or damage.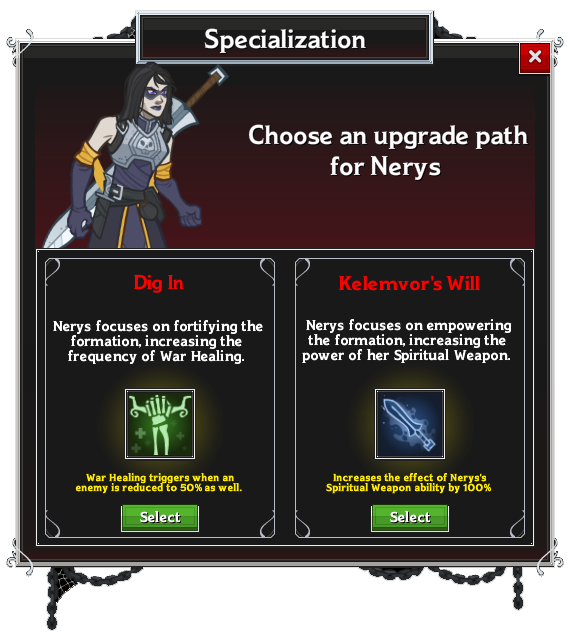 If you choose Dig In, Nerys will heal an additional time. Once when an enemy is reduced to 50%, AND again when it's killed! If you choose Kelemvor's Will, she increases the effect of her
Spiritual Weapon
, including when it's basing it's damage off of another Champions' DPS.
Nerys' Ultimate Attack: Tip the Scales
For Nerys' ultimate, we wanted to come up with something really fun. She jumps into the fray, unleashing a halo of divine energy. It hits all enemies and both decreases the damage of those enemies AND increases the damage the party does against all enemies (including newly spawned ones) for 30 seconds.
Nerys' Equipment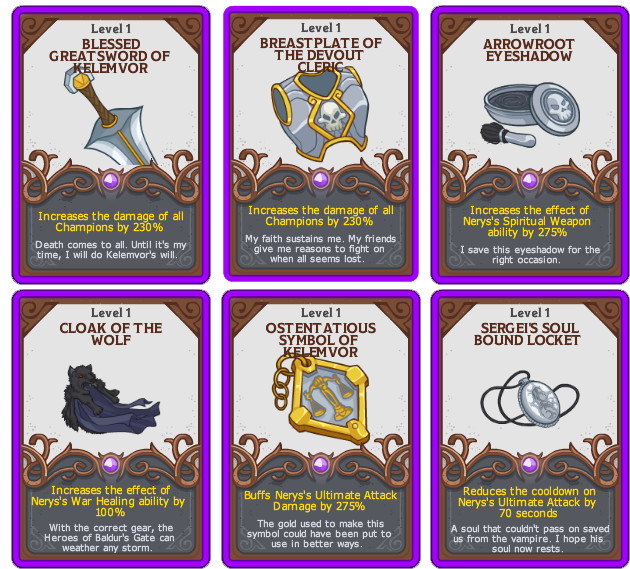 Slot 1: Greatsword
Nerys' main weapon increases the damage of all Champions.
Slot 2: Breastplate
Nerys' armor increases the damage of all Champions.
Slot 3: Eyeshadow
Her eyeshadow increases the effect of her Spiritual Weapon.
Slot 4: Cloak
Her cloak increases the effect of her War Healing.
Slot 5: Holy Symbol of Kelemvor
Her holy symbol increases her ultimate attack damage.
Slot 6: Barovian Locket
The locket that led to the Heroes of Baldur's Gate's adventures in Barovia reduces the cooldown of her ultimate attack.
What about any other Nerys details I'm looking for?
Nerys is Lawful Good and a member of the Heroes of Baldur's Gate. Her stats are as follows:
Str: 16 Dex: 13 Con: 15 Int: 12 Wis: 17 Cha: 15
TL/DR- Final Nerys Thoughts
Nerys is a is a strong, smart, and brave cleric of Kelemvor. She'll heal damaged Champions whenever you kill an enemy, increase the Champions' damage against undead monsters, and uses her
Spiritual Weapon
to boost the DPS of the highest DPS Champion in your formation.
We'll be watching the discussion online and on discord to see how well she's received, so let us know what you think on
Facebook
,
Twitter
, or on the
official Discord
! If you are enjoying Nerys, consider checking out the Legends of Baldur's Gate comic series by IDW!
Happy Holidays Champions Fans! Thanks for an amazing 2018! We can't wait to start 2019 with all of you!
~The Idle Champions Team