Welcome to our first ever event for Idle Champions! Today we launch Highharvestide, a new limited-time adventure that will run from today until Noon PDT Tuesday October 10th 2017.
The Champions find themselves called to the aid of innocent citizens of the Sword Coast. Bandits are causing trouble for farmers attempting to bring in their harvests in the fertile lands near Triboar. The party must investigate, traveling from farm to farm to put a stop to it.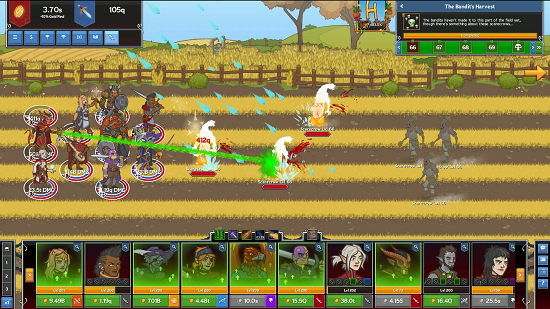 Successfully completing the first part of the adventure will unlock a brand new Champion, Stoki. Born Stami Gackle, she fled her home after a terrible accident at a young age and joined a monastery of the Even Hand to study ki. An adept monk and extremely capable adventurer, her thoughtful approach to problems has earned her a reputation as an uncommonly stoic Rock Gnome.
She is a flexible addition to the Champions. Her specializations enable her to either focus on damage or a support role within your preferred formation.
Stoki will introduce you to a new level strategic thinking when it comes to the make-up of your party. She shares the same slot as Jarlaxle and so your first order is to decide whether you use Jarlaxle or Stoki on different adventures.
How do I play the Highharvestide Event?
The Highharvestide Event is a brand new temporary campaign with a single adventure and three variants. You can start the adventures from the Campaign Map just like you would any other adventure, except that you must spend Event Tokens (Harvest Baskets) to start them. The base adventure will unlock a new Champion, and the variants and free play provide chests that can be used to gear up the Champion. When the event ends, you keep the new Champion, any gear you have acquired for them, and a gain a boost to your permanent campaign favor.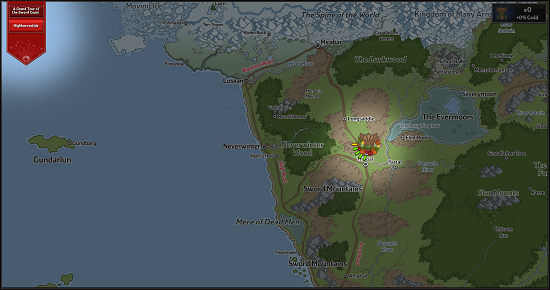 How do I get more Event Tokens (Harvest Baskets)?
Event Tokens will drop periodically from monsters in all adventures and campaigns. You will also receive Event Tokens along with your offline gold gains when you load the game after having been offline for a while.

How do I use the new Champion I've unlocked?
Once you complete the event's base adventure, you can swap in the new Champion you've unlocked by clicking on the portrait of whomever they swap with, then clicking the swap button the top-right corner of their portrait on their character sheet. You can only have one Champion from each bench slot in your formation at a time.
How do I gear up the new Champion I've unlocked?
Equipment for event champions appear in event-specific chests. They cannot receive gear from normal silver or gold chests. You can earn event chests by completing event variants, the event free play, or by purchasing them directly for Event Tokens.

Why is the Chauntea's Favor in the event different from the base campaign Divine Favor?
In order to provide a more balanced experience for all players, each event has a different type of Divine Favor, which means everyone starts on relatively even footing. You still have your gear, unlocked Champions, and experience with formations to give you an advantage over newer players. The divine favor for the Highharvestide event is Chauntea's favor.

What happens to my Event Divine Favor after the event ends?
Once the event ends you'll have an opportunity to convert your Event Divine Favor into a different deity's Divine Favor for the campaign of your choice, so your hard earned Event Divine Favor will not go to waste. The more Divine Favor you earn in the event, the bigger the amount you earn for your permanent campaign.
Equipment to upgrade Stoki can be found in the special Stoki Silver and Gold chests. Don't forget you'll have until October 10th at Noon PDT to complete the event and unlock Stoki before the event closes.