It's Valentines Day for Merci, but being a Mad Wizard can be a lonely life. Merci's decided to mend his loneliness in the only way he knows how: by mixing up a fix-all love potion! Unfortunately, while preparing his concoction he swiped left instead of right. The resulting concatenation of amorous ardour and wayward magic opened a portal to Super Love Land and beyond.
Just like your real life preparation for Valentine's Day, your mission is to complete five new objectives by using the new Heart formation and slaying legions of monsters. We're pretty sure that's how it works, right?
Rocky the Rockstar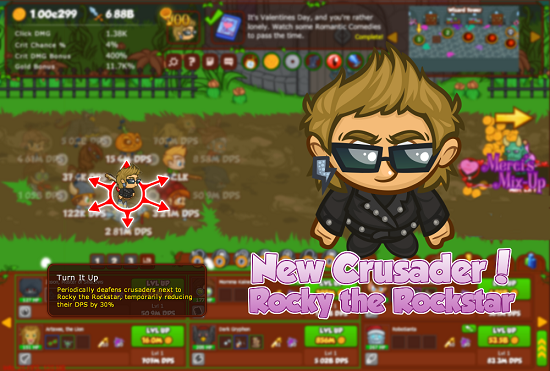 Fittingly for the ultimate celebration of romance, we have two new Crusaders for you to entice and add to your roster. Rocky, the Rockstar, is a swirling ball of testosterone, whose raw sexual power is tempered only by his genuine charm. The Juliet to this Romeo is the second new Crusader, Sally the Succubus, the winsome demon who leaves an army of admirers in her wake.
Rocky's talents include boosting his DPS by having female Crusaders around him, starting at 25% and increasing up to a deafening 250% per lady with his normal Epic equipment, and even further to 350% with his Golden Epic.
Sally includes the ability increase her own DPS up to a maximum of +300%. However, beware of putting female Crusaders next to her as it'll reduce her DPS by 25% per fellow lady. However, her other skill boosts all female Crusaders' DPS by 20%. Can you find the perfect spot for her in your formation?
Sally, the Succubus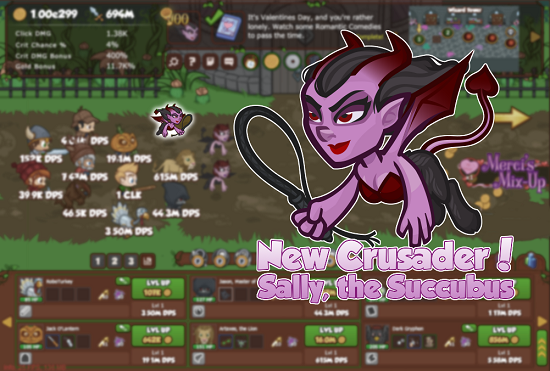 We also have three additional objectives.
Broken Hearted
requires 500 idols to play and sees the love-lorn Crusaders heart formation split in two with the three middle slots taken up by a crack.
Backstage Pass
requires 1,000 idols and only allows you to choose Rocky and female Crusaders. Furthermore, two slots are taken up with Rocky's band equipment.
The final event objective,
Dangerous Allure
only allows your to choose Sally the Succubus and male Crusaders and requires 1,500 idols to play. In a unique twist, the slots in the formation will steadily be taken over by zombies the further you progress!
New Objective: Backstage Pass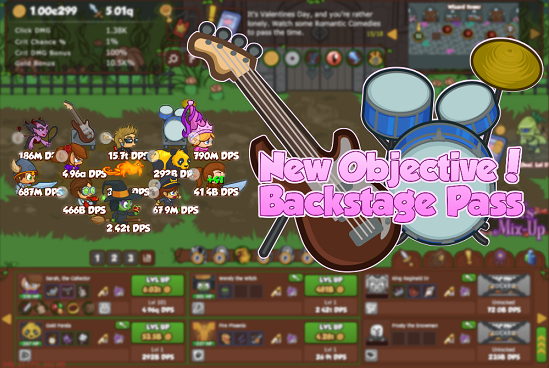 Continuing our tradition of recognizing some of our more famous fans, this event we're honoring regular streamer, Tedessence. Ted has been with us almost since launch and has been producing a constant stream of Let's Play videos on Twitch which you can check out
here.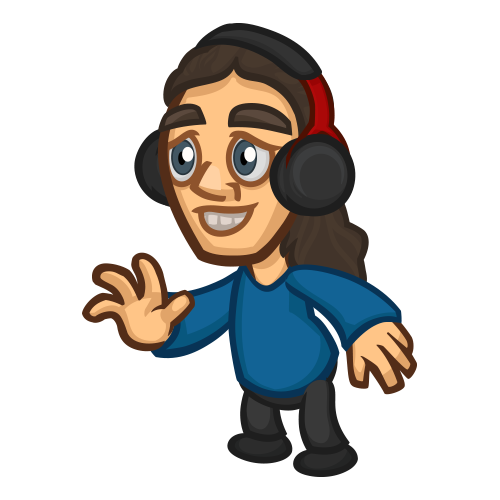 Tedessence
You'll be able to find his avatar as a boss monster in the Valentine's Day event. Pass on our love for him by smiting him down in Crusaders' fashion.
Merci's Mix-Up event will run until February 23rd to give you plenty of time to woo those objectives into submission.