The Savage Frontier of the Sword Coast can be a dangerous place. At the junction of the Long Road and Evermoor Way, the town of Triboar seeks the aid of heroes. Bandits have begun to assail the small town while the citizens are meant to prepare for the
Highharvestide Festival
...
Highharvestide 5 sees the beginning of Year 5 Events in Idle Champions and the introduction of
D'hani
from the Rivals of Waterdeep!
This event also brings back the loyal Dwarven Battlerager,
Thibbledorf Pwent
, and the intimating Minotaur Barbarian
Torogar Steelfist
. Players have until Monday, October 11th at 12PM Pacific to complete your Highharvestide 5 unlocks and objectives.
New Champion: D'hani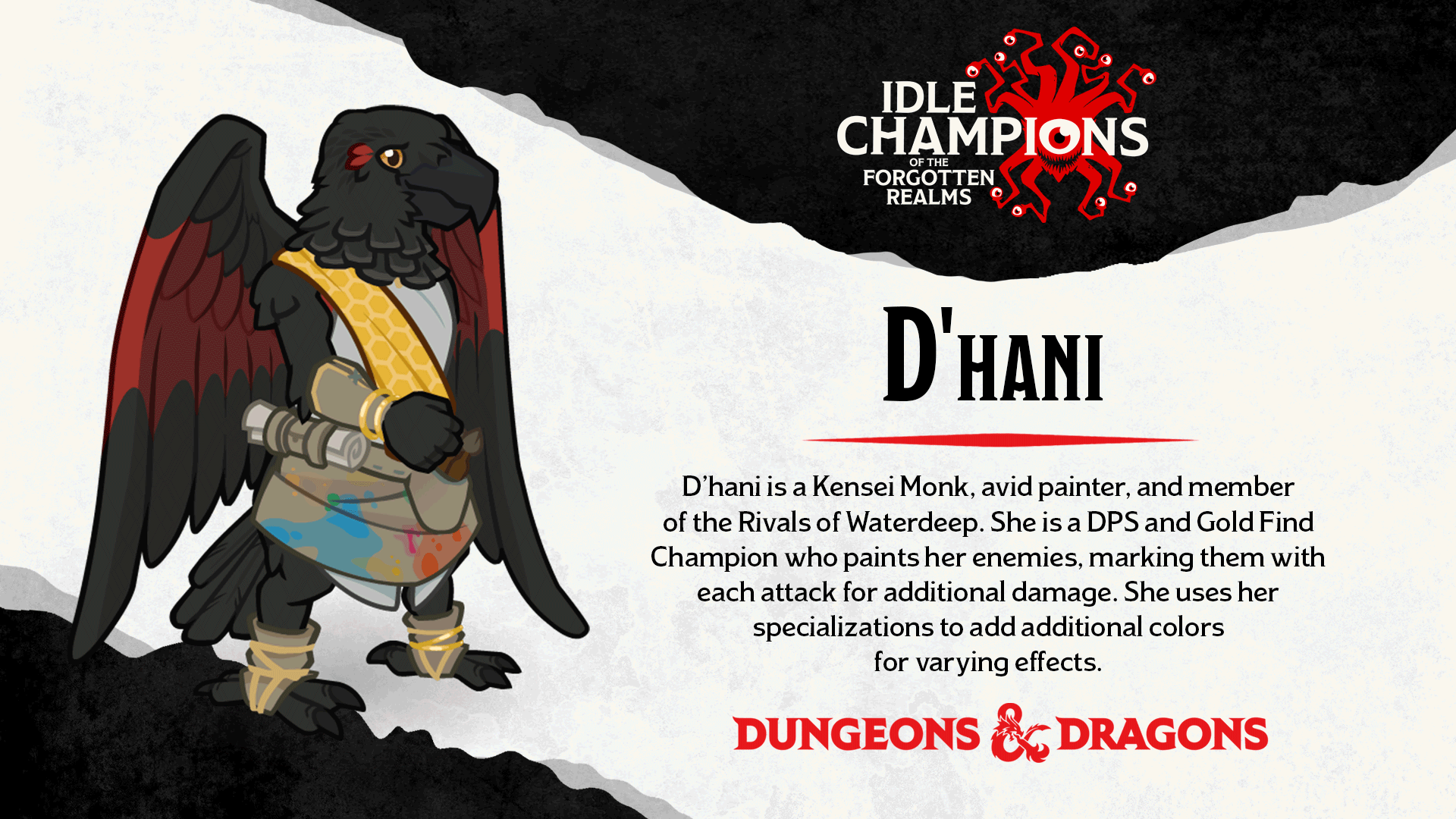 Moving to Waterdeep provided D'hani with more of the opportunities she was searching for after living in Chult. At first, she took a job as a mercenary with the Cassalanter family and tasked with infiltrating and spying on the Rivals. As her familiarity and friendship with the Rivals grew, she preferred to stay with them and continue to help with their adventures. Her skills in combat are impressive, and while she never means to kill anyone, she gets carried away in the thrill of battle where even the most flashy combat maneuvers can be deadly!
D'hani's love of painting infuses her fighting style with both color and tactics. She becomes more powerful the more her Rivals family is at her side. When you want to add her to your formation, you can swap her with Bruenor (Slot 1)
II. D'hani's Stats
| | |
| --- | --- |
| Race: Aarakocra | Alignment: Chaotic Good |
| Class: Monk (Kensei) | Gender: Female |
| Age: 10 | Affiliation: Rivals of Waterdeep |
| | | |
| --- | --- | --- |
| STR: 11 | DEX: 20 | CON: 14 |
| INT: 11 | WIS: 20 | CHA: 7 |
Role:
DPS and Gold Find
Eligible for Patrons:
Mirt, Vajra
Slot
: 1 (Bruenor)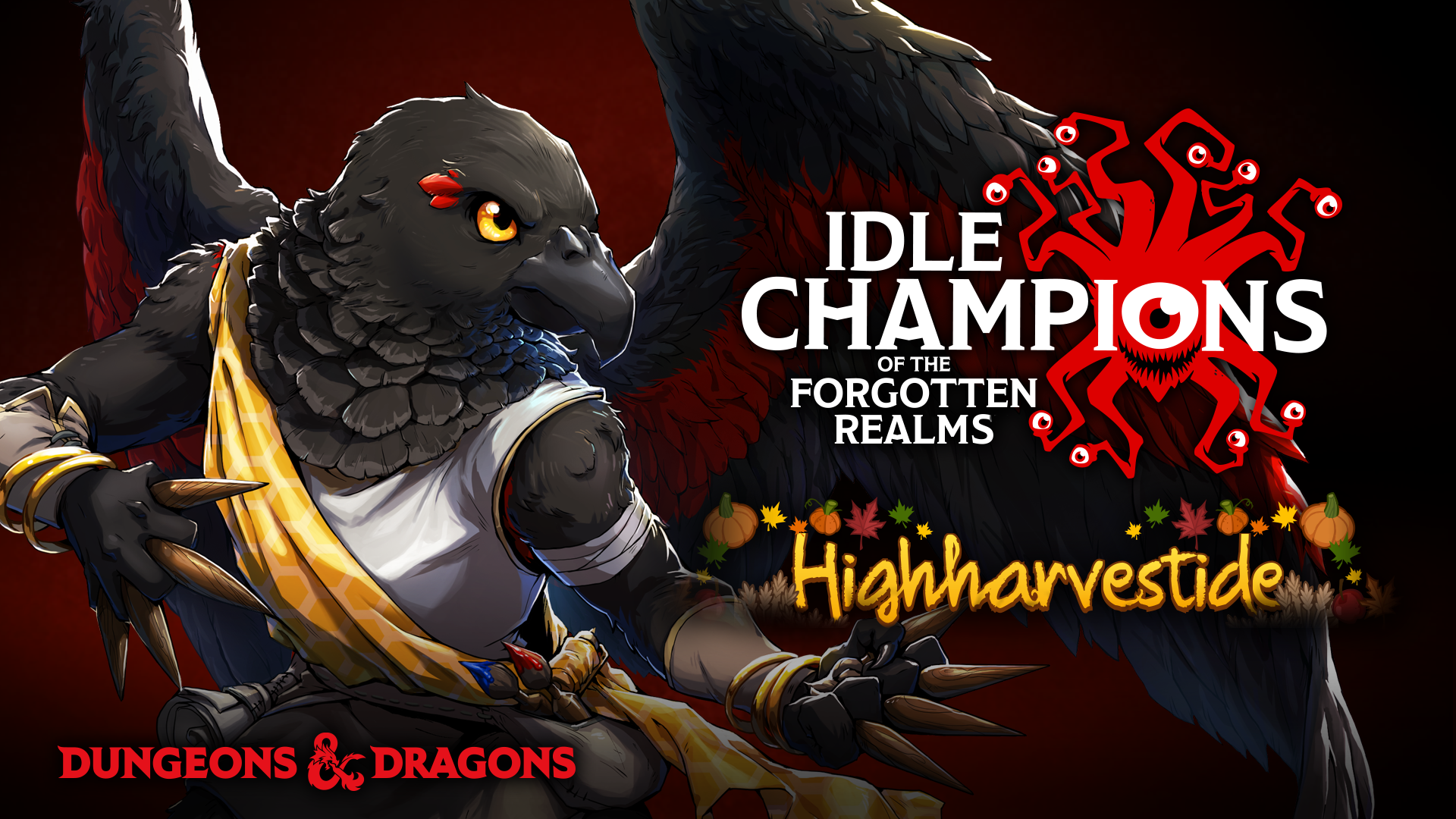 III. D'hani's Design
We were very excited to have the opportunity to work with
LaTia Jacquise
, who is the Community Relations Coordinator for Monte Cook Games. She is a prolific writer, developer, and streamer with many years of experience in the TTRPG space, with recent contributions to D&D Beyond, DMs Guild, and the Into the Mother Lands RPG. Along with her work as both a player and DM on Rivals of Waterdeep, LaTia can be seen on a variety of streams and shows, including as a cast member for Tampo and a guest on the Dimension 20 show Adventuring Academy.
With a brush in one hand and her other hand prepared to punch, D'hani is ready to
Paint Them Red
one way or another! She'll use every color in the rainbow when on the attack. Her
Way of the Brush
means each time she gets to practice painting an enemy, her skills grow even more deadly! Put this deadly bird into your formation and she'll take down all of your enemies!
For more information on D'hani and her abilities, check out her
Champion Spotlight
!
Year Five Variants

Variant 1: Red Alert! — Champion Damage and Gold Find is reduced by 99%, and enemies who have not been painted by D'hani move 100% faster.
Reach Area 75.


Variant 2: Bullywug Brawl — Bullywugs appear in each formation, but they do not drop gold, nor do they count towards quest progress. Only Champions with DEX of 14 or higher can be used.
Reach Area 125.


Variant 3: Doubling Down — The effects of D'hani's specializations are doubled, but quest requirements are also doubled! The bosses also get in on the doubling fun, as in each boss area, a second boss spawns. Both bosses must be defeated in order to progress.
Reach Area 175.


For information on previous years' variants, check out the
Highharvestide 4 blog
. And if you have feedback, let us know in a Community Q&A or Champion feedback post on the
Idle Champions Subreddit
, on the
Steam forums
, or on the
Official Idle Champions Discord
!