An urgent summons brings the champions to the Rock of Bral. The party is tasked with a perilous mission: venture into the heart of the Far Realm and interrupt a fel ritual that threatens to raise an Elder Evil to godhood and corrupt the multiverse.
We are excited to announce the return of
Idle Champions Presents
, a TTRPG live play special event series starting Monday, October 17th! All six episodes of
Idle Champions Presents: Hunger of the Far Realm
will broadcast live from 4PM until 7PM Pacific Time Mondays on the
CNEGames Twitch
. As with previous
Idle Champions Presents
shows, each day during the event will include voting in Idle Champions of the Forgotten Realms that will give our players loot!
Idle Champions Presents: Hunger of the Far Realm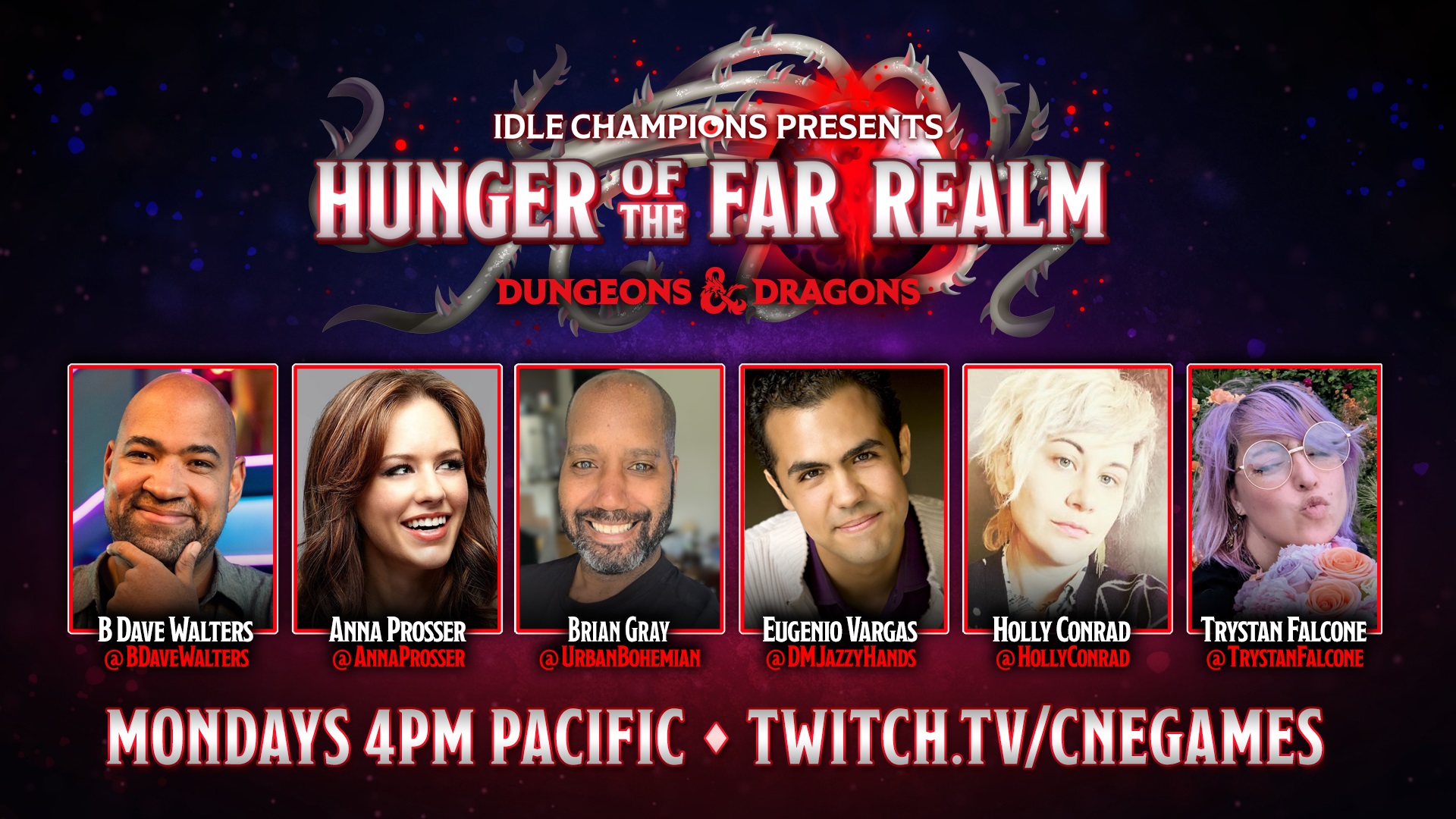 We're very excited to have returning Dungeon Master
B Dave Walters
(Black Dice Society, A Darkened Wish, Into the Mother Lands), taking a brave party of Champions through Wildspace and beyond!
The Party
features
Anna Prosser
as Evelyn,
Brian Gray
as Virgil,
Trystan Falcone
as Walnut,
Eugenio Vargas
as Kent, and
Holly Conrad
as Strix!
Vote for the Show You Want to See
Just like with our
previous Idle Champions Presents campaigns
, Idle Champions players will be able to influence the characters and events of upcoming
Idle Champions Presents
episodes through in-game daily votes. Starting on
Tuesday October 11th at 12 PM Pacific
, each vote will go live for 24 hours, with the final vote for the week ending on Monday at 12 PM Pacific.
Can I have a quick overview? Each day, a new vote will become available within Idle Champions. The result of that vote will influence a tabletop D&D episode that airs the following Monday. Vote each day to get a reward token to spend on any of the daily rewards throughout the seven-week event!
Wait, so this is a Livestream thing? It's an everything thing! Daily votes will have both an in-game effect and a livestream effect. For example, suppose players vote for an environmental hazard for the Champions to encounter. In that case, you'll be able to see the results of that vote in the livestream episode the following Monday. Additionally, you'll be able to collect a reward token you can redeem for a reward of your choice by participating in the vote that day!
Do I have to watch the Twitch Livestream to participate? No, all you have to do is play Idle Champions and vote to participate. In addition to helping craft an unforgettable show, by voting you collect reward tokens you can redeem to collect chests, potions, contracts, and even an exclusive familiar. However, for those that watch the show live, there will be giveaways for in-game items!
How long are votes available? Votes are available for 24 hours: From 12PM Pacific to 12PM Pacific the following day every Tuesday through Sunday. After that, the next vote becomes available and the results of the previous day's vote are locked and become public. On Mondays, since we don't want to give away any spoilers for the next episode, there will be no active vote from 12PM Pacific until the end of that evening's episode. Once the episode airs, the next vote becomes available, with players who are active in-game at that time getting a first shot at the vote, and the new week's rewards!
How does voting work? You get only one vote per day, so make it count! When you vote, you'll gain a reward token you can redeem to immediately collect ANY of the daily rewards that have been revealed. If you collect 3 of the daily rewards within any week, you can collect the super-sweet weekly reward for free, no additional reward token needed! Important Note: You must log into the game and vote to collect a reward token before the vote closes at 12pm Pacific. Make sure you come back every day so you don't miss a token!
What are the rules for reward tokens? A reward token collected on Week 1: Day 1 is the same as a reward token collected on Week 5: Day 6. You can spend those tokens on ANY of the daily rewards in ANY of the weeks.
Where are the rewards listed? You can find the available reward tab on the bottom of the left column for each week. Each week has a unique list of items, and each item is available once within each week.
When are the other daily/weekly rewards revealed? The first vote for the next week will be revealed on Monday nights at the end of each episode, along with the daily/weekly rewards for that week.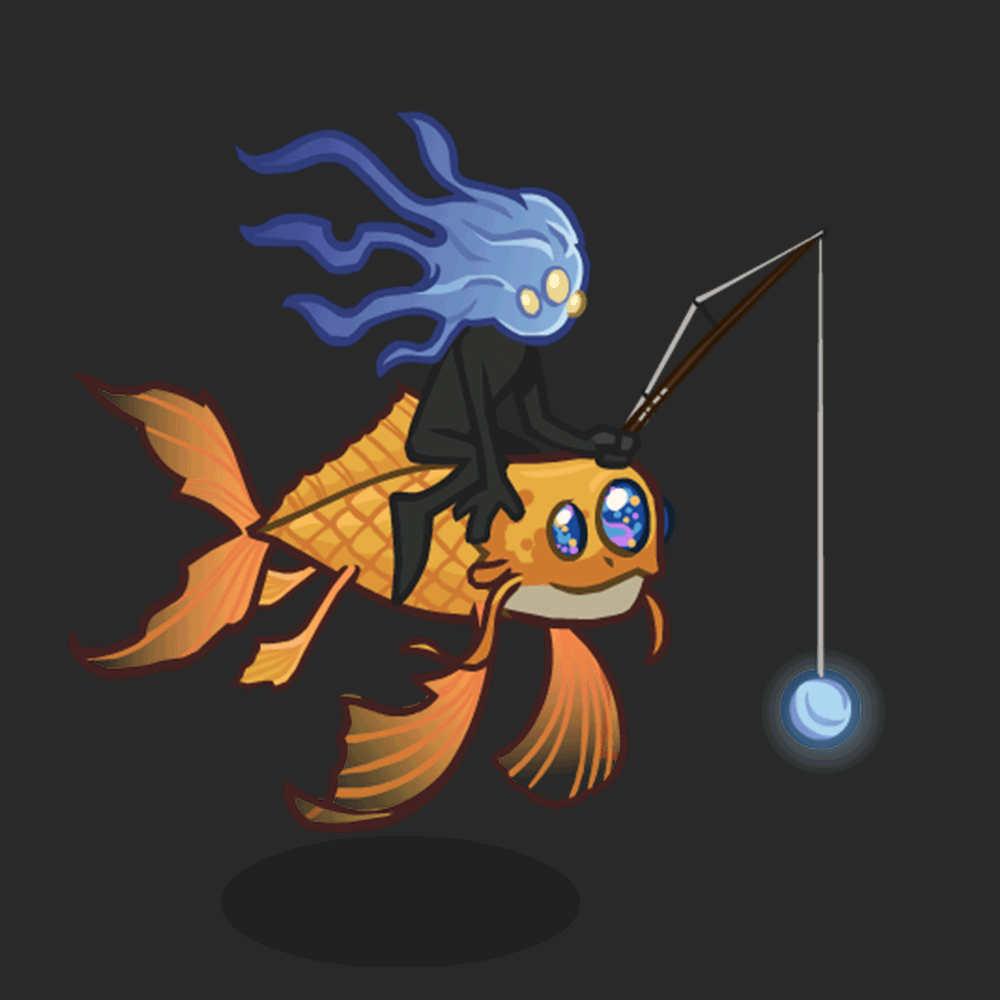 Poe & Cilia
I can't see all the rewards. How can I choose? Daily rewards each week will be a mix of Chests & other consumables. Each daily reward is collected with a single reward token. From a weekly reward standpoint:

Week 1 is an exclusive familiar: Poe & Cilia.
Week 2 is a Potion of Psychomorphic Energy.
Week 3 is a Potion of the Gem Hunter.
Week 4 is 1000 Modron Component Pieces.
Week 5 is a Potion of the Gold Hunter.
Week 6 is a Potion of Polish.

To collect a weekly reward, you only have to collect 3 of the daily rewards for that week. Collecting a weekly reward will not cost a reward token. Every day you vote allows you to collect an additional reward token!
Can I vote for both choices? No. You can only vote once a day.
How many votes can I get each week? There will be 6 votes each week, and you can vote once for each vote. That means someone who is logging in and voting every day can collect 6 reward tokens each week.
How long do I have to redeem a reward token? Rewards will be available for the duration of the Idle Champions Presents event. The notification will turn off at 11:59 AM Pacific on November 23rd, so we suggest collecting all of your rewards before then. Any remaining reward tokens will go away at the close of the Idle Champions Presents event.
Do you have to vote to collect a reward token? Yes.
Where can I watch Idle Champions Presents episodes? Idle Champions Presents broadcasts for 6 episodes, starting on Monday, October 17th and ending on Monday, November 21st. All episodes start at 4PM Pacific on the Codename Entertainment twitch channel. If you miss the livestream you can watch the video on demand on Twitch, or soon after the broadcast on our YouTube channel.
All the details are also available in game!
We hope you'll join us in discussion about
Idle Champions Presents
on the
Idle Champions Subreddit
, on the
Steam forums
, or on the
Official Idle Champions Discord
!