The year is almost over, and we thought we'd celebrate with a Years' End Festival. Let's finish off the year with daily rewards, a day of streaming, a gem shop update, and return to the north for the conclusion of the Icewind Dale: Rime of the Frostmaiden campaign!
If you're interested in learning more about what's coming with this week's update, you've come to the right place...
Table of Contents
Year's End Festival
It's been a fantastic year for Idle Champions, and we're excited to celebrate with our Community this game we all love! We're rounding out 2021 for Idle Champions of the Forgotten Realms with themes appropriate for this time of year: Entertainment, giving, and a positive theme to end what has been another very tumultuous year for most.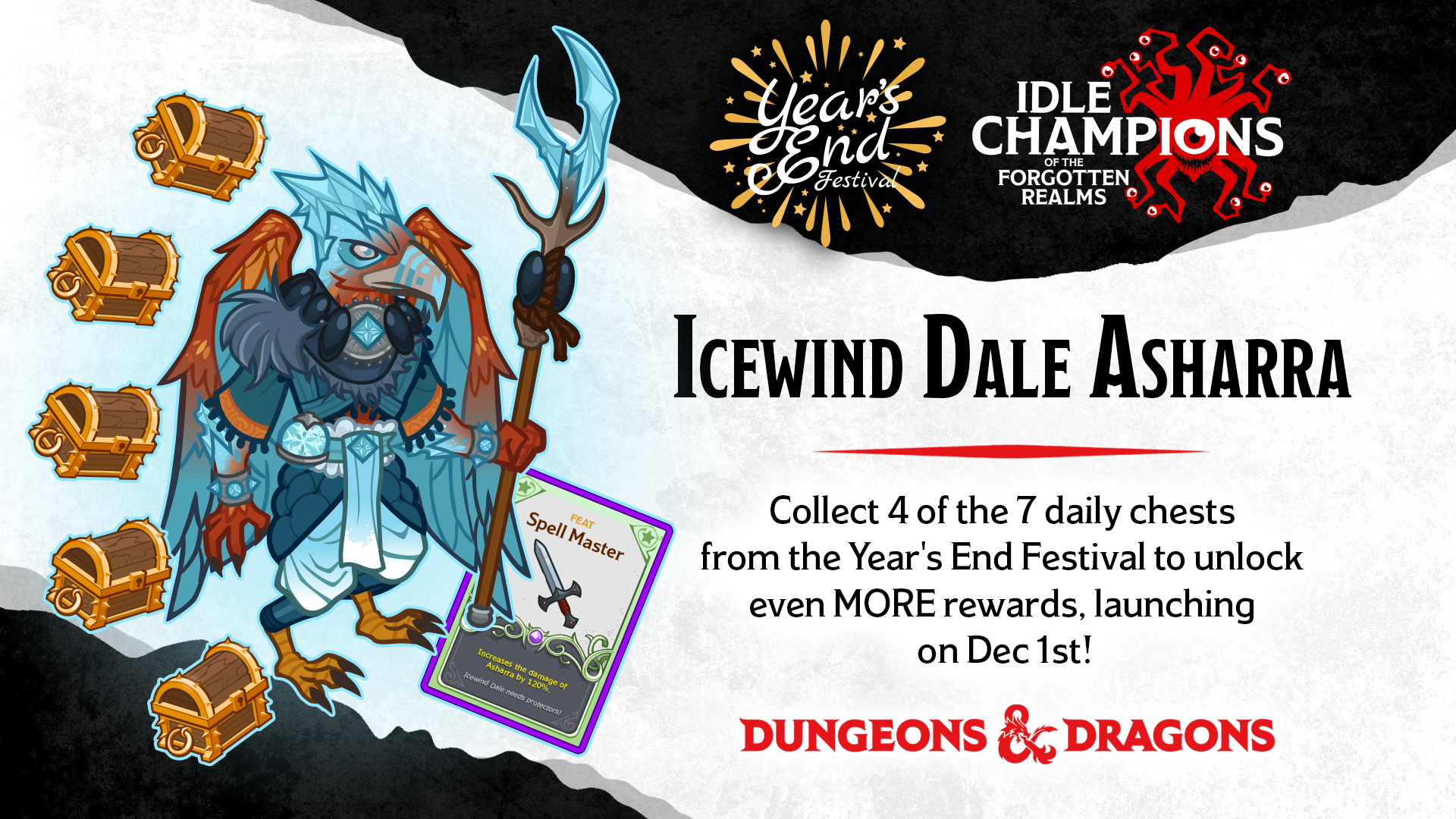 Daily Rewards
Every day during the Year's End Festival you can log in and open a new Celebration chest, but each chest is only available for 24 hours! Each chest contains 5 awesome items, hand-picked by the team here at Codename Entertainment to help you in your adventures. If you get goodies in those chests for content you have not yet unlocked, then your account will retain those items and save them for you to enjoy when you have unlocked those systems in the game!
Once you have claimed at least four daily Celebration chests, you unlock an exclusive Icewind Dale Asharra skin, an epic Asharra feat, and 5 Gold Chests!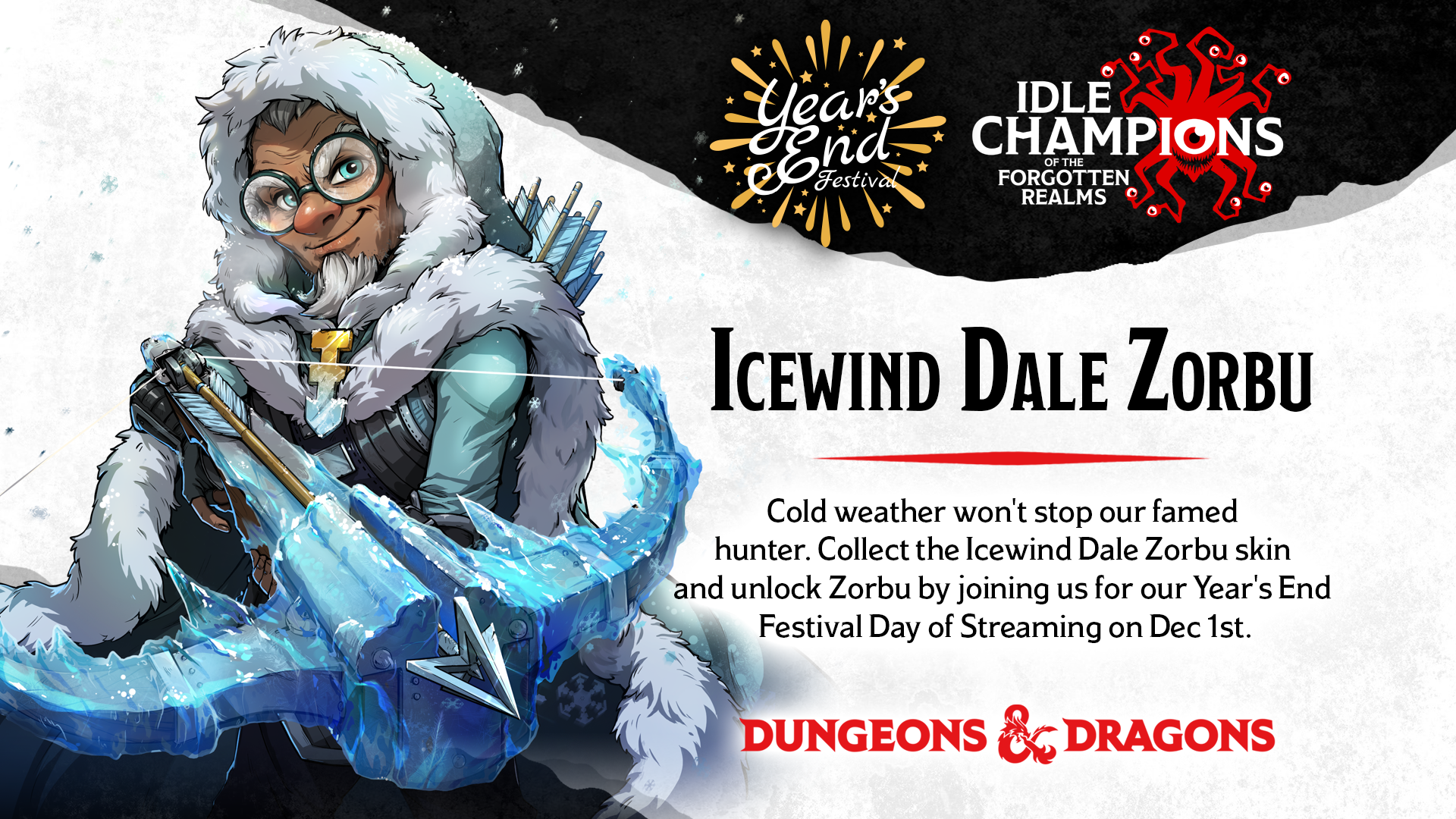 Day Of Streaming
Our
Twitch Channel
has an exciting day of streaming for you to enjoy! From 9 am - 6 pm Pacific on Wednesday, December 1st you can watch special Q&A streams, interview shows, an exciting musical performance, tons of giveaways and contests, and so much more!

Icewind Dale: Rime of the Frostmaiden, Part 10
This week's content update brings the exciting conclusion of the Icewind Dale: Rime of the Frostmaiden! With concluding the campaign, we're also bringing Tier 4 & 5 Icewind Dale Blessings to the game.
Additionally,
Icewind Dale, Part 10
brings our latest Evergreen Champion,
Xerophon
. Xerophon can be unlocked by completing
A Lesson in Classes
the second variant for
The Fall of Ythryn
adventure.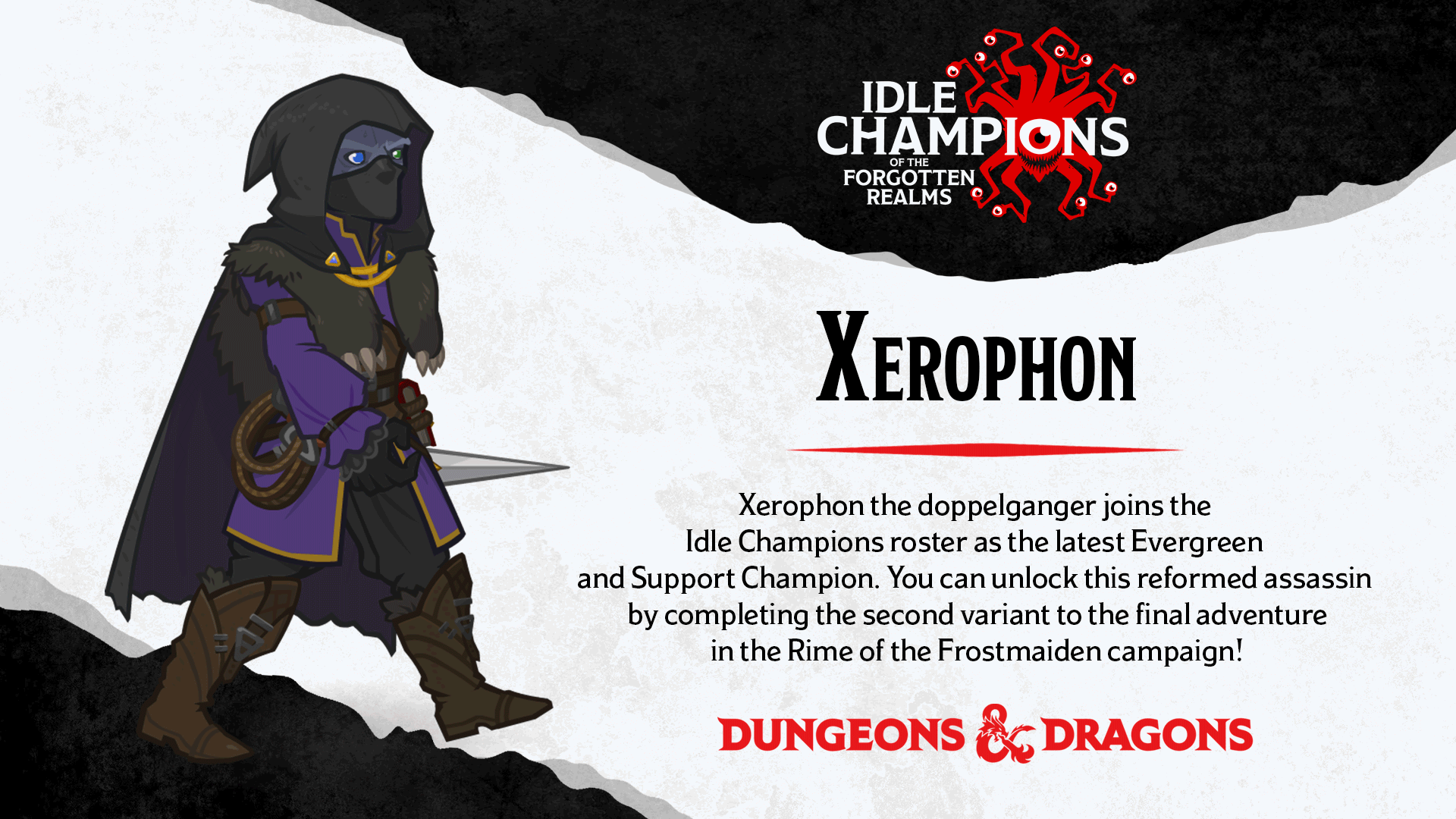 New Evergreen Champion: Xerophon
Xerophon is a Support Champion who uses their excellent imitation skills to provide valuable information to the rest of the formation. When you want to add Xerophon to your formation you can swap them out with Minsc (Slot 7).
For more information about our latest Evergreen Champion, check out the
Idle Champion Spotlight: Xerophon
blog post!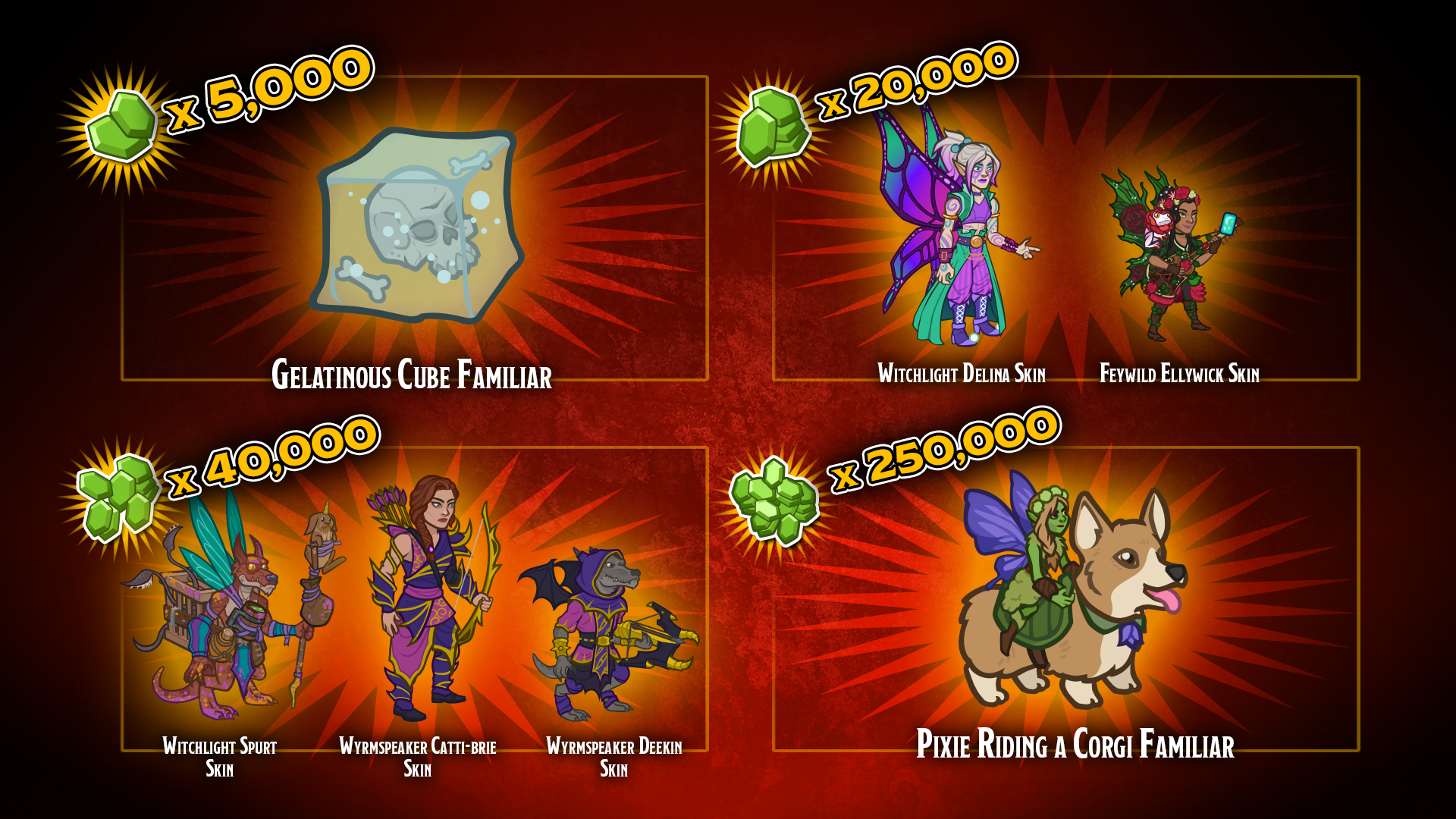 New Gem Shop Items
We've added the following skins to the gem shop, which are visible and available once you've unlocked the corresponding Champion:
Gelatinous Cube Familiar
Feywild Ellywick Skin
Witchlight Delina Skin
Witchlight Spurt Skin
Wyrmspeaker Catti-brie Skin
Wyrmspeaker Deekin Skin
Pixie Riding a Corgi Familiar
Idle Champions Presents: The Trial of Mount Tiamat
We were absolutely thrilled to present the second season of Idle Champions Presents, an interactive livestream TTRPG experience. For the full recap of the adventure, check out our recap blog post.
Warning this blog post contains spoilers
.
New DLC Packs
New DLC Packs are now available, featuring bundles of epic skins, familiars, and other awesome stuff to help you on your adventures in the new year! Check out the Idle Champions Presents: Trials of Mount Tiamat recap blog post for more details on Ascendant Skins.
Warning this blog post contains spoilers
. Full details can be found in the in-game shop, but take a look at what's new in store: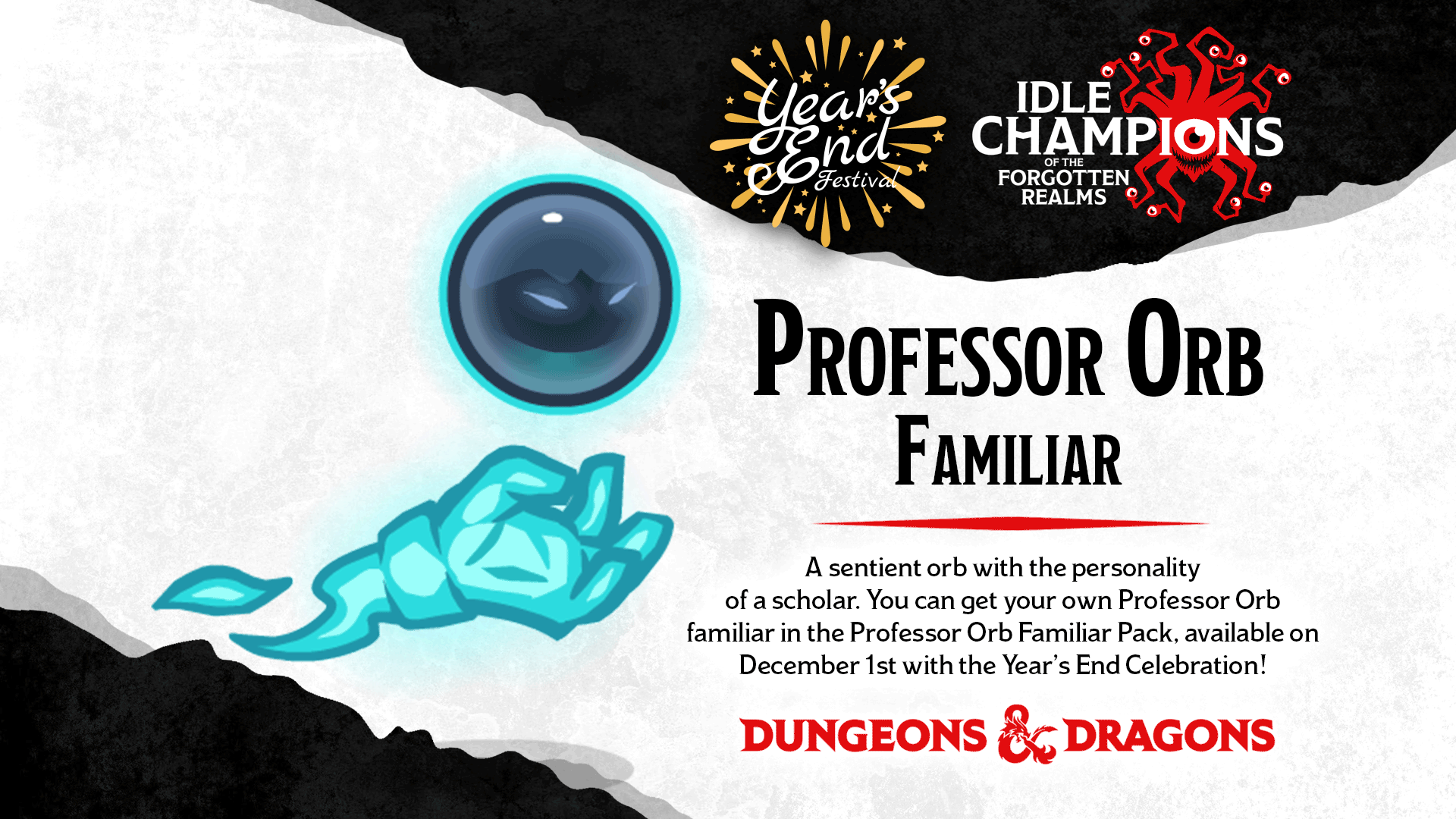 Professor Orb Familiar Pack
- The Professor Orb Familiar Pack includes the Professor Orb Familiar, but also 4 Epic Potions of Speed, 4 Epic Potions of Giant's Strength, 4 Epic Potions of Clairvoyance, and 1 Potion of Polish!
[REDACTED]
- We have a special announcement. More into on [Redacted] coming soon!
Feedback Wanted!
These changes are scheduled to go live later today. We very much look forward to your feedback, so please let us know what you think in a Community Q&A or feedback post on the
Idle Champions Subreddit
, a post on the
Steam forums
, or on the
Official Idle Champions Discord
!