How far would you go to celebrate foolishness?
Festival of Fools
is a time-honored tradition in Sword Coast communities. Townsfolk engage in the usual gluttonous consumption of food and drink during the festivities, but they also play pranks on each other.
Unfortunately, one prankster has decided to play a practical joke on a Frost Giant nearby...
Festival of Fools 5
introduces Tatyana, the Air Genasi Barbarian Druid played by
Becca Scott
on
The Black Dice Society
. Festival of Fools also brings back
Alyndra Sarrbarand
, Divination Wizard and Cleric of Oghma and
Briv Steelmarrow
, Half-Orc Paladin (Oath of Heroism). Players have until Monday, March 21st at 12 PM Pacific to complete their Festival of Fools 5 unlocks and objectives.
I. Tatyana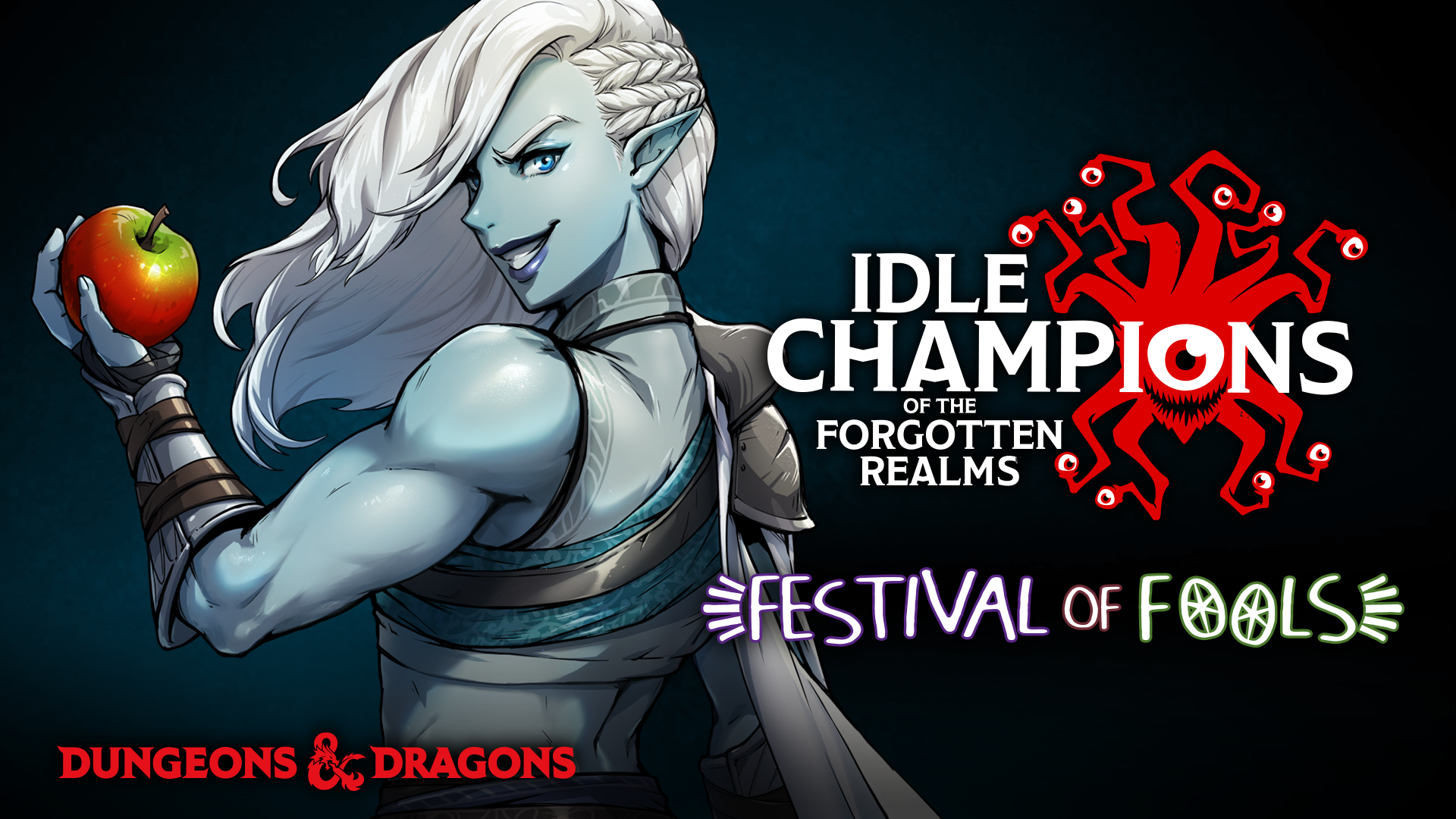 This toweringly tall air-genasi barbarian earned her skills and power in the gladiatorial fighting pits of Koshmarr. Tatyana augmented her rage with the might of the bear totem, and the spirits of the mist connected her to the natural druidic world through the power of the moon. Her fearsome and deadly battle prowess is tempered by a respect for anyone who would return that respect. She is curious and bold, and while she's quick to jump into battle she's just as swift with her forgiveness.
Tatyana is a Tanking, Support, and Speed Champion who is faithful and protective of her friends and allies. When you want to add her to your formation you can swap her with Delina in slot 8.
II. Tatyana's Stats
Race: Air Genasi
Alignment: Chaotic Neutral
Class: Barbarian/Druid
Gender: Female
Pronouns: She/Her
Age: 30
Affiliation: Black Dice Society
| | | |
| --- | --- | --- |
| STR: 16 | DEX: 13 | CON: 16 |
| INT: 8 | WIS: 14 | CHA: 11 |
Role:
Tanking, Support, Speed
Eligible for Patrons:
Vajra
Slot
: 8 (Delina)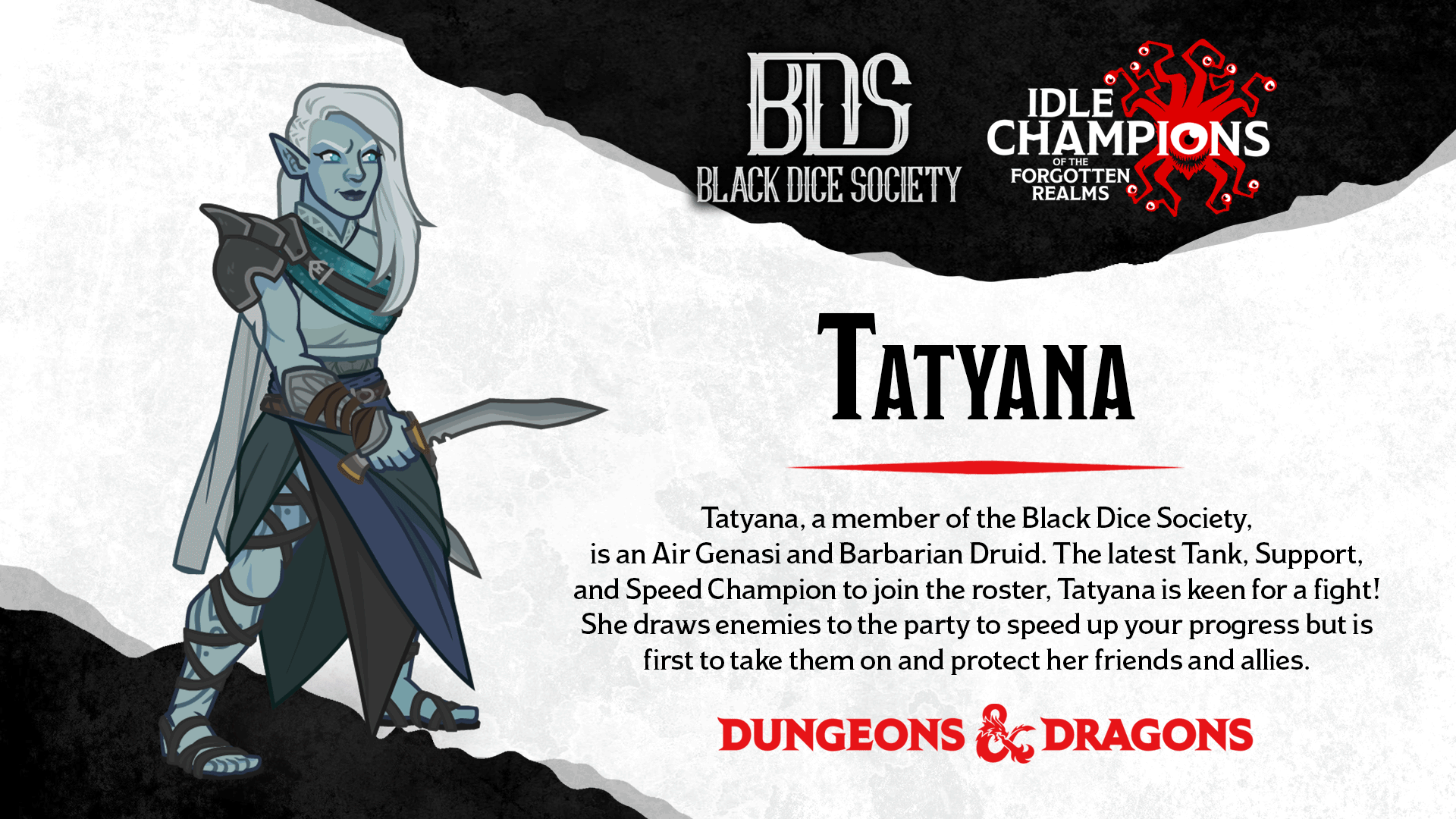 III. Tatyana's Design
Most of the Idle Champions community will recognize
Becca Scott
from her work on
The Black Dice Society
, Geek & Sundry, Dimension 20, and many other TTRPG shows and streams. But her work also includes a huge library of content as an actor, host, interviewer, podcaster, voice-over artist, and streamer! Plus she is the co-founder of the channel and production company Good Time Society.
The core of Tatyana's design focuses on how she channels her
Fury
and
Rage
into keeping her friends safe. She'll become a
Faithful Friend
to a random slot in the middle of the formation, encouraging that Champion to do more damage. As she tanks incoming attacks her
Rising Fury
will grow, gaining stacks of
Fury
that increase the effect of
Faithful Friend
. Eventually her
Fury
turns to
Rage
, and with bulging muscles and nasty claws she'll stop attacking with her
Twin Kukri Strike
and instead rely on her
Primal Savagery
to bite and claw at enemies! When there aren't enemies around to fight, she'll become distracted, heading off to
Find a Feast
and causing a few enemies to spawn and follow her back to her companions.
For more information on Tatyana and her abilities, check out her
Champion Spotlight
!
Year Five Variants

Adventure Variant 1: I'm HUNGRY! — Tatyana starts in the formation. She can't be moved or removed from the formation. Quest requirements are doubled. Enemies spawned by Tatyana's Find a Feast ability count for 5x quest progress. Tatyana's Find a Feast ability starts out unlocked.
Complete Area 75.
Getting to know Tatyana: When Tatyana hasn't been attacked in a while, she'll run off screen to find snacks (and more enemies to fight).


Adventure Variant 2: Exclusive Friend Club — Tatyana starts in the formation. She can't be moved or removed from the formation. In area 51 and beyond, only Tatyana and the Champions affected by Tatyana's Faithful Friend can deal damage.
Complete Area 125.
Getting to know Tatyana: Tatyana buffs a random slot with her Faithful Friend ability. Use her specializations to increase the number of slots affected.


Adventure Variant 3: Tanks a Lot! — Every 5 seconds, each Champion takes damage which increases the further you get in the adventure.
Complete Area 175.
Getting to know Tatyana: Tanks like Tatyana often protect your Champions by granting additional health. Include them to offset the constant damage!
New DLC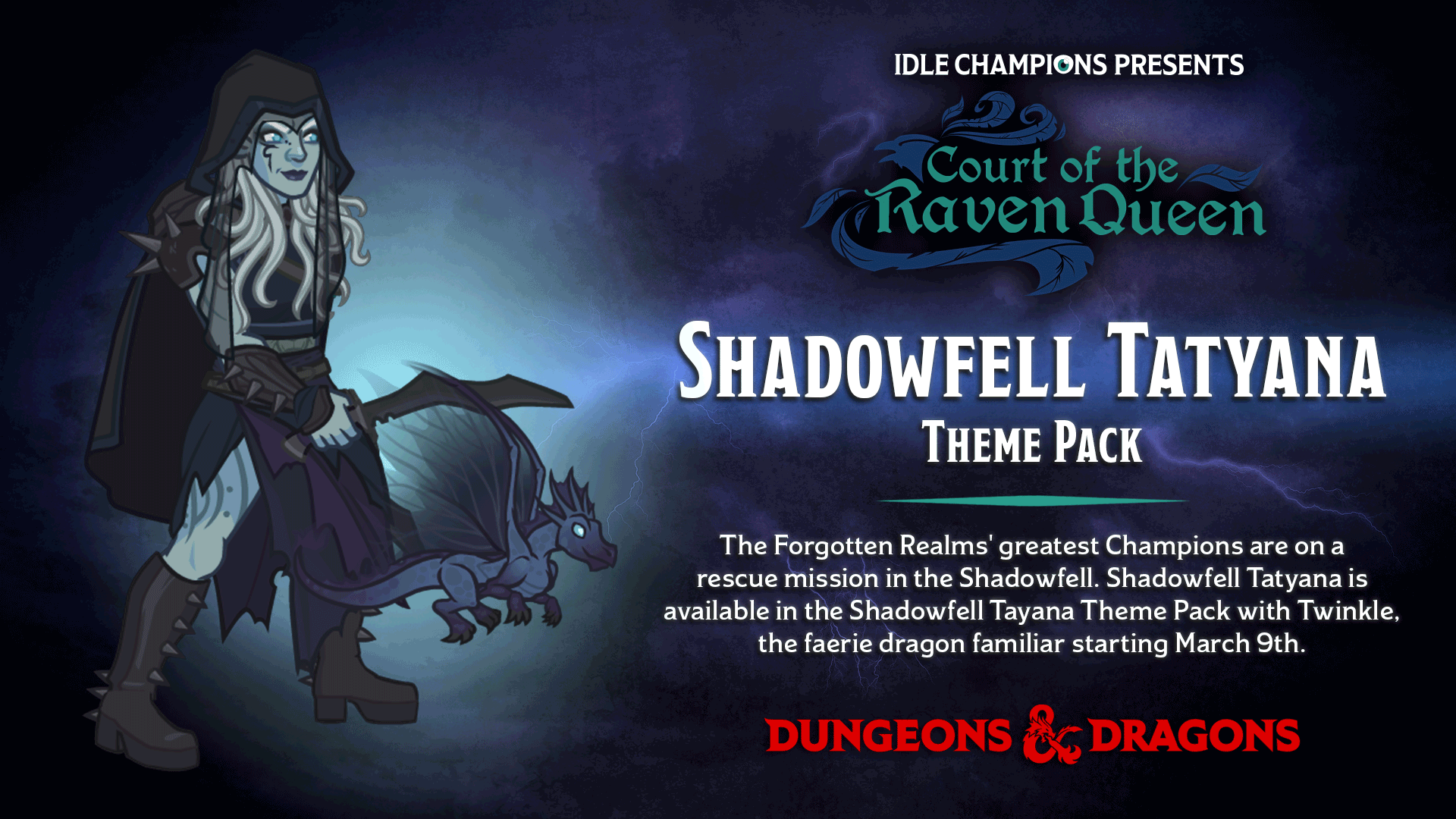 Also launching with Tatyana is the Shadowfell Tatyana Theme Pack! This pack includes an unlock for Tatyana, the new Shadowfell Tatyana Skin, the
Twinkle, the Faerie Dragon
familiar, Tatyana's Epic
Entertainer
Feat, which increases Tatyana's Charisma Score by +2, 1 Epic Potion of the Gold Hunter, and 16 Gold Tatyana Chests with 2 Guaranteed Shiny Equipment Cards.
For information on previous years' variants, check out the
Festival of Fools 4 blog
. And if you have feedback, let us know in a Community Q&A or Champion feedback post on the
Idle Champions Subreddit
, on the
Steam forums
, or on the
Official Idle Champions Discord
!