It's a constant struggle to keep control over your own life and destiny when traversing the Domains of Dread. But our next Champion is determined to be in charge no matter who, or what, stands in her way.
Valentine was altered and reanimated after her horrific murder, and while this second chance comes with a heavy price, she's determined to use the power it provides to her own benefit. She joins her companions in
The Black Dice Society
in the Idle Champions roster during Midsummer 5.
I. Valentine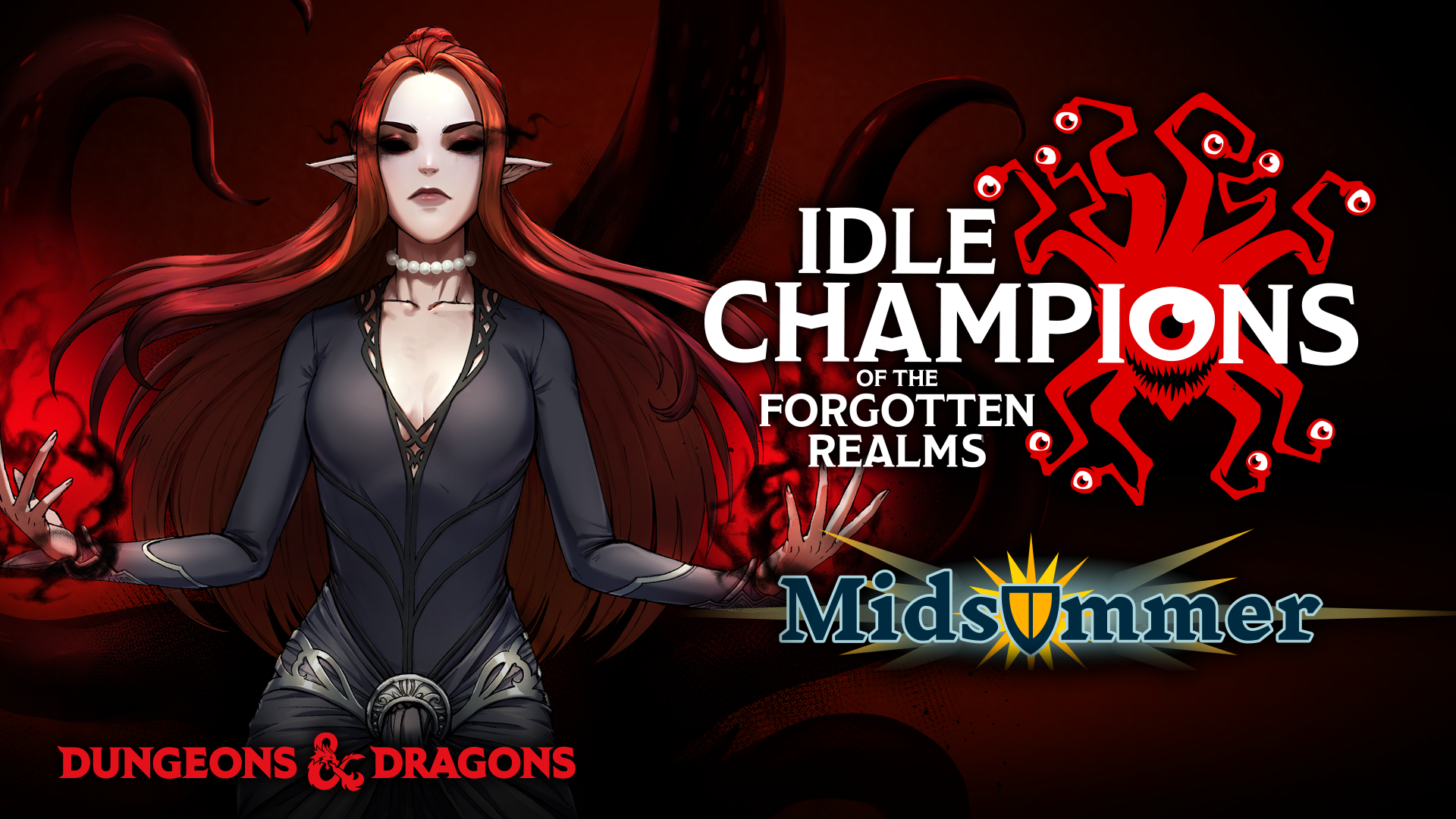 Valentine was once a social butterfly, nightlife connoisseur, and princess of a shady family business until her life ended in sudden tragedy. Through the mysterious will of Bluetspur, Valentine was given a second chance at life, though no miracle comes without consequence. Now she wanders the domains of dread with her companion Tatyana, in search of purpose and power.
Valentine is a Support and Gold Find Champion who takes hold of any incoming positional formation abilities, and uses her telepathic powers to broadcast and boost them, making those abilities more deadly! When you want to add her to your formation, you can swap her with Calliope in slot 5.
II. Valentine's Stats
Race: Reborn Half-Elf
Alignment: True Neutral
Class: Sorcerer
Gender: Female
Pronouns: She/Her
Age: 22
Affiliation: Black Dice Society
| | | |
| --- | --- | --- |
| STR: 9 | DEX: 13 | CON: 14 |
| INT: 12 | WIS: 13 | CHA: 17 |
Role:
Support, Gold Find
Eligible for Patrons:
Vajra, Strahd (via Feat), Zariel (via Feat)
Slot
: 5 (Calliope)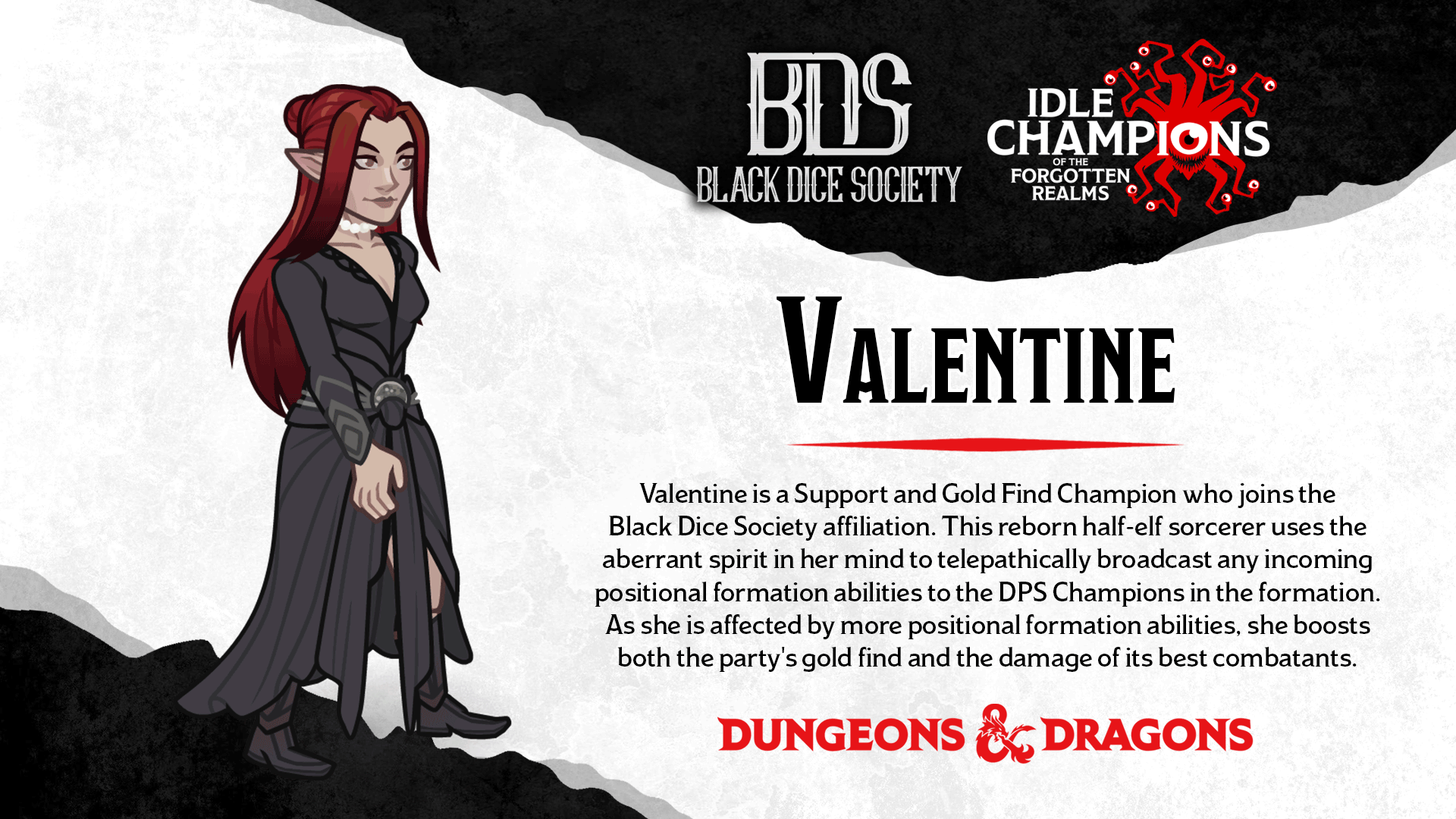 III. Valentine's Design
Host, writer, producer, and TTRPG performer
Saige Ryan
has extensive experience creating content in a huge variety of spaces! We were excited to work with her and bring her Champion to life! Idle Champions fans will know her best as the creator of Valentine from
The Black Dice Society
, but she also plays characters in several shows on
Pixel Circus
, and can be found enjoying gaming and pop culture content on Smosh Games as well as her own Twitch channel.
The most deadly weapon Valentine has is her mind, and she uses her telepathic abilities to boost the deadliness of the formation. The more positional formation abilities that she is affected by, the more powerful she can make the rest of the formation! She can use
Tregrum
, the aberrant spirit in her brain, to harness that power and turn it into a damage boost for DPS Champions. As a
Socialite
she'll also share or boost those formation abilities with those damage dealers! And as she enjoys
A Life of Leisure
Valentine will also turn those abilities into an increase in gold find.
Valentine can focus on damage, gold, or her friendship with her fellow Black Dice Society member Tatyana. When
All Hail the God Brain
,
Tregrum
further boosts the damage of DPS Champions. If Tatyana is being
My Loyal Bodyguard
and making sure that Valentine is affected by her
Faithful Friend
ability, Valentine will return the favor and boost its effect! But if what matters most is gold find, the
Family Business
will increase that power substantially! When helping her friends isn't enough, Valentine will take damage into her own hands and summon the
Arms of Hadar
! She'll move to the closest enemy while inky black tentacles erupt out of her body, causing massive damage to all enemies in a huge area all while they are grappled and stunned!
IV. Valentine's Abilities
Basic Attack
Mind Sliver - Valentine attacks a random enemy with a mental magic attack for one hit, and enemies have a 50% chance that they are stunned for 2 seconds.
Formation Abilities
Tregrum - The aberrant spirit in Valentine's brain telepathically reaches out to the other Champions in the formation. For each positional formation ability affecting Valentine, she increases the damage of all Champions with the DPS role by +100%, stacking multiplicably.
Socialite - Valentine duplicates any positional formation abilities that are affecting her to Champions in the formation with the DPS role. If the receiving Champion already has the formation ability, the formation ability is instead boosted by +50%.
A Life of Leisure - Valentine increases the formation's gold find by +100% for each positional formation ability affecting her, stacking multiplicably.
Specializations
All Hail the God Brain - Tregrum's pre-stack damage increase is increased by +25%.
My Loyal Bodyguard - If Valentine is affected by Tatyana's Faithful Friend ability, its effect is increased by +200%.
Family Business - A Life of Leisure's total gold find is increased by +200%.
Ultimate Ability
Arms of Hadar - Valentine moves up near the closest enemy and inky black tentacles erupt from her eyes, mouth, and hands to attack nearby enemies. Enemies in the area take massive damage, and are grappled by tentacles for 4-8 seconds. While grappled, the enemies are stunned and take +1000% damage from all sources.
V. Valentine's Epic Equipment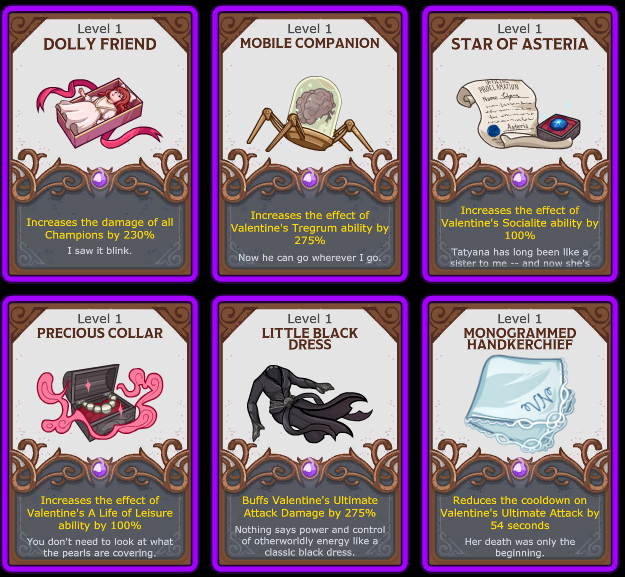 | | | |
| --- | --- | --- |
| Slot 4: A Life of Leisure | Slot 5: Ultimate Attack Damage | Slot 6: Ultimate Attack Cooldown |
Conclusion
Valentine might be cold and calculated, but we are very excited for her to join Idle Champions, and hope you give her a warm welcome into your formation! Let us know how much you're enjoying the growing Black Dice Society roster on the
Idle Champions Subreddit
, on the
Steam forums
, or on the
Official Idle Champions Discord
!