Greetings, Champions!
This summer has certainly flown by. Normally at this time of year, we'd be gearing up to go to PAX West, but this year is a bit different.
While we find new ways to adapt, somethings stay consistent and that's why we're thrilled to announce that we are working with
Take This on a charity fundraiser for Mental Health Awareness for the third year in a row! Take This is a mental health organization providing comprehensive resources, support, and consultation tailored for the unique and diverse needs of the game community.


The Mindful Sloth
This is our third year partnering with Take This and AFK Rooms at PAX! The two previous years we were delighted to raise $11,500 in 2018 and $13,000 in 2019 for AFK Rooms and in support of Mental Health Awareness. This year's AFK Room will be a little different, but we are thrilled to support the Take This Community AFK Discord - AFKOnline!

This year we have partnered again with the incredible Trystan Falcone, aka Walnut Dankgrass on Acquisitions Incorporated: The "C" Team, to bring The Mindful Sloth Familiar to Idle Champions.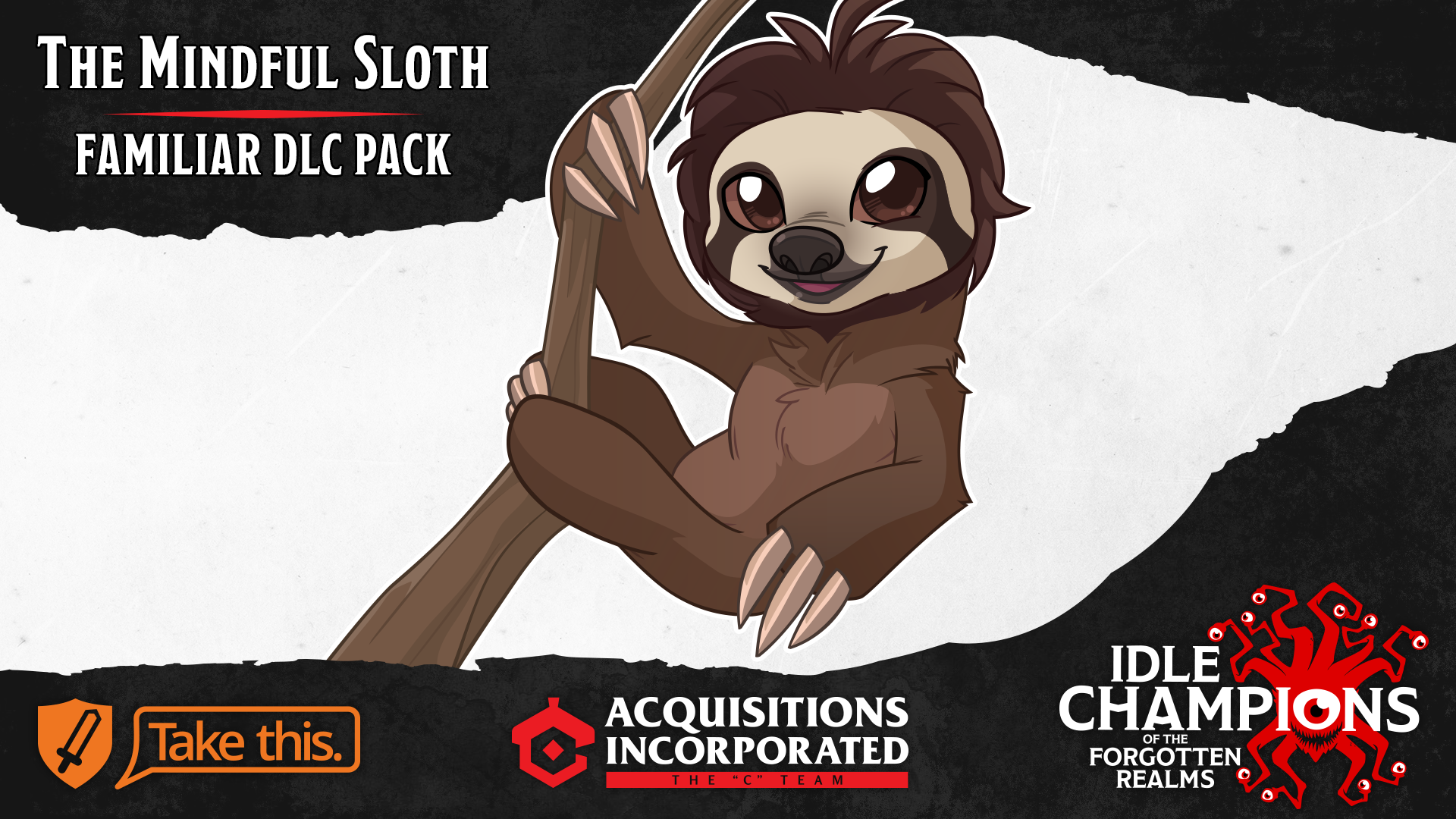 Through September 21, 2020, Codename will be donating the net proceeds from all purchases of the new Mindful Sloth Familiar Pack to Take This in support of the Take This Community AFK Discord. It's a fantastic cause and one we really believe in, so we hope you'll help and bring this wonderful sloth into your familiar circles! The Mindful Sloth Familiar is available now in the in-game shop on PC and Mac on Steam and web, Xbox One, iOS and on all Android devices.



The Mindful Sloth Familiar will be available on PlayStation 4 on Tuesday, September 8th, and on Nintendo Switch on Friday, September 18th, 2020. We will be donating the net proceeds for the first two weeks of release, once available on those platforms.