We are delighted to tell you about a very special permanent campaign this week. We've partnered up with our good friends at HyperHippo Games, the creators of
AdVenture Capitalist
for a special addition to Crusaders of the Lost Idols.
But first, let us tell you more about your impending adventure through time. That's right; the brand new permanent campaign is all about time travel.
Our dauntless Crusaders are tasked with hunting down rogue robots that are wreaking havoc on their friend Doctor Finklebottom's laboratory. It's a desperate race to save Finklebottom's breakthrough experiments that concern matters of quantum physics and black holes that enable him to invent time travel.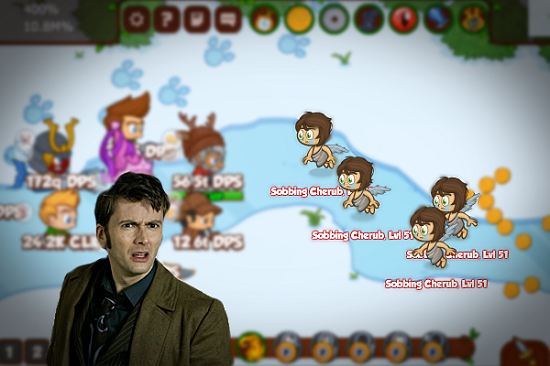 Sobbing Cherubs can only be killed by clicking
His experiments have made history, figuratively and literally, as now the Crusaders can travel through time from the age of the dinosaurs all the way through to the future!
Featuring a new Flux Capacitor formation, the Idols Through Time campaign will require a minimum of 5,000 Idols to start the first objective. Things get increasingly more demanding from there as the final objective requires a whopping 10,000 Idols minimum!
The
Lost in Time
objective will see slots in your formation blocked with relics from each epoch you visit. In the Time-Lost Bosses objective, you'll encounter much more powerful bosses than you're used to battling.
The final two objectives are
Nostalgia Trip
, where only the original 20 Crusaders are available for selection (no Event Crusaders), and
Lone Pine Mall
where you're going to try your best to clear area 600.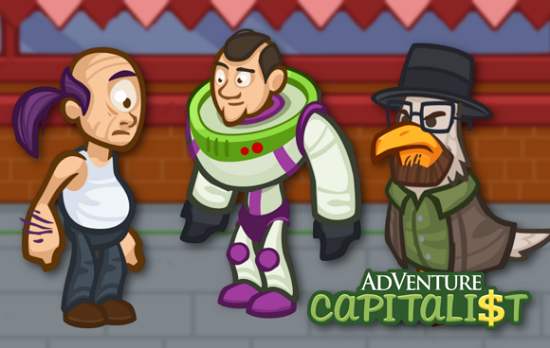 Dr Finklebottom creates a wormhole to Adventure Capitalist
Dr Finklebottom's work has also had another perverse effect of linking universes. Incredibly the ingenious professor has opened a portal to a parallel universe of AdVenture Capitalist.
It's in these boom years of industrialization and economic growth the Crusaders will meet the celebrity managers from the enormously popular clicker game, AdVenture Capitalist.
It's not going to be easy to 'out-entrepreneur' history's best entrepreneurs from the 1950s, but that is what the team must do to have a chance of beating any objective between areas 71 and 85.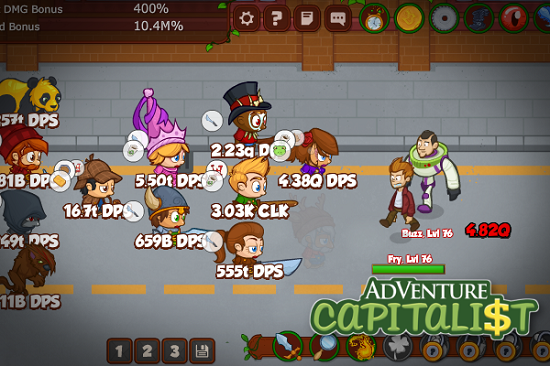 You have to 'out-entrepreneur' the AdVenture Capitalist managers
The popular celebrity managers W. W. Heisenbird, Jim Thorton, Forest Trump and more will all try and stop our Crusaders' money-making ways enabling them to leave for the next time zone.
But wait, there's more! We're also launching a brand new weekend buff. It's Wibbly Wobbly Wackiness here are Codename Entertainment and for the duration of the weekend, five Crusaders will be receiving massive buffs to their abilities.
The Bush Whacker, Detective Kaine, the Dark Gryphon, Sal and Bat Billionaire will all get a limited time buff applied automatically this weekend. Plus, there's a unique Wobbly chest featuring gear just for those five Crusaders!
The Bush Whacker - +5% increase in Critical Click Chance.
Detective Kaine - Increase all gold found by 100%
Dark Gryphon - +100% increase in DPS for all Crusaders.
Sal, the Merman - Increase the Base DPS for Sal +400%
The Bat Billionaire - +100% increase in DPS for all Crusaders.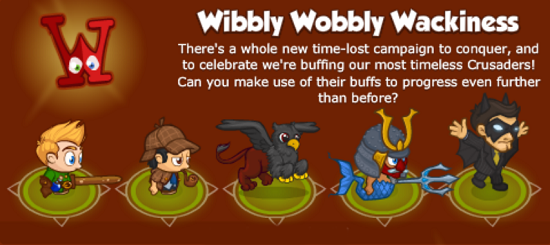 Weekend Wibbly Wobbly Buff!