We heard you like campaigns. Today we're launching the Mischief at Mugwarts campaign, a permanent update to Crusaders for you to play and enjoy! It features six new epic objectives and a dustpan formation designed to challenge even the most veteran player. However, the reward is a total of 1,500 precious Red Rubies if you can complete them all!
Dustpan Formation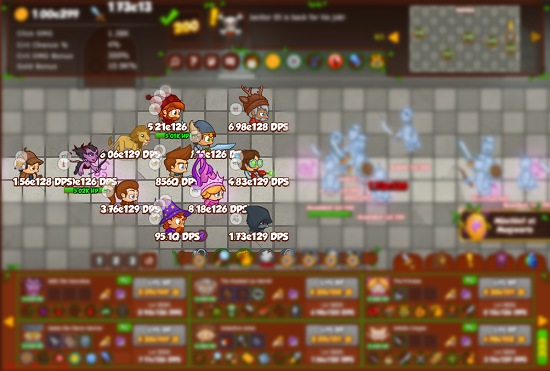 The new campaign takes the Crusaders back to school. A magical school, no less, where students are instructed in the ways of sorcery and participate in sports involving flying cleaning tools. It could just be us, but it does sound eerily familiar.
To support the new campaign Emo Werewolf, Khouri, the Witch Doctor, Fire Phoenix, Merci, the Wizard and Wendy the Witch if you have her, get a limited time buff to greatly enhance their power, applied automatically! Can their weekend power help you through a tough objective?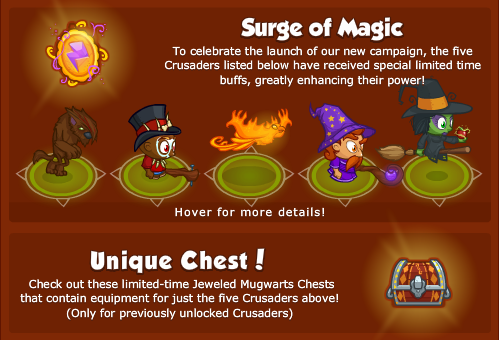 As well as the automatic buff, you can purchase a unique Chest! Inside this special chest you'll find 2 pieces of gear, 1 of which is guaranteed to be Rare or better, for only those 5 Crusaders! Will you get a piece you're missing? Plus, you get 2 Trinkets and a Time Warp.
As well, your first purchase of chests will award you the awesome Black Phoenix Death Mask Golden Epic, which boosts Khouri's Koffee Potion ability by 150%!
The special buff and sale will run until Monday February 29th at Noon PST!
Check out all the new objectives in the campaign below: