Summer is officially over. The nights are once again be longer than the days. Drown out your sorrows with this tasty buff!
The following Crusaders will get a buff this weekend starting from today until 12 pm PDT on Monday September 25th.
Willy the Weregoat - Reciprocation +200%
Dark Gryphon - All DPS +200%
Gold Panda - All Gold +100%
The Exchange Student - Class President ability +200%
Nate Dragon - All DPS + 200%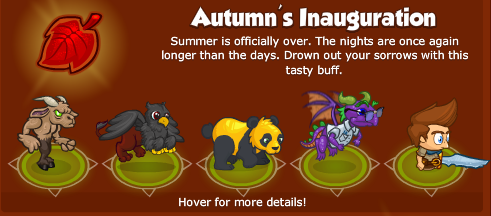 Also, check out the limited-time Inauguration Jeweled Chests that contain equipment for the five Crusaders above!
(
Please note:
The chest will only contain gear for Willy and The Exchange Student if you've unlocked them.)