You can dance if you want to. You can leave your friends behind. Use this weekend buff to get really far and you'll be a good friend of mine.
The following Crusaders will get a buff this weekend starting from today until 12 pm PDT on Monday September 18th.
The Bush Whacker - Increase Critical Click Chance +6%
Karen the Cat Teenager - Center of the Universe +200%
Natalie Dragon - All Gold +200%
Prince Sal the Merman - Base DPS +400%
Mr. Boggins the Substitute - New Students +200%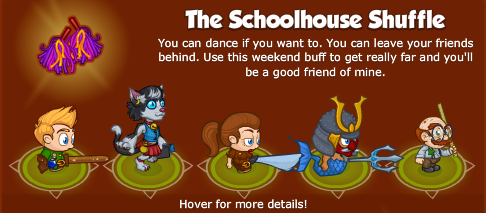 Also, check out the limited-time Shuffling Jeweled Chests that contain equipment for the five Crusaders above!
(
Please note:
The chest will only contain gear for Karen and Mr. Boggins if you've unlocked them. You can purchase the Golden Epic for Mr. Boggins, even if you don't have him, and it will show up on him once you earn him.)