Hermit is way too excited for St. Patrick's Day. In his permanently inebriated state he has organized a 'knees-up' for himself and the fellow Crusaders in advance of the actual celebration of everything from the Emerald Isle.
Starting today and continuing until March 14, Hermit's premature party is a rolling booze-up of epic proportions taking place in a party house, street parade, obligatory Irish pub, and ending in Blurry Drunk Land. It's a real place; we've been there. Plus it's all happening just in time to recover before the real St. Patrick's Day a few days later.
Larry the Leprechaun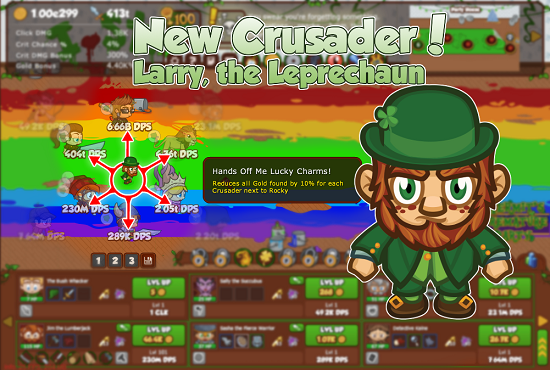 Parties are about meeting new people, and Hermit's shindig is no exception. Two new Crusaders are coming along for the ride and successfully completing their objectives will recruit them to your ranks.
Larry the Leprechaun loves gold. He has a big pot of it stashed somewhere, after all. His abilities include various ways to increase your gold generation. When he reaches Level 100, for instance, he'll increase all the gold found by a hearty 25%!
Kyle the Party Bro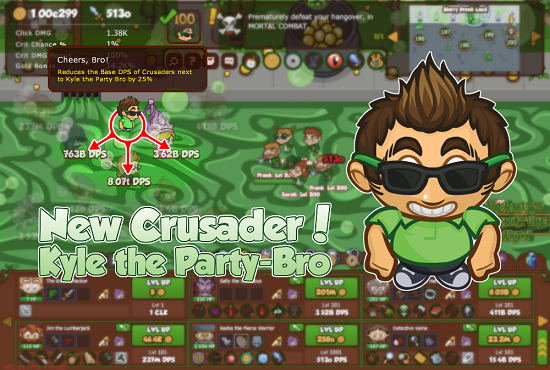 The other newcomer is Kyle the Party-Bro. He's the kind of wingman you need at your side at any party. He combines his tremendous ability to consume alcohol with still being able to get his friends into a taxi and safely home at the end of the night. His technique of clearing the way of party-pooping monsters reaches it's peak at level 150 when he increases the DPS of all his fellow Crusaders by 20%.
New Objective Parade Route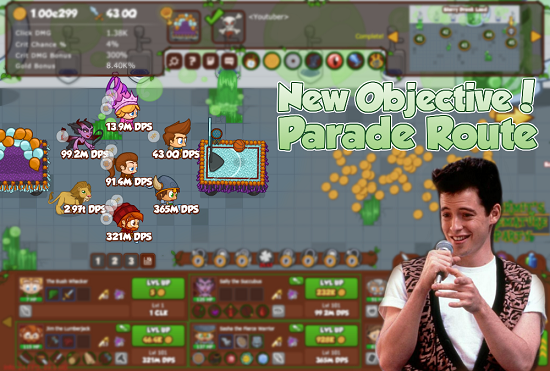 Once you've recruited the two new Crusaders there are three additional objectives to play.
Parade Route
requires 500 idols and two floats take up four of your formation slots.
Beer Before Liquor
requires 1,000 idols and involves deadly pink elephants out to crush you in your stupor. The final new objective Four
Leaf Clover
restricts you to only four Crusaders (can you see what we did there?) at any one time and requires 1,500 idols to start.