Join the ranks of the Trinket Slingers
Many bush whackers bemoan having to change their trinkets, and rightly so. But that changes today! A new talent has emerged among the Bush Whackers, and a proud organization around it. It's time to join the Trinket Slingers!
Proving Yourself
After reaching level 75, after having unlocked all 8 of your normal trinket slots, you may notice a new section in your inventory, but alas it is locked!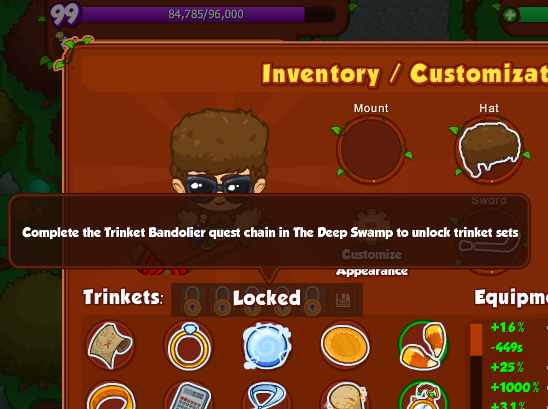 At this time, a new quest chain becomes available. Someone in the Deep Swamp will train you in the ways of Trinket Slinging, an art built around the use of special Trinket Bandoliers. Complete their quests to earn yourself your first two Trinket Bandoliers and join their ranks!
Trinket Bandoliers
Once you've got your bandoliers, you can start using trinket sets! You'll find the new interface above your trinkets in your inventory. Click the save button to open the save menu, allowing you to save your currently equipped trinkets to the corresponding set button.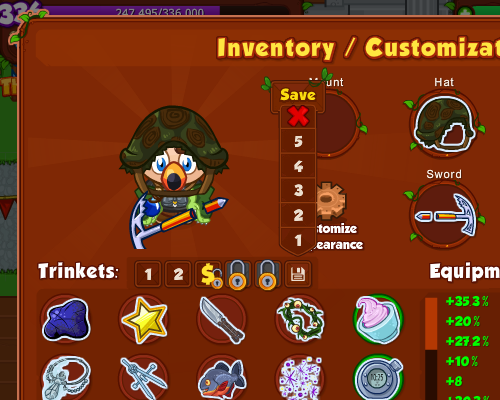 Mouse over a saved set button to see a preview of what trinkets it contains, and what bonuses that set provides. Note that this does not include bonuses from your pet, mount, or sword runes.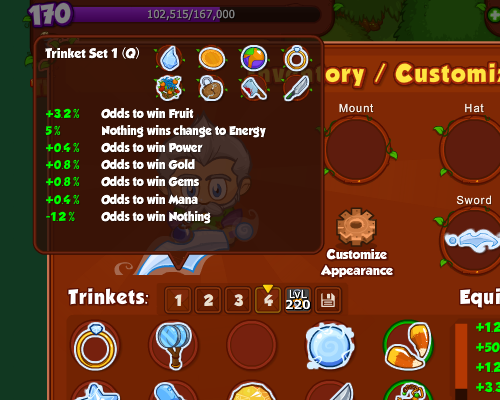 You can unlock up to 5 trinket sets by purchasing more bandoliers for Gold and Gems. Each new bandolier costing more than the last.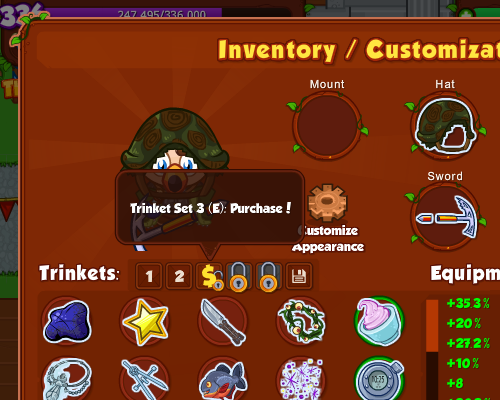 If you've got a saved trinket set, the trinket sets toggle button will show up on your bottom bar! This lets you equip your trinket sets without having to open your inventory. You can also use the keyboard buttons 1, 2, 3, 4, 5 equip the corresponding trinket set without having to click the buttons with your mouse.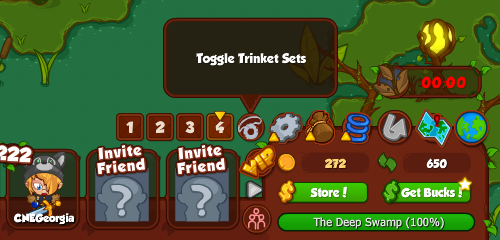 Improvements
We've added a couple related improvements and fixes to your inventory with this update, which you can check out in the
Release Notes
.
Frequently Asked Questions
How do I get trinket sets?
You have to be level 75, have unlocked all 8 of your normal trinket slots, and completed the quests that become available in the Deep Swamp zone. You'll see this requirement when you mouse over the new trinket set interface in your inventory.


How do I unlock the other 3 sets/slots/buttons/bandoliers?
The other three sets unlock at levels 120, 170, and 220 respectively. If you meet the level requirement, the corresponding button will show a dollar sign. Clicking it will let you buy the slot for Gold and Gems. The amount of Gold and Gems increases for each slot.


Where do I save my trinket sets?
In your inventory above your trinkets. There's a line of numbered square buttons, and a save button. Click the save button then the number of the set you want to save your currently equipped trinkets to. The button will spin when you've saved to it.


How do I equip a trinket set I've saved to?
Simply click the square button of the set you saved to, and you'll instantly equip those trinkets! You can also press a key on your keyboard to do the same thing. The tooltip shown when you mouse over the button says what the hotkey is.


Can I clear my saved trinket sets?
Yes! Click the save button in your inventory, and then click the X button at the top of the list. You'll get a confirmation popup, asking if you want to clear all your trinket set saves.


Will I know if I have equipped a save slot?
Absolutely! If you have the same trinkets equipped as saved to a set, the set button will have a yellow arrow pointing on it.


Why don't Power Whacks count towards the unlock quests?
It's a technical limitation, sorry! I tried to phrase the objective to match how it works. It counts if the type of item you find in a bush is Fruit/Mana/Power/Gold/Gem, not how many of them pop out. Any bonuses that create extra fruit, like Nothings to Fruit/Energy, will count though!


Can I use the same trinket in multiple sets?
Absolutely!


Thoughts and Feedback
Share your thoughts and feedback on this feature on the forums!