Someone needs to keep those so-called superheroes in line. Maybe one of the Crusaders we've buffed this weekend is up to the task.
The following Crusaders will get a buff this weekend starting from today until 12 pm PDT on Monday May 1st.
Jim the Lumberjack - Sharpen Party ability +200%
Sasha the Fierce Warrior - Bulwark ability +200%
RoboTurkey - Short Circuit ability +200%
Pete the Carney - Bad Joke ability +200%
Artaxes, the Lion - Roar! ability +200%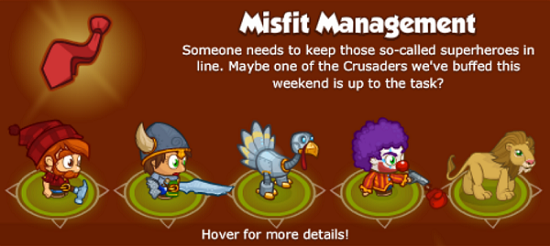 Also, check out the limited-time Misfit Jeweled Chests that contain equipment for the five Crusaders above!
(
Please note:
The chest will only contain gear for RoboTurkey and Pete the Carney if you've unlocked them. If you are missing Pete, you can purchase Pete's Golden Epic, and it will be available on him once you unlock him through missions.)