April Showers normally bring May Flowers. However, in this case, they bring you some sweet Crusader buffs for this weekend only! Enjoy!
The following Crusaders will get a buff this weekend starting from today until 12 pm PDT on Monday April 24th.
Karen, the Cat Teenager - Center of the Universe ability +200%
Mister the Monkey - Monkey Business ability +200%
Natalie Dragon - All DPS +200%
Sarah, the Collector - Self DPS +400%
Thalia, the Thunder King - Storm Rider ability +200%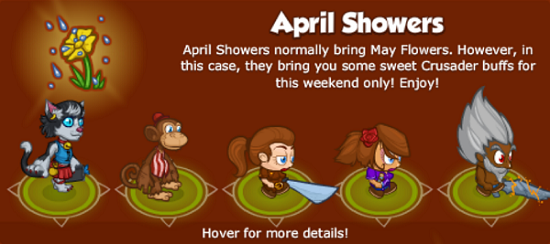 Also, check out the limited-time April Jeweled Chests that contain equipment for the five Crusaders above!
(
Please note:
The chest will only contain gear for Karen and Mister the Monkey if you've unlocked them. Also, the Golden Epic for Mister the Monkey will be awarded with your purchase and will show up equipped on her if/when you unlock him.)