Eating all that candy may have been a bad idea. Maybe if you wash it down with a massive feast...
The following Crusaders will get a buff this weekend starting from today until 12 pm PDT on Monday April 17th.
RoboRabbit - Wind-Up-Bunny ability +200%
The Washed Up Hermit - Base DPS +400%
Khouri the Witch Doctor - Koffee Potion ability +200%
Princess Val the Mermaid - Animal Kingdom ability +200%
Nate Dragon - Increases all Gold found by +200%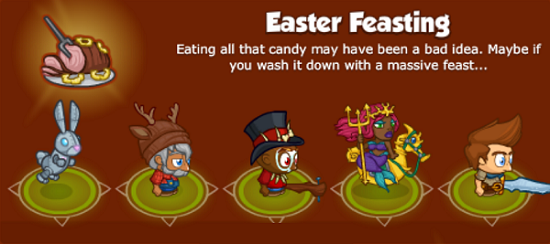 Also, check out the limited-time Feasting Jeweled Chests that contain equipment for the five Crusaders above!
(
Please note:
The chest will only contain gear for RoboRabbit or Princess Val if you've unlocked them. Also, the Golden Epic for Val will be awarded with your purchase and will show up equipped on her if/when you unlock her.)