Sasha, the Fierce Warrior, recently arrived back at the office after a trip to Japan. However, her movements and whereabouts remain a mystery which piqued the interest of Detective Kaine. His naturally inquisitive personality coupled with the secret nature of Sasha's trip are too much for Kaine to resist.
Our resident sleuth has started a journal documenting his investigation into her journey. Specifically, he has discovered that two keywords relating to her trip will unlock a jeweled chest within Crusaders of the Lost Idols.
You can follow along with Kaine's investigation as he tries to crack
The Case of the Warrior in Japan
by signing-up to the
Idol Times newsletter
. Each email will contain more clues from his notebook, of which the first pages his notes are available below.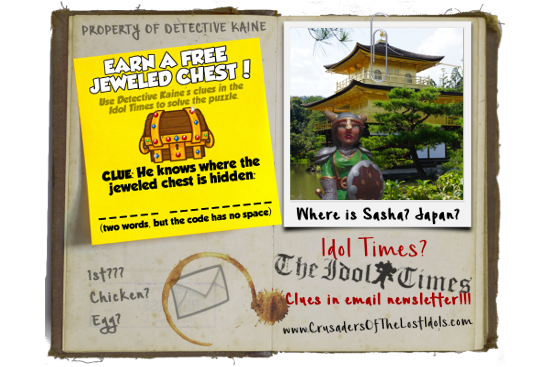 The Case of the Warrior in Japan
If you can solve the mystery, you can enter the code into the in-game shop to earn a free jeweled chest. Please note the code is only valid on PC/Web, but you can link your account to mobile using
these instructions
.
Good luck, Crusaders!