Okay, so you thought you were all that and bag chips, did you? Well, we have news for you. Today we launch 12 new Tier 4 objectives for both the
World's Wake
and
Descent into Darkness
campaigns.
These new very challenging objectives are going to keep even the most advanced Crusaders players working hard to complete them.
For those of you who have just joined us, we should supply you with a quick recap! First of all, you're going to need to know more about Tier 4 Talents, so you should read
this blog post
. Once you're up to speed, you'll need to use your idols to buy the Tier 4 Talent Fourth Time's The Charm in the Utility tree, and hey presto! Once you've beaten any Tier 3 objective, you'll now see the new Tier 4 objectives that are available.
Here's a preview of some of the new objectives:
Run Away! Tier 4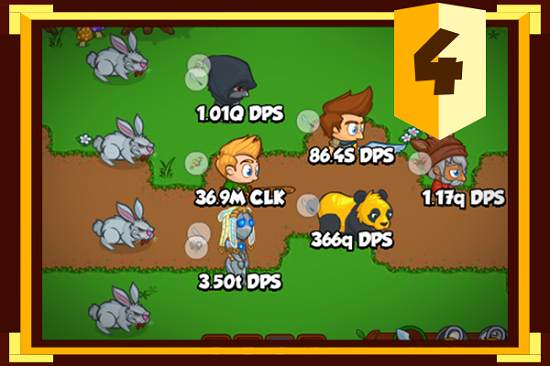 In addition to the tier 1, 2, and 3 requirements, Crusaders with the support tag can no longer be used and you must beat area 700.
Holy Hand Grenade Tier 4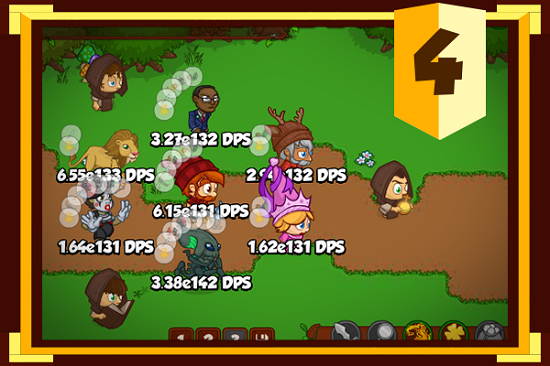 The monks now move around the formation until you beat area 750.
Grond! Grond! Grond! Tier 4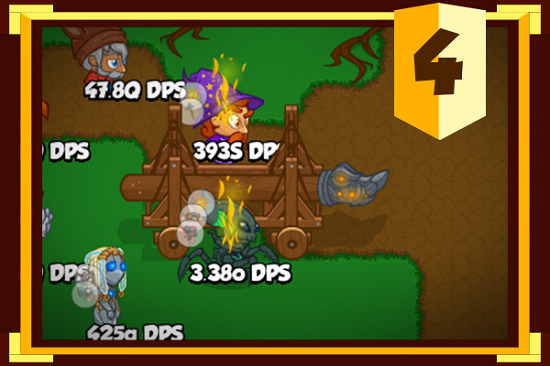 Defenders of the Realm attack your formation, trying to destroy Grond. Don't let them! Beat area 750.
Demolition Derby Tier 4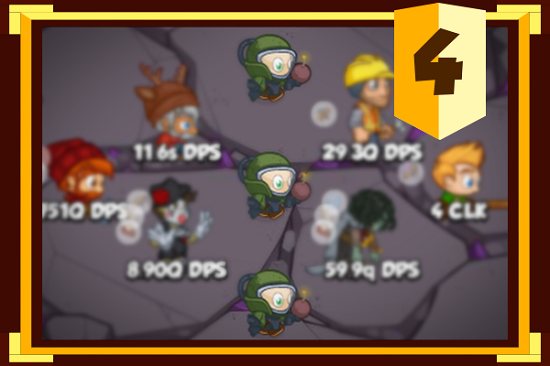 Walking bombs now spawn. Don't let them reach you while you work to beat area 850.
These are just four of the 12 new Tier 4 objectives for both Worlds Wake and Descent into Darkness. We're looking forward to seeing how you get on with them.
To help you through the tough new Tier 4 objectives, there's a weekend buff. The following Crusaders will get a buff this weekend starting from today until 12 pm PDT on Monday July 31st.
The Bush Whacker - Critical Click Chance +6%
Emo Werewolf - Base DPS +400%
Mindy the Mime - All DPS +200%
Detective Kaine - A-Hah! ability +200%
Fright-o-Tron 4000 - Remote Detonation ability +200%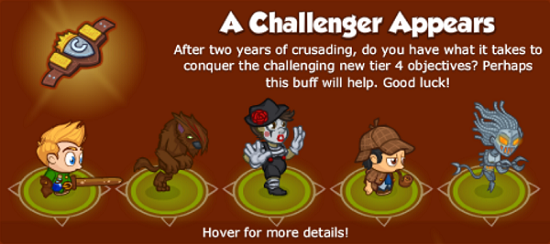 Also, check out the limited-time Challenger Jeweled Chests that contain equipment for the five Crusaders above!
(
Please note:
The chest will only contain gear for Mindy the Mime and Fright-o-Tron if you've unlocked them. If you are missing Fright-o-Tron, you can purchase Fright-o-Tron's Golden Epic, and it will be available on her once you unlock her.)