It's so hot that the thermometers are starting to melt. It's time to band together and defeat the heat-walkers.
The following Crusaders will get a buff this weekend starting from today until 12 pm PDT on Monday July 17th.
The Princess - Ignite, Char, Conflagrate, and Incinerate ability +200%
Brogon, Prince of Dragons - Friends of Brogon ability +200%
Leerion, the Royal Dwarf - Golden Touch ability +200%
Prince Sal, the Merman - Base DPS +400%
Thalia, the Thunder King - Storm Rider ability +200%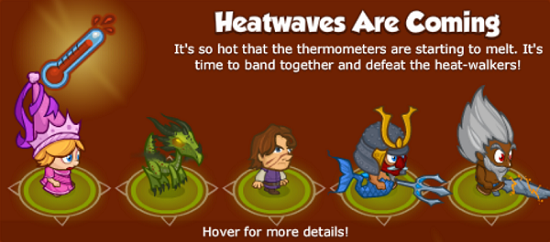 Also, check out the limited-time Melting Jeweled Chests that contain equipment for the five Crusaders above!
(
Please note:
The chest will only contain gear for Brogon and Leerion if you've unlocked them. If you are missing Leerion, you can purchase Leerion's Golden Epic, and it will be available on him once you unlock him.)