Holidays are a time for togetherness; a time to get back together with family and friends and celebrate together. At least, that's what holidays are supposed to be about...
Someone outside Luskan has been pillaging the food stores in advance of this year's
Simril
celebration. Residents are becoming worried that there may not be enough to last the long Sword Coast winter to come!
Simril 3
introduces
Krull
, the Tortle Death Cleric of Tiamat from
Baldur's Gate: Descent into Avernus
, and brings back Warden, the corrupted Warforged Warlock, and Dhadius the Scarlet, an arrogant Human Wizard. Players have until Monday, December 9th at 12PM Pacific to complete their Simril 3 unlocks and objectives.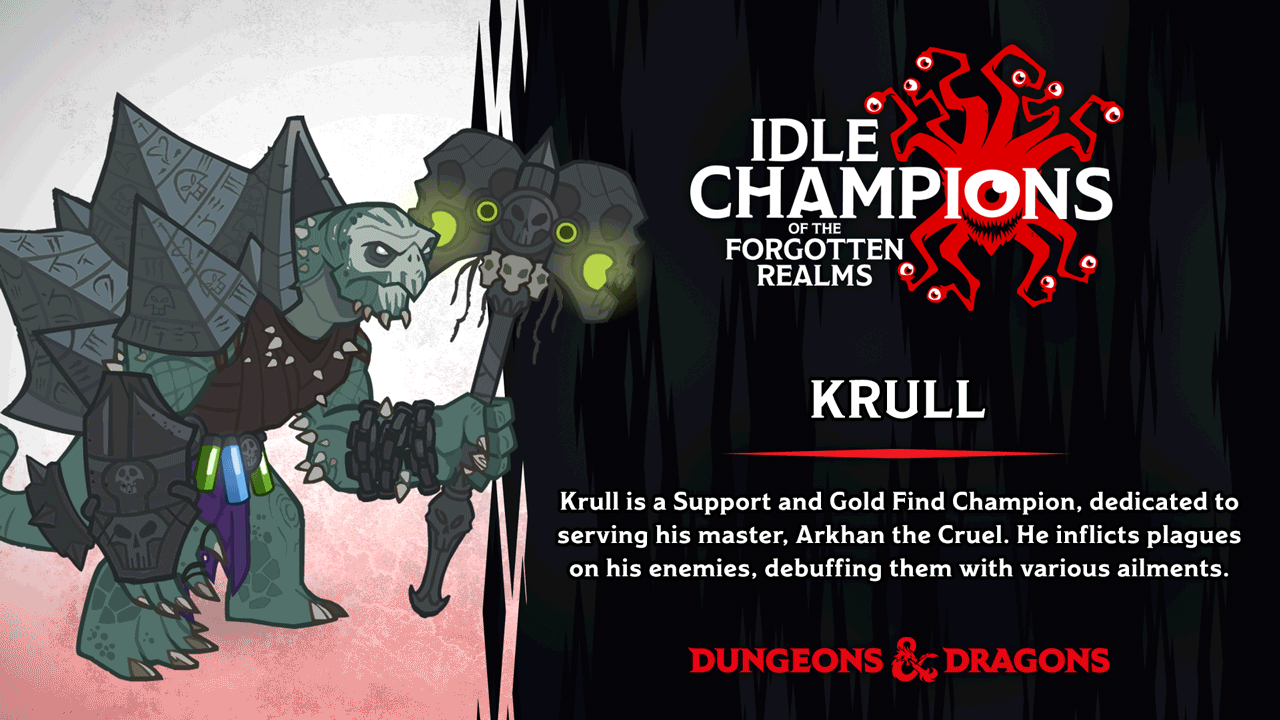 New Champion: Krull
Krull is a death-cleric of Tiamat who swore allegiance to Arkhan the Cruel after being bested by him in combat. He's Arkhan's alchemist, his experimenter, his torturer... Always surrounded by the dead, Krull wears a white painted face mask that makes him look undead in an effort to confuse and strike fear in his opponents.
Krull is a Support and Gold Find Champion, dedicated to serving his master, Arkhan the Cruel. He inflicts plagues on his enemies, debuffing them with various ailments. When you want to add Krull to the formation, you can swap him with Asharra (Slot 6).
For more information about our latest Champion, check out the
Idle Champion Spotlight: Krull
dev blog!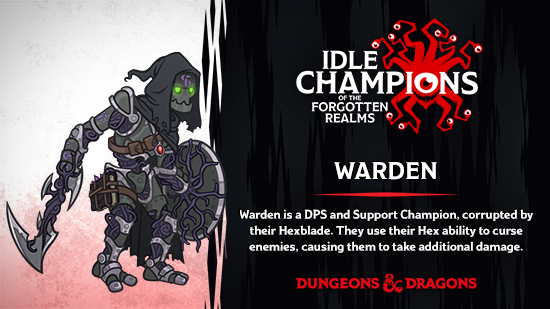 Year 2 Champion: Warden
Forged to be the jailer for a prison filled with eldritch horrors in a faraway land, Warden became corrupted by the monstrosities they sought to keep locked away. Now they journey at the behest of an otherworldly master, seeking souls for the insatiable Dark Hunger to corrupt and feast upon.
Warden is a DPS and Support Champion, corrupted by their Hexblade, the source of their otherworldly strength. At the same time, it is also from this Hexblade that the Elder Evils of Realmspace have laid their claim to Warden, infesting their body with eldritch malignancy. They use their
Hex
ability to curse enemies, debuffing them and causing them to take additional damage for each stack of the Hex curse they are afflicted with.
When you want to add Warden to your formation, you can swap them with Jamilah (Slot 11).
For more information about our Warden, check out the
Idle Champion Spotlight: Warden
dev blog!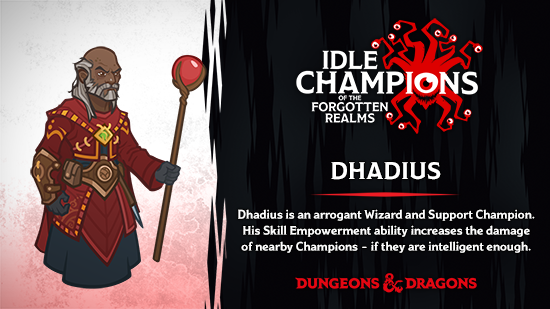 Year 1 Champion: Dhadius the Scarlet
Dhadius is a mage of legendary status and acclaim (at least, in his own mind), who sees everyone else as intellectual worms. Being an egomaniac, he seeks out esoteric lore and rare magical secrets, so he may know things that the 'common fools' do not.

Dhadius hails from Luskan in the north, where he is a member of the Arcane Brotherhood, an infamous group of wizards. He joined them only recently and hasn't been taken as seriously by the others as he thinks he should be. He's determined to let it be known far and wide that he is a wizard to be respected and feared.
Dhadius is an arrogant Wizard and Support Champion. His Skill Empowerment ability increases the damage of nearby Champions - if they are intelligent enough.
When you want to add Dhadius to your formation, you can swap him with Calliope (Slot 5).

Year Three Variants
Spoiled Staples — You'll need barrels if you want to cart all this food back to town before it spoils! At the start of the adventure, two barrels on wagons take up slots in the formation.
Reach Area 75.


Master Plaguebringer — Krull begins in the second column of the formation. He can be moved, but can't be removed from the formation. Non-Plagued enemies deal 100% more damage (additive) and move 10% faster (additive) for each enemy on the screen that doesn't have a Plague on them (including themselves).
Reach Area 125.


The Creeping Chill — Every 5 areas, the temperature drops by 5 degrees. For each change in temperature, the enemies get stronger, increasing their health and damage by 100% (additive).
Reach Area 175.

Year Two Variants
Unlucky Hunters — Local beasts do not take kindly to the Champions trespassing upon their land. Beasts deal increased damage, and their hides are thickened like armor.
Reach Area 75.


Frostbitten — The thickness of the falling snow in outdoor areas increases as the adventure goes on. Champions on the outside of the formation deal less damage the further they go due to the cold weather.
Reach Area 125.


Unspeakable Horrors — Warden begins in your formation. Starting in the first area and continuing every 25 areas after, you lose a formation slot to creeping eldritch horrors. For each tentacle taking up a slot in the formation, Warden's damage is increased.
Reach Area 175.

Year One Variants
Frightful Weather — In areas where it is snowing (excluding boss areas), the party takes damage every second.
Reach Area 75.


Light in the Darkness — Several slots in the formation are taken up by floating magical torches.
Reach Area 125.


A Wise Endeavour — Only champions with a wisdom score of 13 or higher – and of course, Dhadius – may be used.
Reach Area 175.
See the in-game FAQ for more information!