Simril
is ruined! Someone or something has been pillaging all the food stores of Luskan, leaving very little leftover for the feast of Simril, let alone the long, cold winter to follow. Your party has been hired to hunt down this ruiner-of-holidays and recover the stolen sustenance.
Celebrate Faerûn's winter solstice with the latest Idle Champions event,
Simril
! This limited-time adventure runs from today until Noon PST on Monday, December 18th 2017, and introduces Dhadius the Scarlet, the Human Wizard!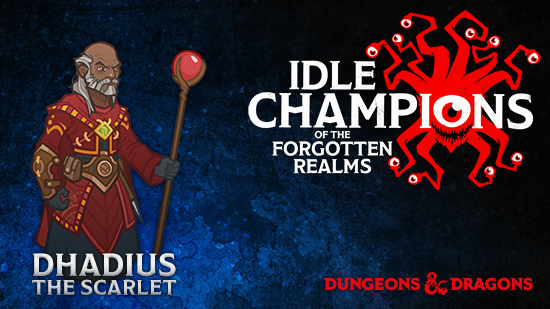 New Champion: Dhadius the Scarlet!
Dhadius is a mage of legendary status and acclaim (at least, in his own mind), who sees everyone else as intellectual worms. Being an egomaniac, he seeks out esoteric lore and rare magical secrets so he may know things that the 'common fools' do not.
Dhadius hails from Luskan in the north, where he is a member of the Arcane Brotherhood, an infamous group of wizards. He joined them only recently and hasn't been taken as seriously by the others as he thinks he should be. He's determined to let is be known far and wide that he is a wizard to be respected and feared.
When you want to add Dhadius to your party, you can swap him with Calliope.

Simril Variants
Frightful Weather — In areas where it is snowing, your party will take 1.7% of their max health as unavoidable damage every second.


Light in the Darkness — Several slots in the formation are taken up by floating magical torches.


A Wise Endeavour — Only champions with a wisdom score of 13 or more may be used.

Features:
Added the Simril event, our fourth limited-time campaign event! The event will run until Monday, December 18th at noon PST.
Added a new Champion: Dhadius the Scarlet, the Human Wizard.
Added a new event Divine Favor: Shar's Favor.
Champion ultimate abilities now usable with numeric keypad.
The game is now compatible with Razer hardware – let there be lights!
You can now minimize the top UI using a button added to the left of the top left menu – bird hunters rejoice!
See the in-game FAQ for more information!