This is the tail of a druid who might look cute, but when her friends are in danger there's no kitten around! She's a fur-midable opponent who can cause a cat-astrophe to her enemies!
Merilwen is a Wood Elf druid with a penchant for puns and a love of all things nature! She joins her fellow Oxventure Guild members
Rust on the Harbour
,
Corazón
and
Prudence
in the Idle Champions roster during Dragondown 5.
I. Merilwen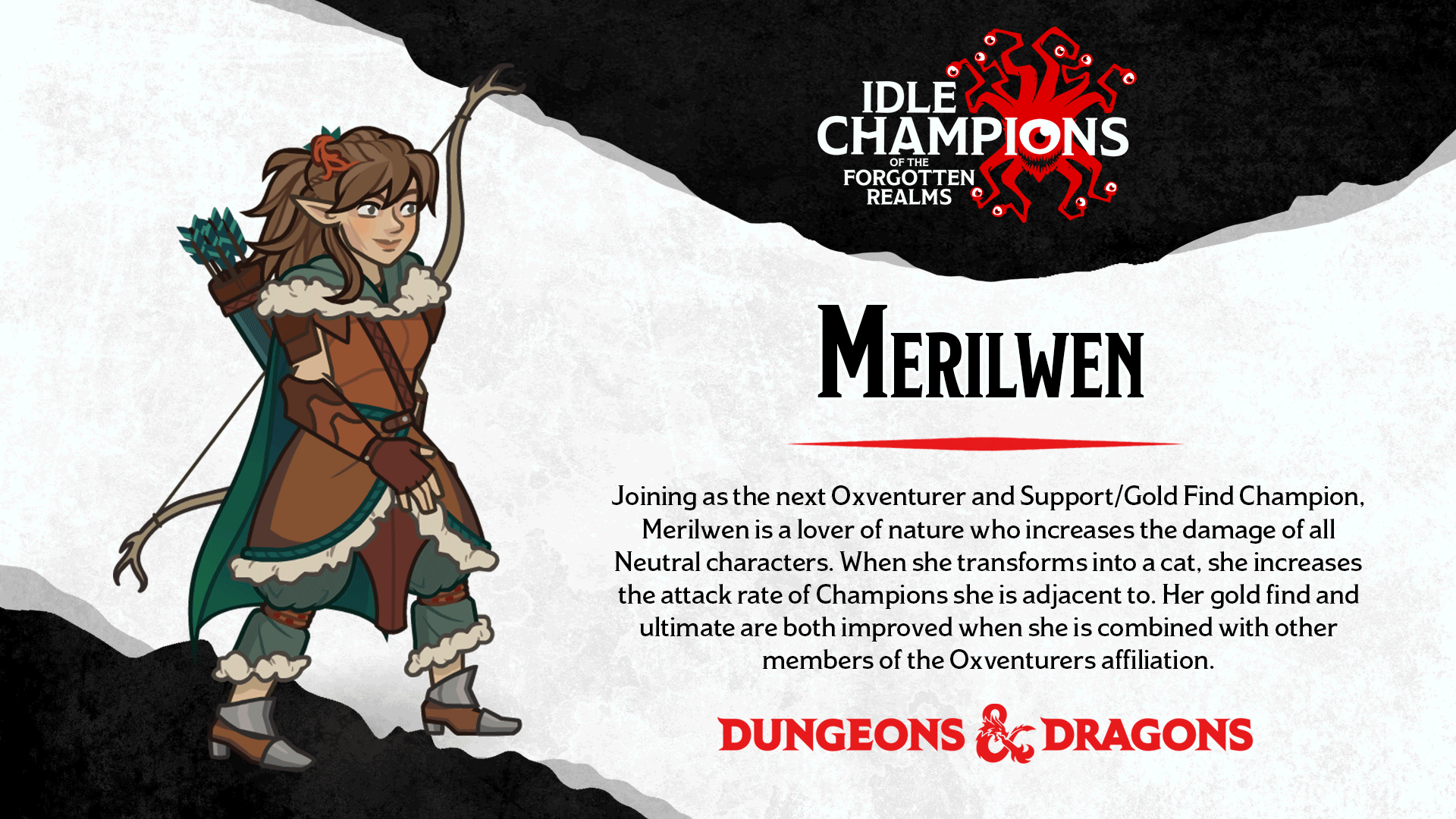 Merilwen is at home in nature, happy to speak with animals or plants at the first opportunity. She's always ready to pull out her trusty bow, or turn into a cat, to get out of many tough situations. With a fierce loyalty to her friends, and to nature itself, she'll call upon the moon to deal with anyone who gets on her bad side. And if you're really unlucky, you might stumble into Merilwen's Meatgrinder. Spoilers: it's a very bad time.
Merilwen is a Support and Gold Find Champion who increases the damage of all Neutral Champions, and when she transforms into a cat, she increases the attack rate of adjacent Champions. Her gold find and ultimate are both improved when she is combined with other members of the Oxventurers affiliation. She can be added to the formation by swapping her out with Celeste (Slot 2).
II. Merilwen's Stats
Race: Elf (Wood)
Alignment: True Neutral
Class: Druid (Circle of the Moon)
Gender: Female
Pronouns: She/Her
Age: 101
Affiliation: Oxventurers Guild
| | | |
| --- | --- | --- |
| STR: 12 | DEX: 17 | CON: 15 |
| INT: 14 | WIS: 20 | CHA: 11 |
Role:
Support, Gold Find
Eligible for Patrons:
Vajra and Strahd
Slot
: 2 (Celeste)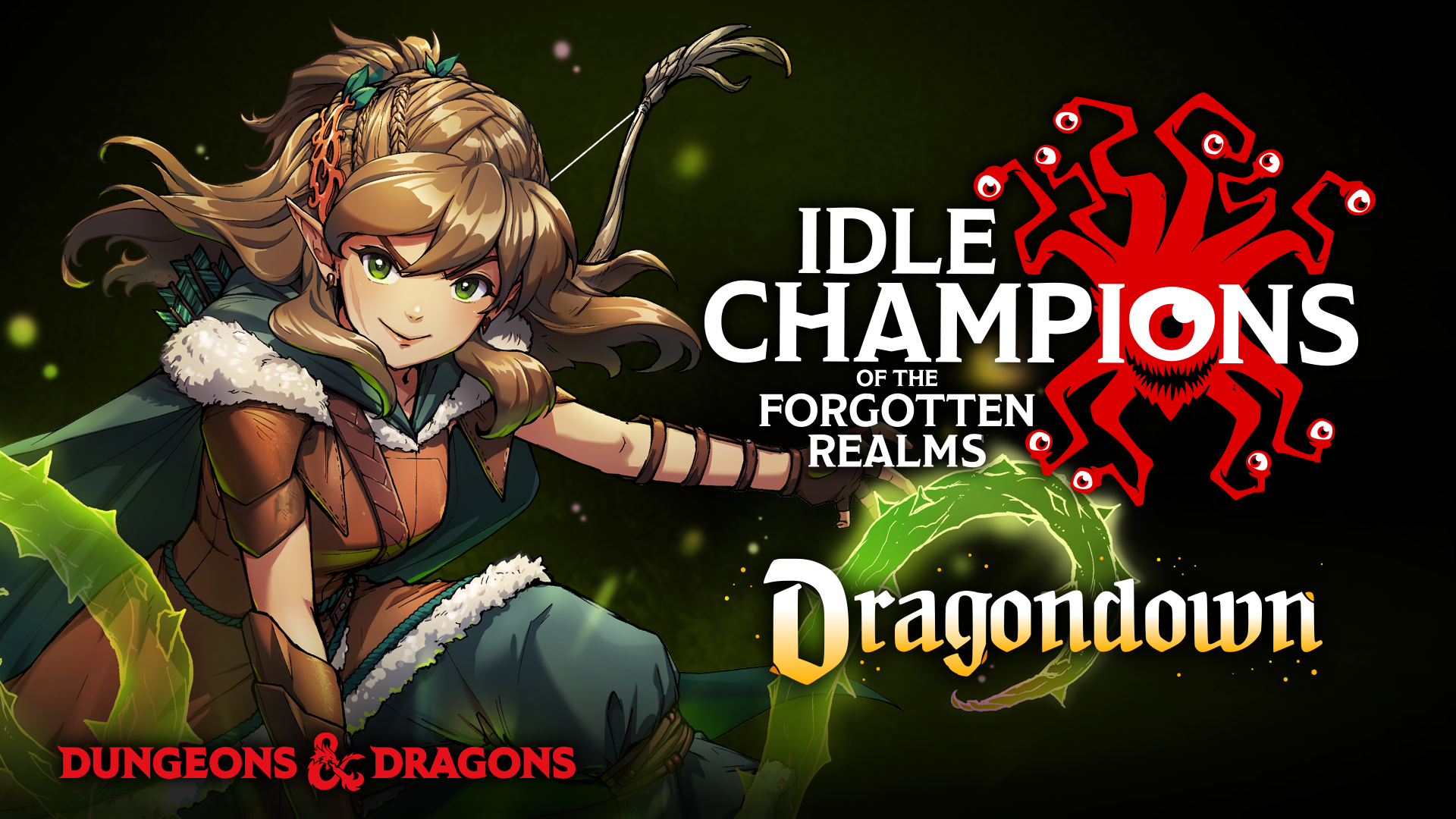 III. Merilwen's Design
It was delightful to work with Ellen Rose on the design Merilwen, and bring this nature loving fan of puns to Idle Champions! Merilwen is our fourth Champion from
the Oxventure crew
from Outside Xbox and Outside Xtra, so it was especially fun to dig into the ways she could interact with the other Oxventurer's Guild members.
Merilwen is fiercely loyal to her friends, and to nature itself, which she demonstrates in all the ways she supports the formation. She prefers
A Neutral Party
, not those who lean good or evil, so she increases the damage of all Neutral Champions. While in her elf form, Merilwen will hurl
Punishing Puns
at enemies to increase the damage
A Neutral Party
can do, and will attack enemies with a magical
Poison Spray
. But she can also stop attacking and
Wild Shape
into a cat, using her
Distracting Cuteness
to inspire those adjacent to her to attack faster. And the more Oxventurers Guild Champions that have joined her in the formation, the more
Liquidity
she'll have to increase everyone's gold find.
Merilwen's Specializations encourages her to pick one thing to focus on. She can cause additional damage by making enemies
Stink like Skunk
, increases gold find because she
Treasures her Friends
, or further increases the rate of attacks of her adjacent allies in her
Mew-will-wren
form. All of this support is a huge help to the formation, but sometimes Merilwen wants to join the battle in epic fashion with
Merilwen's Meat Grinder
! This Ultimate Attack causes stone spikes to shoot out of the ground to cause massive damage, and if other Oxventurer's Guild members are part of the formation they'll help make her Ultimate even more deadly!
IV. Merilwen's Abilities
Basic Attack
Merilwen has two attacks depending on if she's in cat or elf form:
Distracting Cuteness — Merilwen does not attack while in cat form.
Poison Spray — Merilwen attacks a random enemy with a magical spray of poison.
Formation Abilities
A Neutral Party — Merilwen increases the damage of all Neutral (along the good/evil spectrum) Champions in the formation by 100%.
Liquidity — Increase gold find by +100% for each Oxventurers Guild Champion in the formation, stacking multiplicatively.
Wild Shape — At the start of each non-boss area, Merilwen takes on the form of a wild cat. She no longer makes normal attacks, but the attack speed cooldown of every adjacent Champion is reduced by 0.5 seconds. If there are ever 15 or more enemies on the screen, Merilwen transforms back to her normal form and starts attacking until the party switches areas.
Punishing Puns — While in her elf form, Merilwen boosts A Neutral Party by +100% for each enemy, stacking additively.
Specializations
Stink Like Skunk — Merilwen's normal attack makes hit enemies stink like skunk, taking extra damage every second for 5 seconds.
Treasures her Friends — Merilwen gains an Encouragement stack each second that an enemy is not defeated. For each Encouragement stack, the gold find of Liquidity is increased by +100%, stacking additively. When an enemy is defeated or the party changes areas, the stacks are reset to 0.
Meow-il-wen — Merilwen's Wild Shape attack speed cooldown reduction is increased by 1 second and persists when she is in her elf form.
Ultimate Ability
Merilwen's Meat Grinder — Stone spikes come out of the ground with a 30 second duration. Enemies in the area take massive damage over time while in the area. Secondary effects are triggered based on if other Oxventurer's Guild members are part of the formation:


Corazón: Enemies affected by Grease in the spike area take +200% damage from all sources.
Prudence: Prudence's glee stacks are set to maximum.
Rust: Gold find is increased by +1000% for 30 seconds.
V. Merilwen's Epic Equipment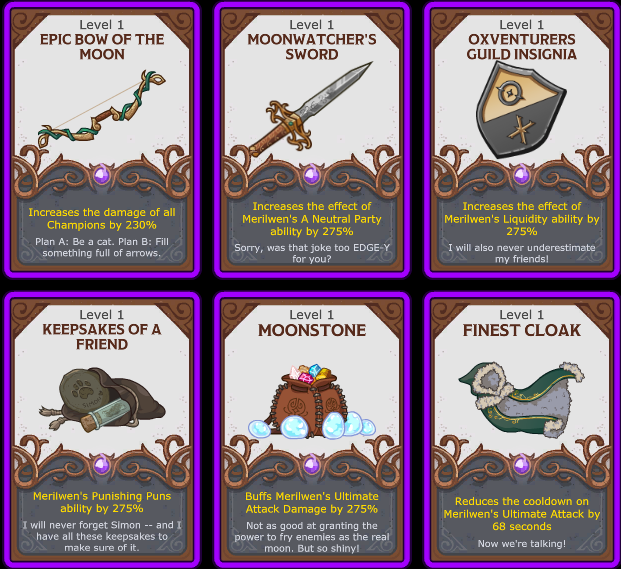 | | | |
| --- | --- | --- |
| Slot 4: Punishing Puns | Slot 5: Ultimate Damage | Slot 6: Ultimate Cooldown |
VI. Conclusion
Whether grinding enemies to mulch or inspiring allies as a cat, Merilwen has plenty of powers that we're excited to see her deploy! Tell us all about how much you are enjoying having Merilwen in your formations on the
Idle Champions Subreddit
, on the
Steam forums
, or on the
Official Idle Champions Discord
!