Welcome to the
Cosmic Revelry Celebration
! Get ready for a week-long celebration of daily rewards and a gem shop update!
Cosmic Revelry Celebration
Cosmic Revelry begins
Wednesday November 15th at 12pm Pacific
! Log in to Idle Champions on each of the next seven days to collect free in-game rewards just for playing!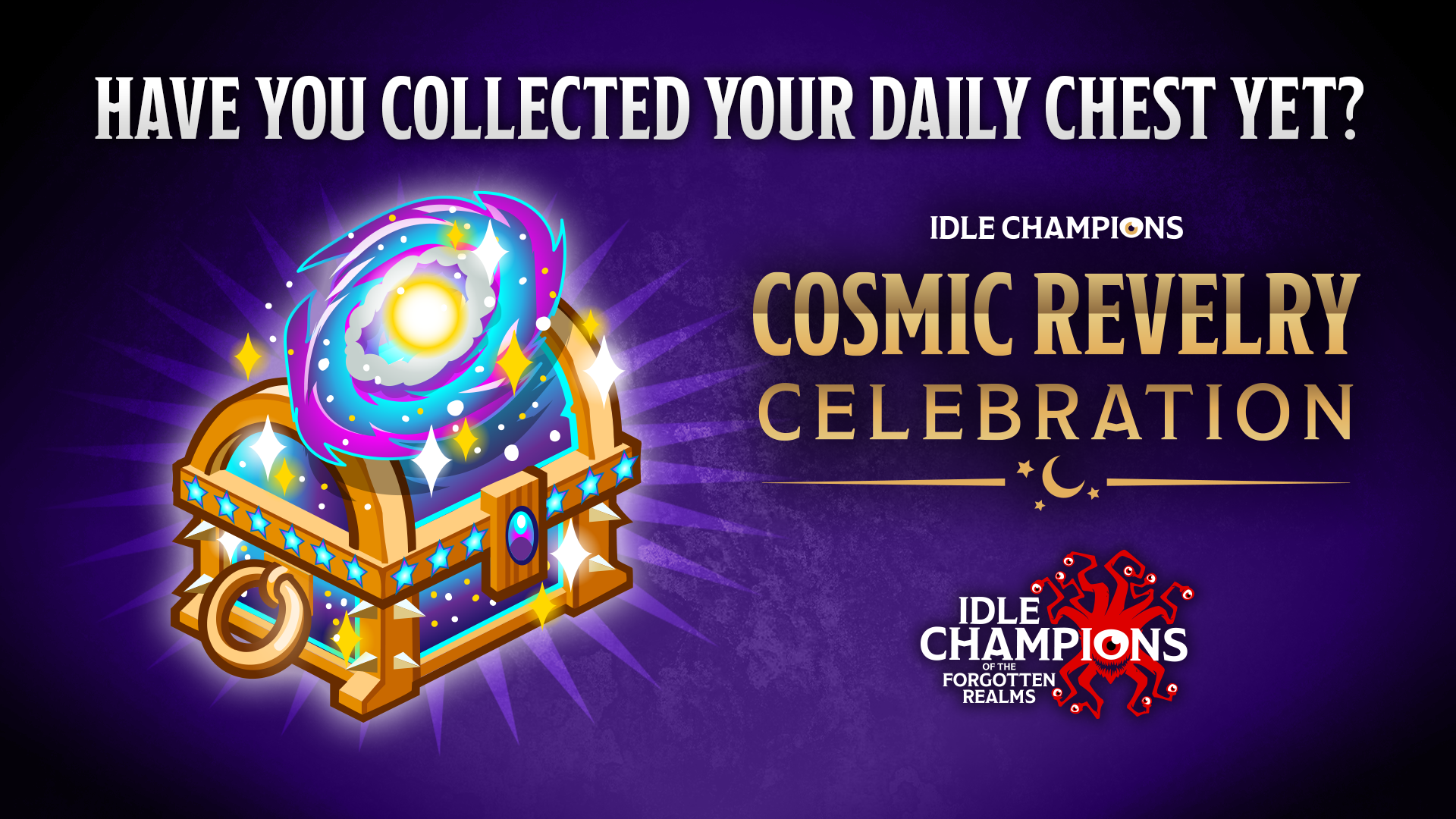 Daily Rewards
Every day during the Cosmic Revelry Celebration you can log in to Idle Champions and open a new Cosmic Chest, but each chest is only available for 24 hours! Every chest contains awesome items, hand-picked by the team here at Codename Entertainment to help you in your adventures! Once you have claimed four daily Cosmic Chests, you unlock the bonus prize: Elemental Dungeon Master! This bonus includes an epic new skin for Dungeon Master, a new Feat, and 3 Gold Dungeon Master Chests!
Gem Shop Update
The following items are now available for Gems starting today!
Skins:
Accessible through the Gem Shop
Venture Casual Walnut (20,000 Gems)
Venture Casual Rosie (20,000 Gems)
Feats
- Accessible through each Champion's Character Sheet
Walnut - Taunt (50,000 Gems)
Five Epic Feats from Season 3 (50,000 Gems Each)
Barrowin - Dwarven Tradition
Birdsong - Harmony
Spurt - Kobold Brethren
Hew Maan - Immolation
Turiel - Shout Above the Din
Five Rare Feats from Season 3 (12,500 Gems Each)
Barrowin - Calm Under Pressure
Birdsong - Athlete
Spurt - Extra Wasps
Hew Maan - The Path Is Clear
Turiel - Athlete
Modron Core from Season 3
- Accessible via the 'Buy Additional Cores' button on the Adventuring Parties dialog.
Unaffiliated Core (500,000 Gems)

A lot is going on in Idle Champions of the Forgotten Realms - and there is LOTS more to look forward to! But as one last reminder:
In order to get all of the free rewards during the Cosmic Revelry Celebration, you need to log in each day and Claim Your Rewards!
Enjoy the Cosmic Revelry Celebration right now in-game and thank you for playing!
If you have feedback, let us know in a Community Q&A or Champion feedback post on the
Idle Champions Subreddit
, on the
Steam forums
, or on the
Official Idle Champions Discord
!