After surviving an excursion into Undermountain with a brief trip to Skullport, the Champions have found the Stone of Golor and the secret it contains: the location of the
Vault of Dragons
!
But the Champions are not the only ones in pursuit of Neverember's lost treasure hoard, and their enemies are in hot pursuit...
Today's update introduces two new adventures and two new challenging variants to the Waterdeep: Dragon Heist campaign, as well as the first of the updates described in our Idle Champions in 2020 Dev Blog:
Updated Time Gates
!
Note:
you will need to have completed the previous two Dragon Heist Adventures,
The Lair of The Xanathar
and
Waterdeep Under Siege
, in order to access these new Adventures.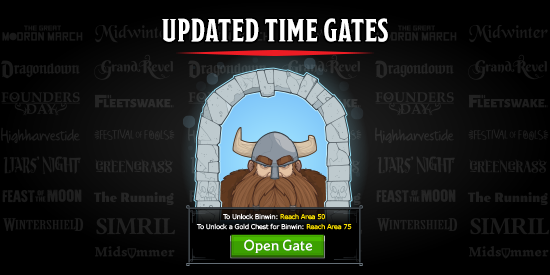 Updated Time Gates
With this update, we have updated the Time Gate system. Players can now open Time Gates for any Champion they choose, and the rewards for Time Gate adventures have been updated. We have also removed the Time Gate Pieces premium pack from the in-game Shop. See the in-game
Time Gate FAQ
for more information about what rewards you can earn and how you can earn them.

Vault of Dragons
The
Vault of Dragons
has been discovered, and it's a race against time to get inside first!
Variant: Vault of Pixies — Vajra has sent some of her Pixie 'friends' to assist your efforts in the vault of dragons. Unfortunately, they misunderstood who their allies are supposed to be! Pixie enemies arrive in each area. Instead of dealing damage, they will cause the Champion they attack to sleep for five seconds. Each hit resets the counter. Only Champions with CHA of 14 or lower can be used.
Reach Area 250.
Champions of Waterdeep
Enemies you've made on your journey catch up with you at Trollskull Manor.
Variant: On the Job Learning — Chadwick accompanies the Champions. He doesn't like working with other spellcasters though. Only Champions with a melee or ranged base attack can be used.
Reach Area 250.
See the in-game Change Log for more information!