Today we're introducing a brand new feature for Crusaders of the Lost Idols, and it's a major update to the game! We have created new limited time events where you can unlock brand-new Crusaders among other rewards.
Carnival of Sorrows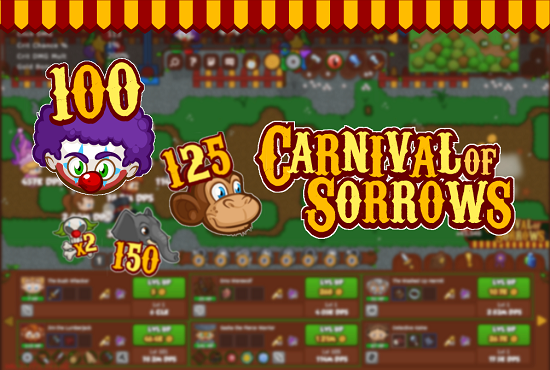 The inaugural event is The Carnival of Sorrows. This dark and demonic funfair has rolled into the Crusaders world with some twisted new objectives to complete. However, entry to the objectives requires you to have earned enough tickets to spend on unlocking them. Tickets can be earned by killed monsters.
Once you have enough tickets, you'll have to complete the four new objectives and claim your rewards before the Carnival packs up and leaves on Tuesday, October 13 at Noon PDT.
New Crusaders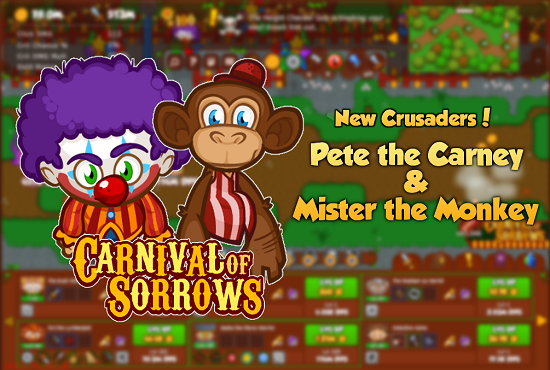 The opening two objectives are the first time you'll meet Pete the Carney and Mister the Monkey, two prisoners of the Carnival of Sorrows whom you need to rescue. The evil circus members have trapped them in their warped traveling carnival.
You must help break them out of the demonic spell by liberating them from the carnival. It won't be easy as they will debuff your Crusaders and take up a slot in your formation. However, completing the objectives will release them from their captivity, and they'll join your ranks. Once recruited you'll be able to select the character for all your formations by using the all-new swap button.
Mister the Monkey can be switched for Kaine while Pete the Carney can be switched for Jason by choosing the switch option just above the enchantment points.
Pete the Carney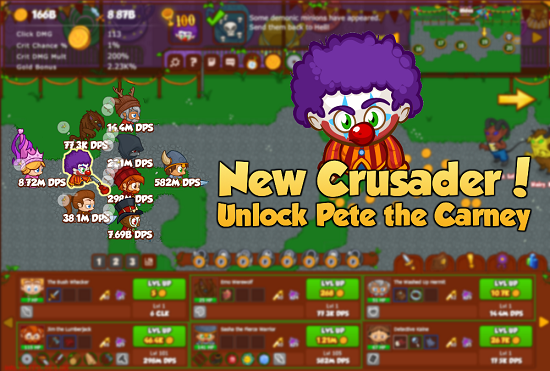 Pete the Carney packs some new unique upgrades. A lifetime of traveling with the twisted carnival has built up his arsenal of improvements. His Bad Jokes are so bad that the Crusaders furthest from Pete receive a 50% boost to their DPS. As well, his level 200 bonus is Clown Rage that even has Pennywise diving for cover.
Mister the Monkey is no slouch either. He can buff all the Crusaders in the column behind him to find 25% more Gold, and fling a little poop while he's at it. Monkey see, monkey do.
Elephants of DOOOOM!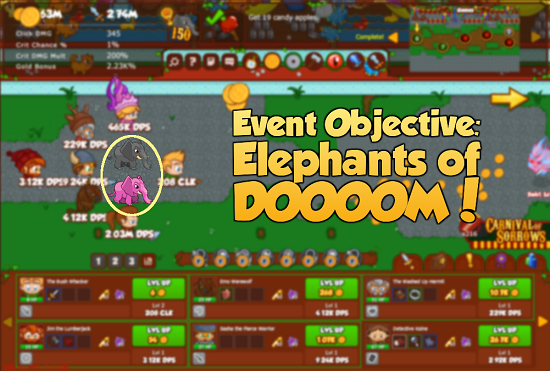 The remaining two objectives are Elephant of DOOOOM, where two elephants block valuable formation slots raising the challenge, and Carnival of Death, featuring double the number of monsters per area. These objectives reward Jeweled Carnival chests!
Of course, if you have extra tickets and want to get more gear for your new Crusaders while you can, you can run the Free Play mode. You get a guaranteed Silver Carnival chest for completion that has a chance to be upgraded to a Jeweled Carnival chest!
You have 11 days to beat the event and rescue Pete and Mister the Monkey. Can you do it?
The event ends Tuesday, October 13 at Noon PDT.