We've just concluded the second episode of Idle Champions Presents: The Unfair Seas, and are thrilled with how it's going so far! We wanted to clear up some Frequently Asked Questions asked in the community, especially around voting. Be sure to check out our previous Idle Champions Presents
blog post
for more details on the cast and the livestream and in-game interactions.
What is Idle Champions Presents?
Idle Champions Presents is a six-week interactive in-game and livestream event that runs from February 16th until March 31st. For these six weeks you'll be able to complete challenges, earn rewards, and vote to influence the events of the live D&D show Idle Champions Presents: The Unfair Seas (Feb 22, Mar 1, and Mar 8) and Idle Champions Presents: A Fool's Errand (Mar 15, Mar 22, and Mar 29). The Idle Champions Presents show airs live each Monday at 4PM Pacific on
CNEGames Twitch
and you can also watch the video later on our
YouTube channel
.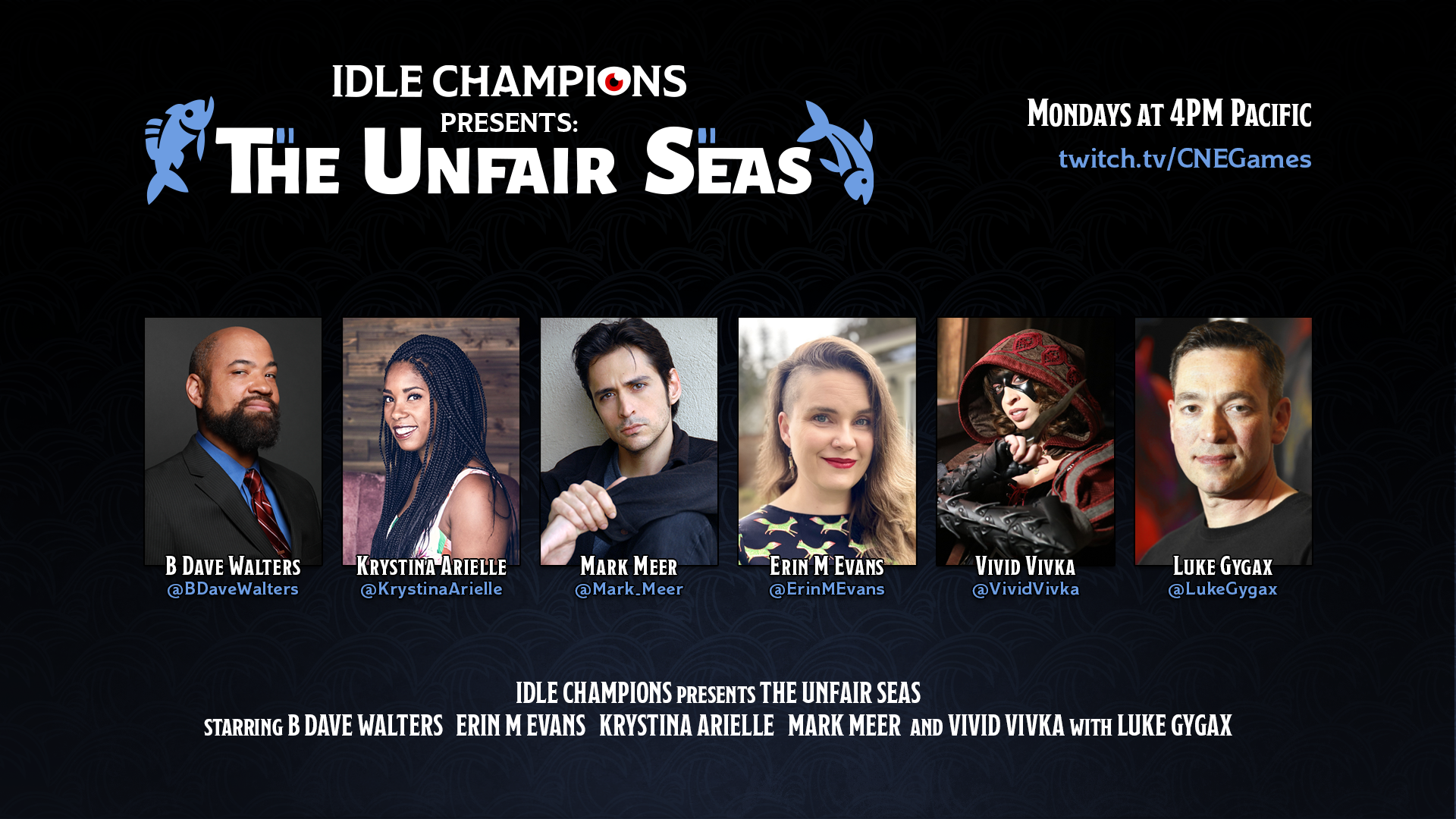 Can I have the TL;DR?
Each day, a new vote will become available within Idle Champions. The result of that vote will influence a tabletop D&D episode that airs the following Monday. Check back in-game daily to collect rewards and vote on the next day's question! Learn more about Idle Champions Presents and its cast on our previous
blog post
.
Do I have to watch the Twitch Livestream to participate?
All you have to do is play Idle Champions to participate! In addition to helping to craft an unforgettable show, at the completion of each vote, a new in-game reward becomes available. The in-game reward will normally be something related to the vote, so we recommend voting to get the best experience, but we welcome everyone to enjoy the rewards.
Where can I watch Idle Champions Presents episodes?
Idle Champions Presents broadcasts for 6 episodes, starting on Feb 22nd and ending on Mar 29. All episodes start at 4PM Pacific on the
CNEGames Twitch
. If you miss the livestream you can watch the video on demand on Twitch, or soon after the broadcast on our
YouTube channel
.
Voting FAQ
How long are votes available?
Normally, votes are available for 24 hours: From 12PM Pacific to 12PM Pacific the following day. At 12PM the vote total will become public, and the reward will become available for all players. On Mondays, our newest episode will air, and we don't want to give away any spoilers for the next episode! There will be no active vote from 12PM Pacific on Mondays until the end of that evening's episode. Once the episode airs, the next vote becomes available, with players who are active in-game at that time getting a first shot at the vote!
Can I vote for both choices?
If you want to, absolutely. You do you.
How many votes can I get each week?
Each day at 12PM Pacific, you'll automatically earn a new vote. Each week, you can earn up to 6 additional votes through challenges. Earned votes (including the free vote available each day at noon), are available for the duration of the Idle Champions Presents event.
What are challenges?
Challenges are in-game tasks that you can complete to earn extra votes. Challenges come in a variety of difficulties; some votes are easier to earn than others. New challenges unlock every week and can be accessed on each week's page. Each challenge is available to complete for six days after it unlocks. After the six days have passed, any unfinished challenges will no longer be completable.
What can I earn from challenges?
Each complete challenge earns an additional vote.
How long do I have to redeem a reward?
Rewards will be available for the duration of the Idle Champions Presents event. The notification will turn off at 12PM Pacific on March 31st, so we suggest collecting all of your rewards before then.
Why can't I see clips on any of the votes?
We can't show you clips of how your vote changed the game until our players get around the virtual table! Every Tuesday, we'll be cutting, taping, and super gluing the episode together to feature short clips that highlight how you and the members of the Idle Champion community changed the game! We hope players will enjoy checking out the previous episode's antics in the lead-up to the next episode!
Do you have to vote to collect a reward?
Not for this event. Rewards for past votes are available to all players, regardless of whether they voted during the active 24 hours. You can collect a day's reward by visiting the voting page after its completion. Check back next week, and you'll be able to see how your vote(s) affected the TRPG game! As we get further into Idle Champions Presents, we hope to have many fun clips to share!
We can't wait to see how this all comes together! We hope you'll join us in discussion about Idle Champions Presents on Twitter using the
#IdleChampionsPresents
hashtag and tagging
@IdleChampions
.