The start of spring is traditionally marked by a day of peace and rejoicing, featuring beautiful displays of flowers in celebration of Lathander, God of Spring and The Morninglord. Unfortunately for the town of Triboar on the Sword Coast, their celebrations are interrupted by the arrival of a githyanki raiding party...
Greengrass is our tenth limited-time event, running from today until Tuesday, April 24th at noon PDT, and introducing Nrakk, the Githzerai Monk!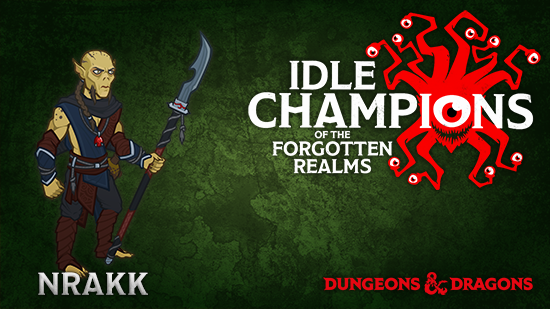 New Champion: Nrakk
Having watched your party's progress for many years from Limbo, the Great Githzerai, Zaerith Menyar-Ag-Gith, has dispatched Nrakk to join your party on the Material Plane. Though his true motivations are unknown, Nrakk is a Way of the Kensei monk whose weapon of choice is a Naginata, making him a true force to be reckoned with on the battlefield. Reserved and aloof, Nrakk sometimes has a hard time interacting with those he sees as his lessers, but he nevertheless seems committed to the party's cause.
When you want to add Nrakk to your party, you can swap him with Delina or Hitch.

Greengrass Variants
Whispers — The Elder Brain slowly drives your Champions mad. Whenever a Champion lands a killing blow, they gain 5–10 stacks of a "Whispers" debuff. When they reach 100+ stacks, they are stunned for 15 seconds.


Flower Power — Sentient flower enemies spawn at random in non-boss areas. When killed, they imbue the champion who killed them with a random power, which can be good or bad.


Unlikely Allies — Two Githzerai monks take up slots in the formation. Each increases the DPS of Nrakk by 400% as long as he is adjacent to them, stacking multiplicatively.

Features:
Added the Greengrass event, our tenth limited-time campaign event! The event will run until Tuesday, April 24th at noon PDT.
Added a new Champion: Nrakk, the Githzerai Monk.
Added a new event Divine Favor: Lathander's Favor.
See the in-game Change Log for more information!