You asked, and we delivered! We're launching four new objectives for our venerable campaigns: Descent into Darkness, Ghostbeard's Greed, and Grimm's Idle Tales.
Slow Descent
The
Slow Descent
objective in Descent into Darkness challenges you to get to area 100, but the difficulty of each area will be exponentially harder. Cue evil laugh here. It's going to require your very best DPS-boosting tactics to win using the smallest formation in game.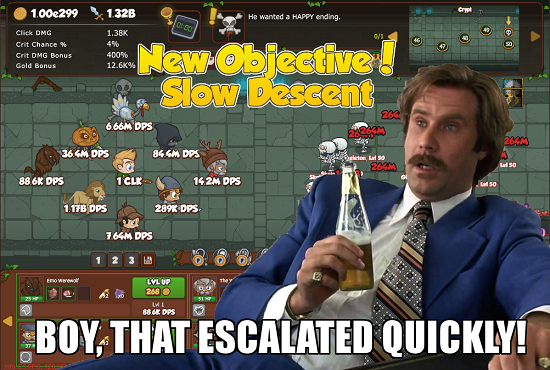 Cursed Treasure
Cursed Treasure
in Ghostbeard's Greed is a lesson in morals. Even for pirates. Now and then you're going to have to pay a price for your looting ways and this objective features a cursed treasure chest which disables formation abilities on the adjacent Crusaders. To add insult to injury, it'll move between formation positions randomly, requiring you to regularly shuffle your Crusaders.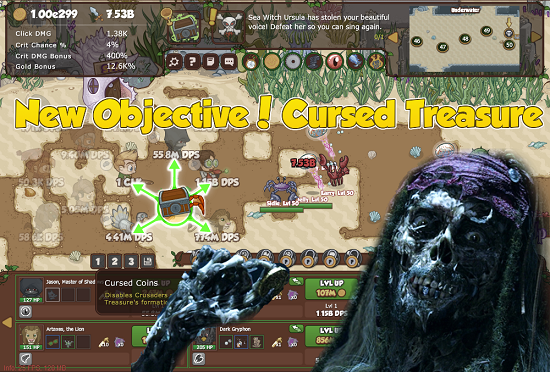 The Lion King
Grimm's Idle Tales receives two new objectives. In
The Lion King
, you're going to have the kingly task of beating area 400 while chased by hyenas. Sounds familiar, but we can't put our finger on it. Artaxes has some helpful upgrades to help you make it through though.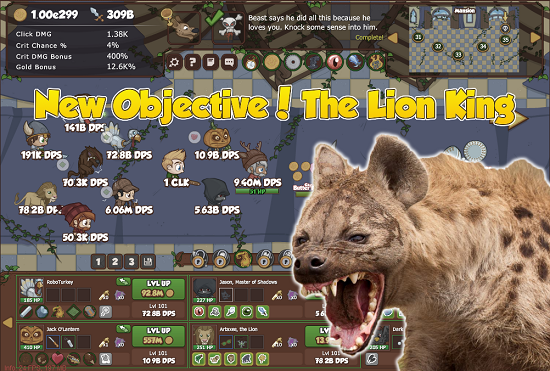 Holiday Hoopla
The second new objective in Grimm's Idle Tales is
Holiday Hoopla
. Again, you're going to have to be at your best to beat all 400 areas. More so because you're only going to have access to the event Crusaders! None of the regular Crusaders, aside from The Bush Whacker and Nate Dragon, will be available.
Good luck! You're going to need it.