This week we are releasing more objectives for you. We've added one new objective to
World's Wake
, and two new objectives to
Grimm's Idle Tales
. All three require you to have earned 2,500 Idols to access them.
Top Tier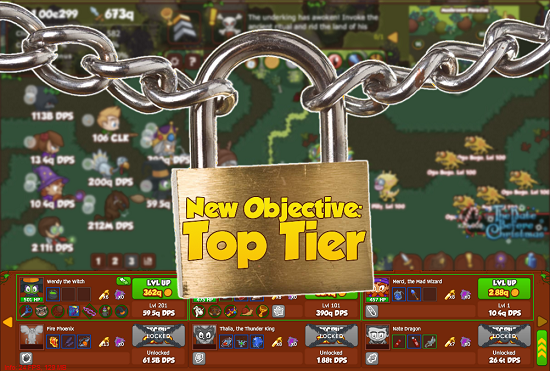 In objective
Top Tier
, your merry band must reach area 350 with only half of the available Crusaders available to you as the team get split up. Everyone from The Bushwhacker to Merci, the Mad Wizard can be selected. Everyone from Jim the Lumberjack through Nate Dragon will be locked out.
But how will I reset? We hear you cry. Don't worry, Merci has taken Nate's reset ability for this objective.
Let It Go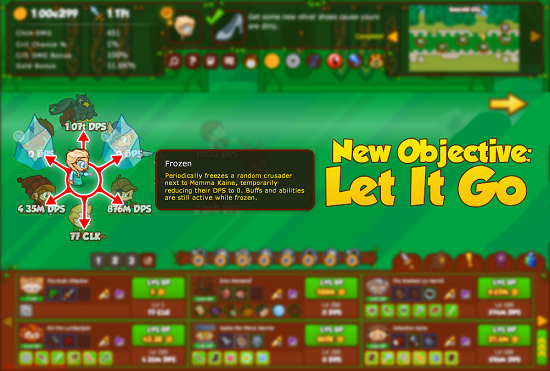 Let It Go
is the first of the two new objectives for Grimm's Idle Tales. A familiar-looking lady by the name of Elsa, who just happens to have some magical winter abilities is tagging along like a bad smell.
Elsa keeps freezing adjacent Crusaders every 10 seconds. The affected heroes have their DPS reduced for up to 15 seconds, but thankfully their formation buffs are unharmed.
I Like Potatoes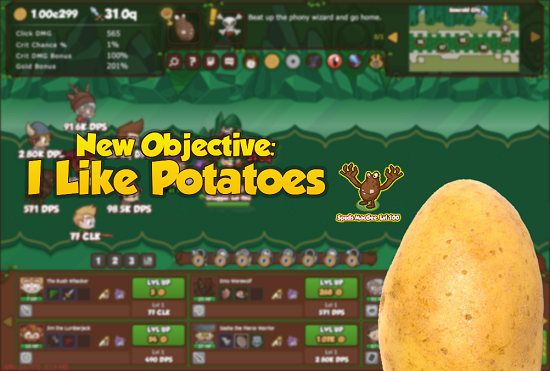 The final new objective is
I Like Potatoes
. An evil potato mayor has pilfered all your idols, and the only way to get them back is to mash him into a pulpy mess. You're going to have to finish the older objective
Big Phoney Wizard
first but once you do, don't forget your potato masher. Good luck