We're very proud to be partnering with the
Take This charity and Take This Wisdom Save Weekend and their ambassador Trystan Falcone, aka Walnut Dankgrass on Acquisitions Incorporated: The "C" Team, with the release of the Stay at Home Walnut skin!

You can get your hands on this exclusive skin by signing up to play or run a live TRPG session during Take This Wisdom Save Weekend. All you have to do is go to this link, sign up to play in a game or run a session or donate US$20. You'll then receive your Stay At Home Walnut code in the confirmation email.

Wisdom Save Weekend
Wisdom Save Weekend is the first annual Take This gaming weekend. Jam-packed with live streams and amazing games with proceeds benefiting Take This. Starting with a whole day of Live Streaming content on the 20th and two days packed with paid and free games on the 21st and 22nd of November.

The mission of Take This is to decrease the stigma and increase the support for, mental health in the game community and inside the game industry. Their vision is a game community that welcomes and supports people experiencing mental health challenges, and that recognizes the humanity and mental health of game creators. All of the Wisdom Save Weekend paid games will directly benefit Take This with 100% of the proceeds going to them.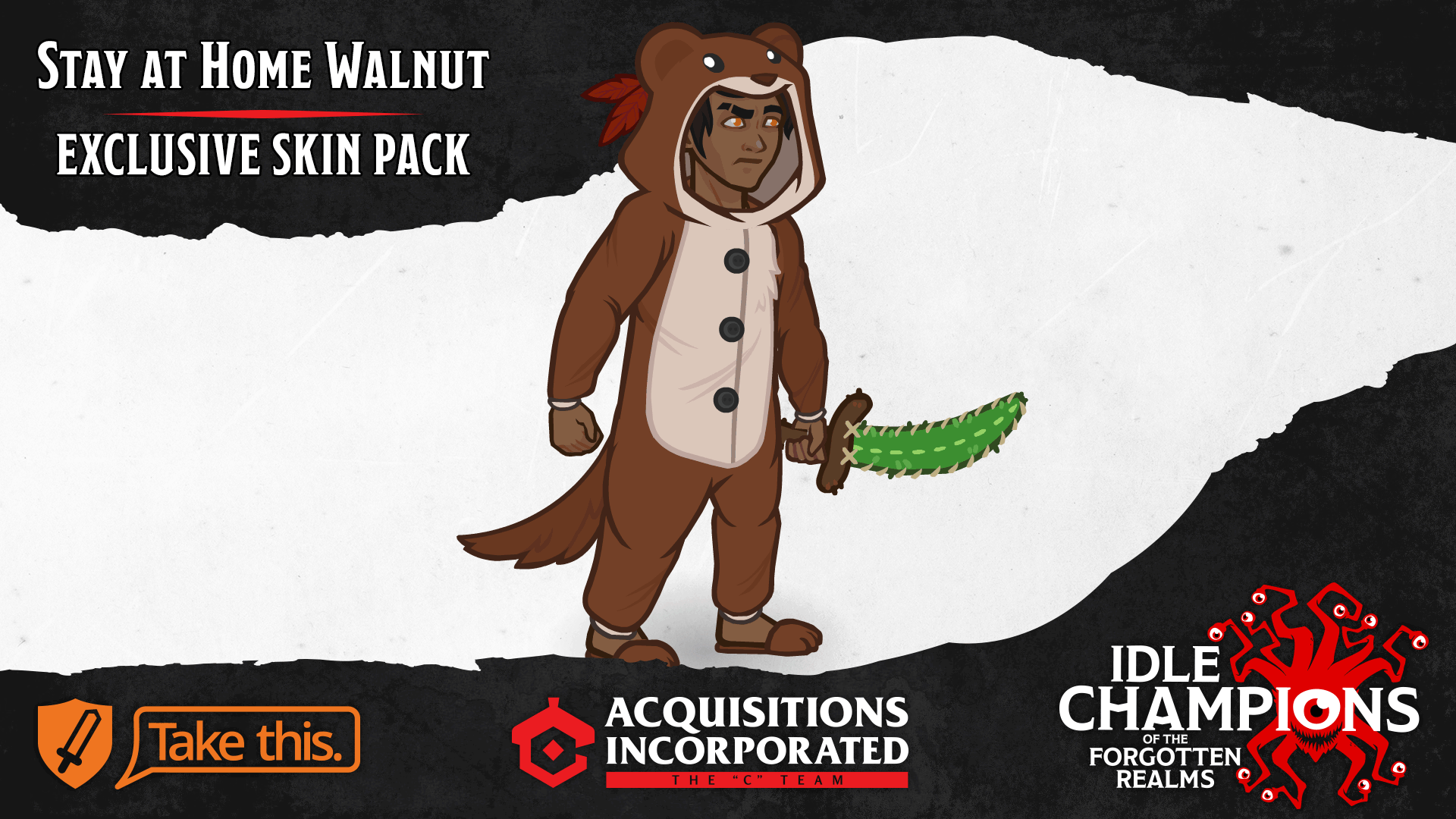 Stay at Home Walnut
The first 1,000 TRPG fans to sign up to participate in Take This Wisdom Save Weekend via StartPlaying.Games will receive a code for the exclusive Stay At Home Walnut skin for Idle Champions. The code will unlock the following:
Walnut Dankgrass
An exclusive Stay at Home Walnut Skin
Two Gold Walnut Chests that enable players to unlock gear for Walnut in-game.
Plus the donor will book a seat at their chosen TRPG session for Take This Wisdom Save Weekend.


Unable to attend This This Wisdom Save Weekend but still want to support a great cause and get Stay at Home Walnut? We heard your feedback! Follow these steps:
Make sure you're registered with Tiltify.
donate first and then it takes you to the rewards (but you can click on 'Rewards' on the left to preview the donation)