We are proud to announce that we have partnered with
Red Nose Day
to create a unique familiar! Codename Entertainment will be donating the net proceeds from all sales of the
Baby Snowy Owlbear Familiar Pack through July 1st, 2020
, to the Red Nose Day Fund/Comic Relief US! To thank you for supporting this great cause, everyone who purchases a Baby Snowy Owlbear familiar through July 1st will also unlock an exclusive skin for the familiar, with a red nose!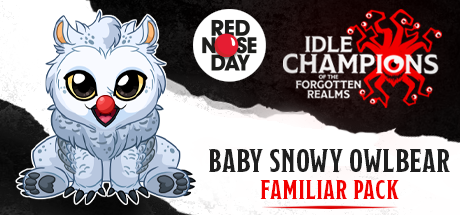 Net proceeds from all Baby Snowy Owlbear Familiar sales through July 1st, 2020 will be donated to Red Nose Day, a 501(c)(3) nonprofit organization, with the mission to end child poverty by funding programs that keep children safe, healthy, and educated.
Red Nose Day supports programs that address both the immediate needs of children in poverty while fostering long-term change. Funds raised are split 50/50 between the United States and some of the poorest communities around the world. Red Nose Day ensures your donations go where the need is the greatest. Food. Medicine. Shelter. And most importantly, to give hope. To date, Red Nose Day donations have positively impacted over 25 million children living in poverty to help change their stories for good. We hope you can help join us in supporting the cause!
Familiars
are NPCs that players can assign to specific tasks, such as clicking enemies, leveling up Champions, or using ultimate abilities. Familiars will click at different rates depending on the task they are assigned to. For more information, see our
Introducing Familiars
Dev Blog.
The Baby Snowy Owlbear Familiar is available now in the in-game shop on PC and Mac on
Steam
and web,
Xbox One
, and on all Android devices.
The Baby Snowy Owlbear Familiar will be available on
PlayStation 4
on Thursday, June 18th, and on Nintendo Switch & iOS in the coming weeks. We will be donating the net proceeds for the first two weeks of release, once available on those platforms.