Deadwinter Day has arrived once again in Longsaddle. While most citizens keep warm in their homes and exchange gifts to celebrate the midpoint of winter with friends and family, the Champions have been hired by the infamous Harpells to patrol the outskirts of town...
Midwinter 3
introduces
Môrgæn
, the High Elf Ranger (Hunter) played by
Morgan Webb
on
Acquisitions Incorporated
. The event also brings back
K'thriss Drow'b
, the Drow Warlock played by
Kris Straub
on
Acquisitions Incorporated: The "C" Team
, and
Regis
, Halfling Rogue of the Companions of the Hall. Players have until Monday, January 20th at 12PM Pacific to complete their Midwinter 3 unlocks and objectives.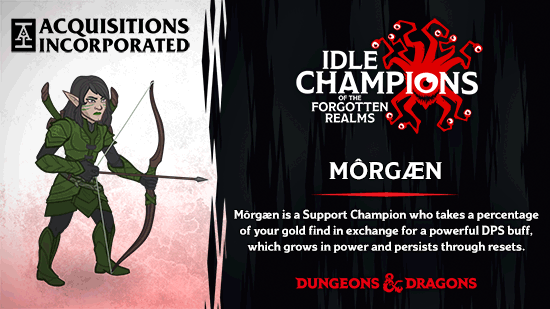 New Champion: Môrgæn
The ranger Môrgæn is a renowned tracker and hunter, able to pinpoint-target foes at any range, then vanish into the woods with no one the wiser. Her legendary ability with the longbow and the custom arrows she crafts instills fear into the hearts of her many enemies -- and more than a few of her coworkers. Famously, she is the only member of Acquisitions Incorporated known to be paid in advance, lest a missed invoice lead to dire repercussions.
Môrgæn is a Support Champion who takes a percentage of your gold find in exchange for a powerful DPS buff with her
Paid Up-Front
ability. The more gold Môrgæn takes, the greater the power of the buff, which persists through resets. When you wish to add Môrgæn to the formation, you can swap her with Makos (Slot 9).
For more information about our latest Champion, check out the
Idle Champion Spotlight: Môrgæn
dev blog!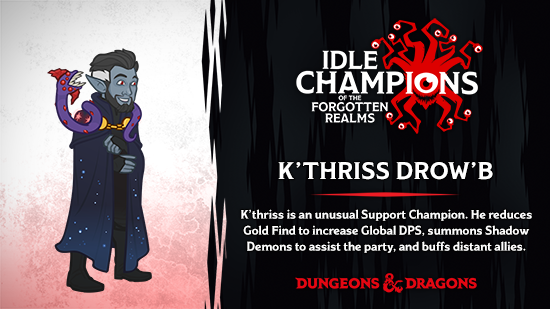 Year 2 Champion: K'thriss Drow'b
Curious, affable, and morbid, the Drow heretic K'thriss Drow'b seeks the insane god-truth behind the veil of reality. As the "C" Team's hoardsperson, he keeps an eye out for occult relics that could aid him in his unearthly quest.
K'thriss is an unusual Support Champion. He reduces Gold Find to increase Global DPS, summons Shadow Demons to assist the party, and buffs distant allies. When you want to add K'thriss to your party, you can swap him with Bruenor (Slot 1).
For more information, check out the
Idle Champion Spotlight: K'thriss
dev blog!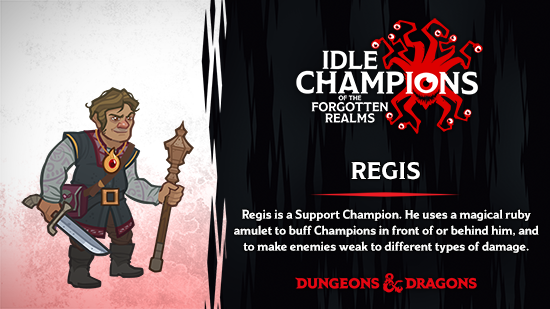 Year 1 Champion: Regis
As a poor urchin on the streets of Calimport, Regis quickly learned that survival often requires bending the rules in your favor. He fled to the north to avoid capture after stealing his former master's magical ruby pendant. Eventually, he found companionship amongst the Companions of the Hall, becoming one of Bruenor Battlehammer's most trusted confidants. Bruenor was the one who gifted Regis with the nickname "Rumblebelly" due to the halfling's insatiable appetite.

Regis would prefer nothing more than to relax in the sun with a full belly near his home in Ten-Towns and fish for knucklead trout, the source of all of his scrimshaw carvings. But when his friends need help, Regis is always there for them. He never sees himself as the hero, even though his true friends know better.
Regis is a Support Champion. He uses a magical ruby amulet to buff Champions in front of or behind him, and to make enemies weak to different types of damage. When you want to add Regis to your party, you can swap him with Celeste (Slot 2).

Year Three Variants
Utterly Devoured — Anyone the Devourer completely devours is now devoured for the entire adventure and can't be used again until you reset the adventure. YOU HAVE BEEN WARNED.
Reach Area 75.
Limited Resources — Only Champions in the first bench seat are initially available. Every 10 areas, another bench slot unlocks, allowing Champions from that slot to be used.
Reach Area 125.
Careful Positioning — Môrgæn starts in the formation in slot 3 and can be moved, but not swapped out or removed from the formation. Only Môrgæn and Champions buffed by Paid Up-Front can deal damage; other Champions' attacks will still proc stuns/slows/etc., but will deal 0 damage.
Reach Area 175.

Year Two Variants
Velvet's Midwinter Adventure — K'thriss summons his unseen servant, Velvet, to help with party. Unfortunately, Velvet has been tasked with collecting gold for K'thriss, causing enemies to drop 50% less gold. K'thriss and Velvet both start in the formation, and once unlocked, K'thriss' Unseen Encouragement ability extends from both K'thriss normally, but also extends to those adjacent to Velvet.
Reach Area 125.
Truth Beyond Knowing — K'thriss desires more knowledge of his unknowable god. Every area, a Drow Cultist empowered by the sign of the Ur appears, attacking with Chain Lightning. The Drow Cultist drops no gold upon death, but does drop a glyph (book). Every time you collect a glyph, Champions with an Intelligence (INT) score of 13 or higher have their damage increased by 5%, while Champions with below 13 INT have their damage go down by 5% for the remainder of the adventure.
Reach Area 125.
More Like the Scream Team — The Devourer now arrives as a second boss in Area 25, and if that wasn't scary enough, the Devourer now devours Champions every 8 seconds instead of every 10 seconds!
Reach Area 175.

Year One Variants
Deadwinter Date — You've been tasked with escorting two young Harpell wards on a date during your adventure. They take up slots and are otherwise pretty useless.
Reach Area 125.
Deadwinter Fey — A large number of sprites and pixies spawn with each wave of enemies (not during boss areas). These extra monsters do not drop gold, and when killed they sprinkle a random Champion with pixie dust. Any champion that is sprinkled with 10 Pixie dust has their DPS and Formation Abilities disabled. Pixie dust stacks reset when you change areas.
Reach Area 125.
Deadwinter Pay (-back) — Every time you defeat an enemy (in a non-boss area) your Champions take 10% unavoidable damage. Champions adjacent to Regis take one third of that damage while Regis himself is immune.
Reach Area 175.
See the in-game FAQ for more information!