Good Champions always do what is morally right, although the way they do so varies based on their lawfulness (or lack thereof). The three Lawful Good Champions buffed this weekend shall certainly do some good for your formation!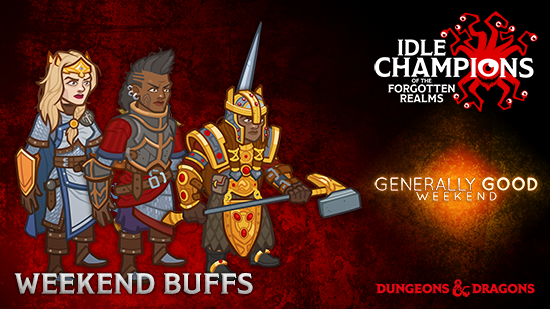 The following Champions will get a buff this weekend starting from today until Noon PDT on Tuesday, March 20th.
Celeste – Increases the effect of Celeste's Crusader's Mantle and Mass Cure Wounds by 200%


Nayeli – Increases the effect of Nayeli's Aura of Courage and Aura of Protection by 200%


Barrowin – Increases the DPS of all Champions by 200%

Check out these limited-time Good Gold Chests that contain equipment for just the champions above!
(Note: equipment cards only appear for
unlocked
Champions. If you do not have
Barrowin
unlocked, her equipment cards will not appear in chests)