A young Harper wizard has recruited the party to help her journey to the
Grandfather Tree
, a holy site for elves and other creatures. She has foreseen an acorn falling from the tree and wishes to take the holy relic to Silverymoon. However, the Grandfather Tree's acorn will not be easily won. The very forest itself opposes your quest, and no sooner have you entered the
High Forest
than the party is set upon by all manner of fey and forest creature...
The Running is our eleventh limited-time event, running until Tuesday, May 15th at 12:00pm PDT, and introducing Catti-brie, the Human Fighter!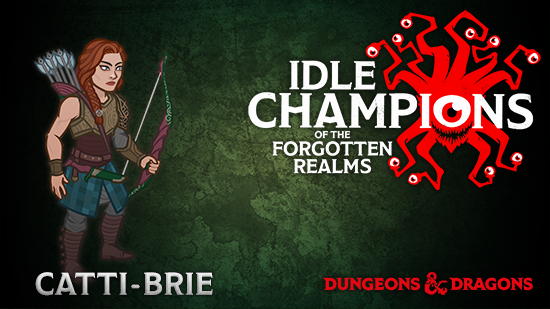 New Champion: Catti-brie
"When I first laid eyes on Catti-brie, she had just punched a rather menacing fellow who was threatening to break every bone in my body. She hit the lout with such surprising force that he flopped to the floor like a sackful of mullet. Over the years, I've come to call her a friend. Underneath Catti-brie's rough exterior lies a heart of gold. She cares deeply for her friends and will protect what she holds dear without fail. If she takes a shine to you, be sure to count your lucky pennies, because her enemies rarely fare well for long." ~Volothamp Geddarm
When you want to add Catti-brie to your party, you can swap her with Minsc.

The Running Variants
The Wolves in the Woods — Werewolves randomly spawn and attack the party, each with special abilities. Catti-brie's silver arrows deal double damage/hits to these creatures.


Critter Companions — Two forest critters take up slots in the formation, increasing the damage of adjacent Champions by 400% moving around every 25 areas.


Catti-alone — Catti-brie is the only Champion available for this mission. Her damage increases by 40% per area, stacking multiplicatively, her attack speed is greatly increased, and her Ultimate ability cooldown is reduced to 10 seconds.

Features:
Added the The Running event, our eleventh limited-time campaign event! The event will run until Tuesday, May 15th at 12:00pm PDT.
Added a new Champion: Catti-brie.
Added a new event Divine Favor: Rillifane Rallathil's Favor.
See the in-game Change Log for more information!