Have you been looking for an extra challenge? Then we have just the thing. Following on from our
11th Objectives
update we've added two new advanced objectives to two campaigns. However, the rewards are worth it: Two new Crusaders can be unlocked, The Priestess of Time and Agent 79.
The first of the two new objectives is
Reversion
in the
Idols Through Time
campaign. Your Crusaders must beat area 750 but every 25 areas, your Crusaders will lose 25 levels. We didn't say it was going to be easy.
If or when you're successful, you'll unlock The Priestess of Time. She has some awesome abilities. At level 25,
Time Stop
freezes random enemies every 10 seconds for 20 seconds at a time. At level 600 enemies take 100% more damage!
The second of the two new objectives is
Water Guns of Doom
in the
Amusement Park of Doom
campaign. All enemies have water guns that they constantly shoot the Crusaders with. Occasionally, a big beefy water-powered water-gun toting robot appears and shields all other non-water-powered-gun-robot enemies until killed. The insane action goes all the way to area 775.
Beat the objective and you'll unlock Agent 79, a support Crusader specialising in ranged attacks. At level 100,
Ricochet Training
makes all projectiles have a 15% chance of bouncing and causing 50% damage to an additional monster. Better still, the ricochet can bounce up to five times if you're lucky!
At level 400,
Explosive Ammo
makes all projectiles explode on impact, dealing 25% of their base damage to all nearby monsters.
| | |
| --- | --- |
| The Priestess of Time | Agent 79 |
But wait, we have more! Five Crusaders will also get a
A Time to Strike
weekend buff!
From today until Monday, July 10th at Noon PDT, Draco, Mr. Monkey, Artaxes, King Reginald, and Greyskull all get a limited time buff applied automatically.
Serpent King Draco - Base DPS +400%
Mister the Monkey - Monkey Business ability +200%
Artaxes, the Lion - Roar! ability +200%
King Reginald IV - Royal Grail ability +200%
Greyskull the Pirate - Plunder ability +200%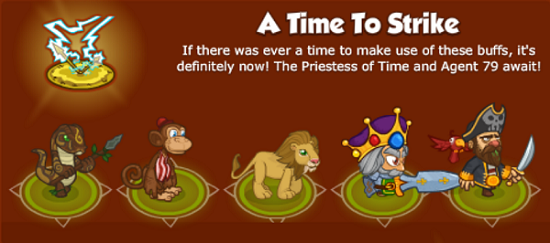 Also, check out the limited-time Striking Jeweled Chests that contain equipment for the five Crusaders above! (Please note: The chest will only contain gear for Draco, Mister the Monkey, and Greyskull if you've unlocked them.)
The new objectives and Crusaders are all available from today. Good luck, Crusaders!