We know you've been waiting so we're excited to launch new Talents for both Tier One and Tier Three. Plus we have a new weekend celebration for you with buffs for five Crusaders AND a new Golden Epic with the purchase of the unique Tasty Chests.
As a reminder for our new players, or for those who have yet to discover Talents, these are unique additional features and powers that are available in exchange for Idols. As ever, the criteria to unlocking the tier talents is dependent on you beating a specific area. For Tier 3 talents you're going to need to beat area 600 in any campaign!
You won't lose any DPS or Gold gains when you exchange your Idols. You'll always keep your total DPS and Gold bonuses in keeping with the number of Idols you've earned since you started playing.
You can read more about the first Talents we launched last year
here
, the Tier 2 update
here
, and the Tier 3 update
here
. Without further ado, here are the details for the new Talents.
The two new Tier One Active and Passive talents are (available after reaching area 150 in any objective):
Speed Runner


Increase the odds of getting shorter duration missions by 10% per level (20 levels)


Every Last Cent


Gold missions award 5% more gold per level (20 levels)

The new Tier Three Active, and Utility talents are (available after reaching area 600 in any objective):
Extra Training


Increase the maximum Crusader level by 25 per level (40 levels)


Sniper


Clicking/tapping directly on a monster does 10% more damage per level (40 levels)

But wait, there's more! We're also launching a brand new weekend buff. For the duration of the weekend, five Crusaders will be receiving massive buffs to their abilities.
Emo Werewolf, Jason, Artaxes, Gold Panda and Pilot Pam will all get a limited time buff applied automatically this weekend. Plus, there are unique Tasty Jeweled Chests to get featuring gear just for those five Crusaders!
Emo Werewolf - +400% increase in DPS.
Jason, Master of Shadows - +100% increase for all Crusaders.
Artaxes, the Lion - Roar ability increased +200%.
Gold Panda - Increase all Gold found by +100%.
Pilot Pam - Focused Teamwork ability increased +200%.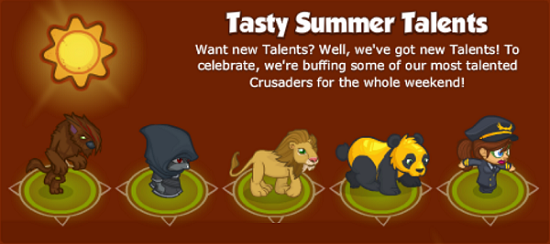 Tasty Summer Talents Buff!