The holy city of Elturel has been pulled into the first layer of the Nine Hells, and now floats anchored above the River Styx held in place by massive infernal chains.
Guided by Lulu the hollyphant, our Champions rally in the ruins of High Hall, seeking a way to save Elturel's survivors while besieged on all sides by the forces of darkness.
Welcome to Avernus...
Note:
you will need to have completed the previous two Descent into Avernus Adventures,
The Darkness Runs Deeper
and
Difficult Terrain
, in order to access these new Adventures.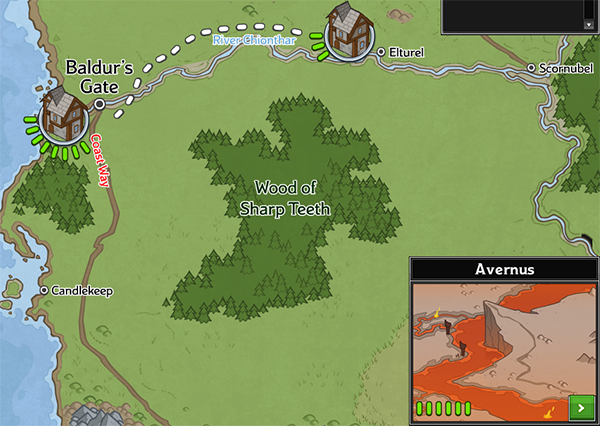 Descent into Avernus Map
In order to access the new adventures and variants, you will need to switch from the Sword Coast map to the Avernus map. Once unlocked, you can find the Avernus map in the bottom-right corner of the Sword Coast map. Clicking on the green button in the very bottom-right corner will transport you to Avernus.

Elturel Has Fallen
The Champions arrive in Avernus to find the holy city of Elturel in chaos, as dark forces begin to overwhelm the city's defenses...
Variant: Everything is Awful — In Avernus, the food tastes like ash, the water tastes like bile, and the wine tastes like spoiled milk. But Champions need to eat! Only Champions with CON of 15+ can be used. Every 5 areas, Celeste urges the Champions to eat or drink. For the next 5 areas, the Champions are afflicted by the demoralization of forcing horrible tasting food and drink down:


Food tastes like Ash: The Base Attack Cooldown of all Champions is doubled.
Water tastes like Bile: Enemies move 20% faster and deal 200% more damage.
Wine tastes like Spoiled Milk: Champions collect 99% less gold.

Reach area 250.
Resolve Amongst Chaos
Survivors of Elturel's descent into Avernus are taking refuge in the High Hall.
Variant: All You Know Is Wrong — Things in Avernus don't work the way they should. That much is clear. Whenever a non-boss creature dies, there is a chance they immediately respawn as a Relentless Ghoul. When they are killed, Relentless Ghouls don't disappear (nor do they spawn an additional Relentless Ghoul). Instead, after 5 seconds, they get back up and start attacking again. They do not drop gold, or count towards quest progress.
Reach area 275.
See the in-game
Change Log
for more information, including a full list of changes and fixes included in this update.