Scream if you're ready to rock! The zombie teachers have become more than a little annoying. It's time for the battle of the bands to aurally assault the monsters in our Schoolhouse Rock celebration.
This weekend we're buffing the five most musical Crusaders from today until Monday, September 12 at Noon PDT.
The Bush Whacker, Detective Kaine, Gold Panda, King Reginald and The Metal Soldierette love rock so much, they're pumped up!
The Bush Whacker - Critical Hit Chance +4%
Detective Kaine - A-Hah! Ability +200%
Gold Panda - Gold Find +100%
King Reginald - All DPS +100%
The Metal Soldierette - Cool Under Pressure Ability +200%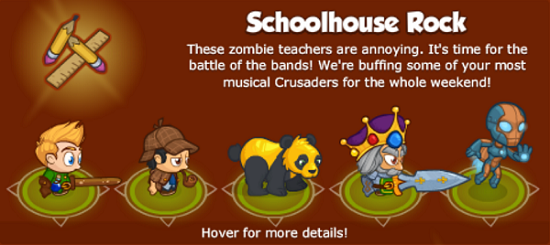 Also, check out the limited-time Rockin' Jeweled Chests that contain equipment for the five Crusaders above! (Please note: The chest will only contain gear for The Metal Soldierette if you've unlocked her.)