Simon is missing! Again! It's time for the Crusaders to galavant about in search of their missing friend, and if they're lucky, they'll make a couple new friends along the way: Skeletom and the Game Goblin!
The Yogscast - Search for Simon 2
runs until Wednesday, June 27th at 12:00pm PDT. For more information, check out the How to Play / FAQ in-game!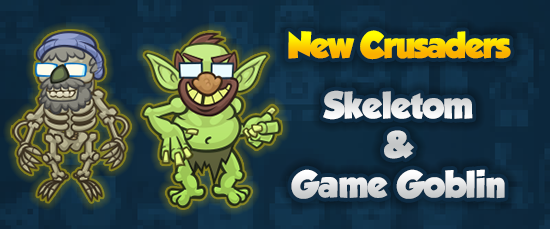 New Tier 2 Crusaders: Skeletom & Game Goblin
Skeletom
— Lord of all skeletons, Skeletom causes special random skeleton monsters to spawn. While alive or when killed, these skeletons offer different effects.
Game Goblin
— The Game Goblin lives in a cave, slowly venturing out as you kill more and more monsters. Once he leaves the cave he tosses a bunch of games at monsters and offers some party buffs before retreating back inside.

Crusaders Return
If you haven't collected them already, you can unlock our Tier One Crusaders
Turps the Tasty
and
Sjin the Builder
by completing the respective Tier One objectives!

Five New Tier 2 Objectives!
Recruit Skeletom | Skeletom takes up a slot in the formation. Three different skeletons spawn randomly: Exploding, Radioactive, and Regular. Reach area 300.


Recruit the Game Goblin | The Game Goblin takes up a slot in the formation and sits in his cave. Every time you get a kill he gets closer to the front of his cave, decreasing DPS by 5% (multiplicative). Once you reach 100 kills he leaves his cave for 5 seconds and decreases DPS By 100%. He then retreats back into his cave and resets his stacks. Reach area 300.


Gaming the System | Monsters can only be damaged by clicking, explosions, or projectiles. Reach area 400.


Grumpy Gamers | Only the Yogscast Crusaders and a random assortment of six other bench slots may be used. These random bench slots change every 50 areas. Reach area 450.


Going Viral | Whenever you get a kill, one random Crusader earns 6-10 stacks of a "Going Viral" effect, which increases their DPS by 10% per stack. Upon reaching 100 stacks, they gain the "Crash and Burn" effect for 15 seconds, reducing their DPS to 0. Reach area 500.
Help! Where's the Loot?
Equipment for event Crusaders can be found in Jeweled YogsChests, which you can earn from objectives and the free play or buy in the shop. Each non-recruitment objective will drop a chest for its given tier of Crusaders, and free play will drop all-tier chests. Gear for Tier 2 Crusaders will only appear in all-tier chests once you've unlocked the respective Crusaders. You can select the tier of chest you buy in the shop.
You'll have until Wednesday, June 27th at 12:00pm PDT to complete The Yogscast - Search for Simon 2!