Summer is quickly running out of steam, but your Crusaders aren't, so push forward with this handy weekend buff!
The following Crusaders will get a buff this weekend starting from today until 12 pm PDT on Monday September 11th.
Sally the Succubus - Seduction ability +200%
Bernard the Bartender - Bartender's Tips ability +200%
Artaxes, the Lion - Lion's Roar ability +200%
Thalia the Thunderking - All DPS +200%
Ilsa, the Insane Wizard - What's Yours is Mine ablity +200%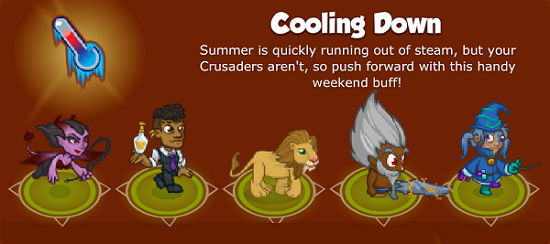 Also, check out the limited-time Cooling Jeweled Chests that contain equipment for the five Crusaders above!
(
Please note:
The chest will only contain gear for Sally, Bernard, and Ilsa if you've unlocked them. You can purchase the Golden Epic for Bernard, even if you don't have him, and it will show up on him once you earn him.)