The nights are getting longer and colder. While many of your Crusaders yearn for longer, lighter days, several of them thrive in the dark. The following Crusaders will get a buff this weekend starting from today until 12 pm PST on Monday December 5th.
Emo Werewolf - Base DPS +400%
Detective Kaine - A-Hah! ability +200%
Dark Gryphon - All DPS +100%
Merci, the Mad Wizard - Deflect Evil ability +200%
Mr. Boggins - The New Students ability +200%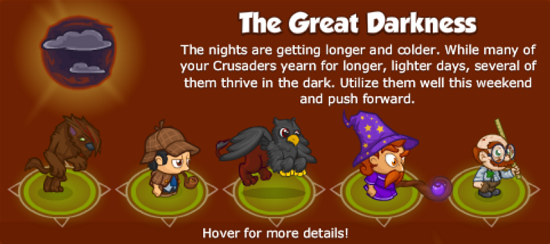 Also, check out the limited-time Dark Jeweled Chests that contain equipment for the five Crusaders above! (Please note: The chest will only contain gear for Mr. Boggins, the Substitute Teacher if you've unlocked him.)
Vote for Crusaders!
Vote for
Crusaders of the Lost Idols
for
Indie of the Year 2016
below and help more gamers enjoy the award-winning idle game today!

2016 Indie of the Year Awards via Indie DB