The Valentine's Monkey is visiting the Egg Breaker Adventure Islands again to spread the love and joy of breaking eggs.
During this event, all players can earn Valentine Monkey tokens (from any stage, any monkey) and trade them in to earn progression points towards ribbons (+5, +10 or +15 additional daily hammers per banana use and play three different special Valentine Monkey stages, and collect a total of 48 prizes (12 normal prizes, 4 rare prizes per stage.)
Hat Packs
New for 2015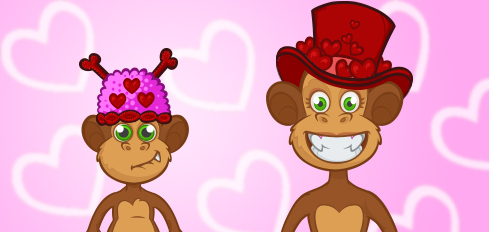 Valentine's Beanie
adds 10% more Gold Eggs and 10% more Crates
Valentine's Top Hat
adds 10% more Hammers and 10% more Multipliers
Available in the Valentine's Store
(if you don't have them already)
From 2014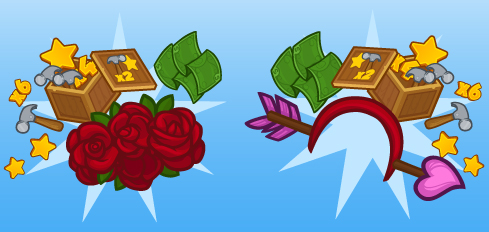 Arrow Hat
has a small chance to add bonus star to any egg win +10% to gold wins
Rose Hat
has a small chance to add bonus area tokens to any egg win +10% less nothings
From 2013
Rose Hammer
which slightly reduces Nothings
The Valentine's Day Event will run until February 19th 2015 @ Noon PST.
Talk about the event here!