As Camp Vengeance gets ready to celebrate Grand Revel, a lone Templar approaches the Champions. Her merchant friend's caravan is missing.
The investigation found only scattered supplies and wreckage along the trail. If there are any survivors, they seem to have been taken into the jungles of Chult...
Grand Revel 5
introduces Vi, the planes-walking, gun-toting, gnome artificer played by
Jeremy Crawford
on
Acquisitions Incorporated
. Grand Revel also brings back
Hew Maan
, a definitely human Champion and not three kobolds in a trench coat, and
Havilar
, the Tiefling Fighter (Battlemaster) and twin sister to Farideh. Players have until Monday, February 14th at 12 PM Pacific to complete their Grand Revel 5 unlocks and objectives.
I. Vi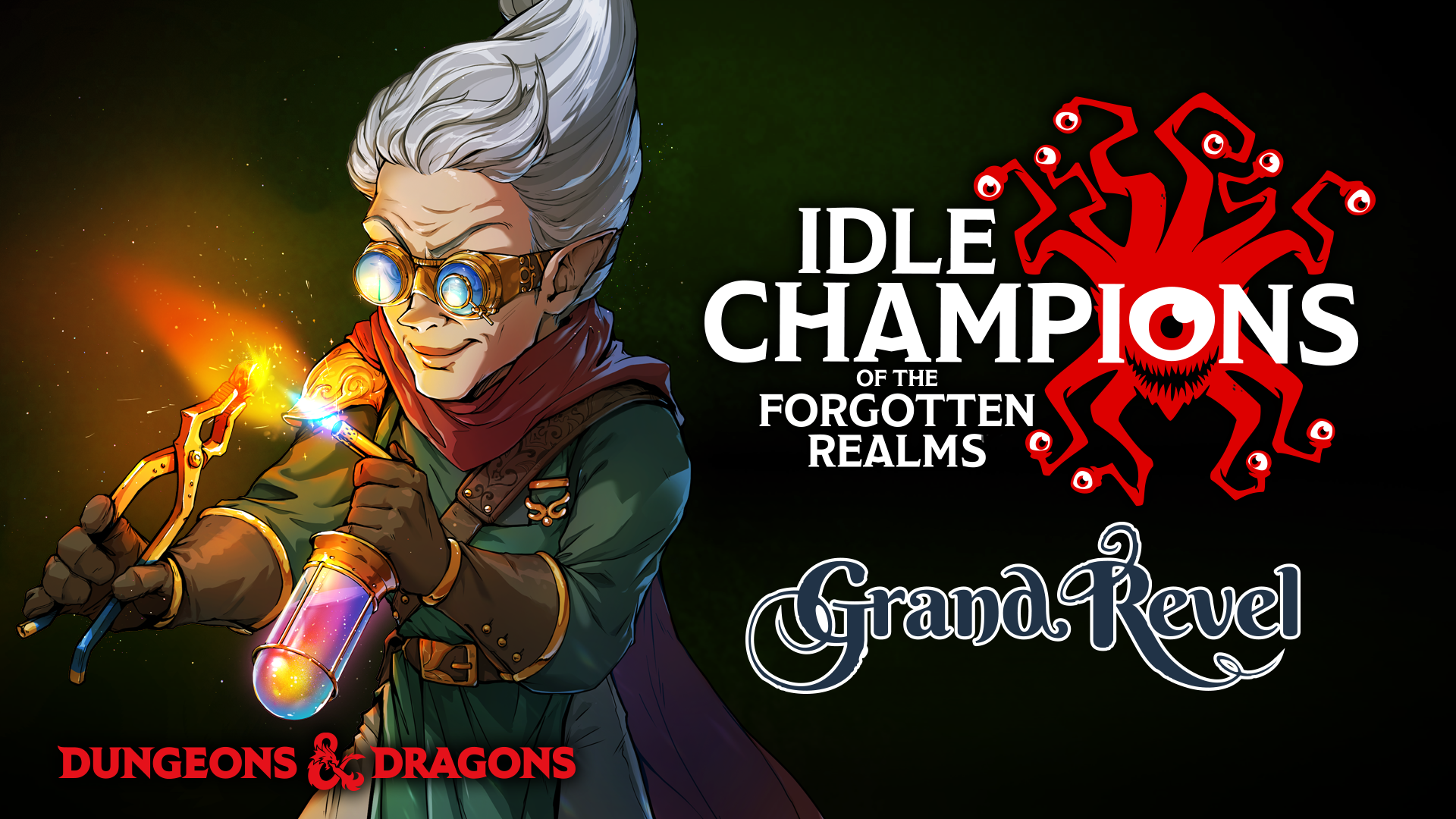 Artificer, entrepreneur, and planeswalker, the gnome Vi hails from the world of Eberron. Seeking to atone for her part in creating devastating weapons for the Last War, she established the Fixers, a business dedicated to fixing problems others deem unfixable. Born with an aberrant dragonmark that allows her to travel from one plane of existence to another, she's brought her genius, warm heart, and love for a stiff drink to many worlds. The Fixers are headquartered in Sigil, the City of Doors, but Vi has established offices throughout the multiverse.
Vi is a Support, Speed and Gold Find Champion who wants to surround herself with good people, while encouraging those morally gray folks to use their resources for good causes. When you want to add her to your formation you can swap her with Arkhan in slot 12.
II. Vi's Stats
Race: Gnome
Alignment: Neutral Good
Class: Artificer
Gender: Female
Pronouns: She/Her
Age: 500
Affiliation: Acquisitions Incorporated
| | | |
| --- | --- | --- |
| STR: 8 | DEX: 12 | CON: 16 |
| INT: 18 | WIS: 13 | CHA: 12 |
Role:
Support, Speed, Gold Find
Eligible for Patrons:
Mirt, Vajra, Strahd
Slot
: 12 (Arkhan)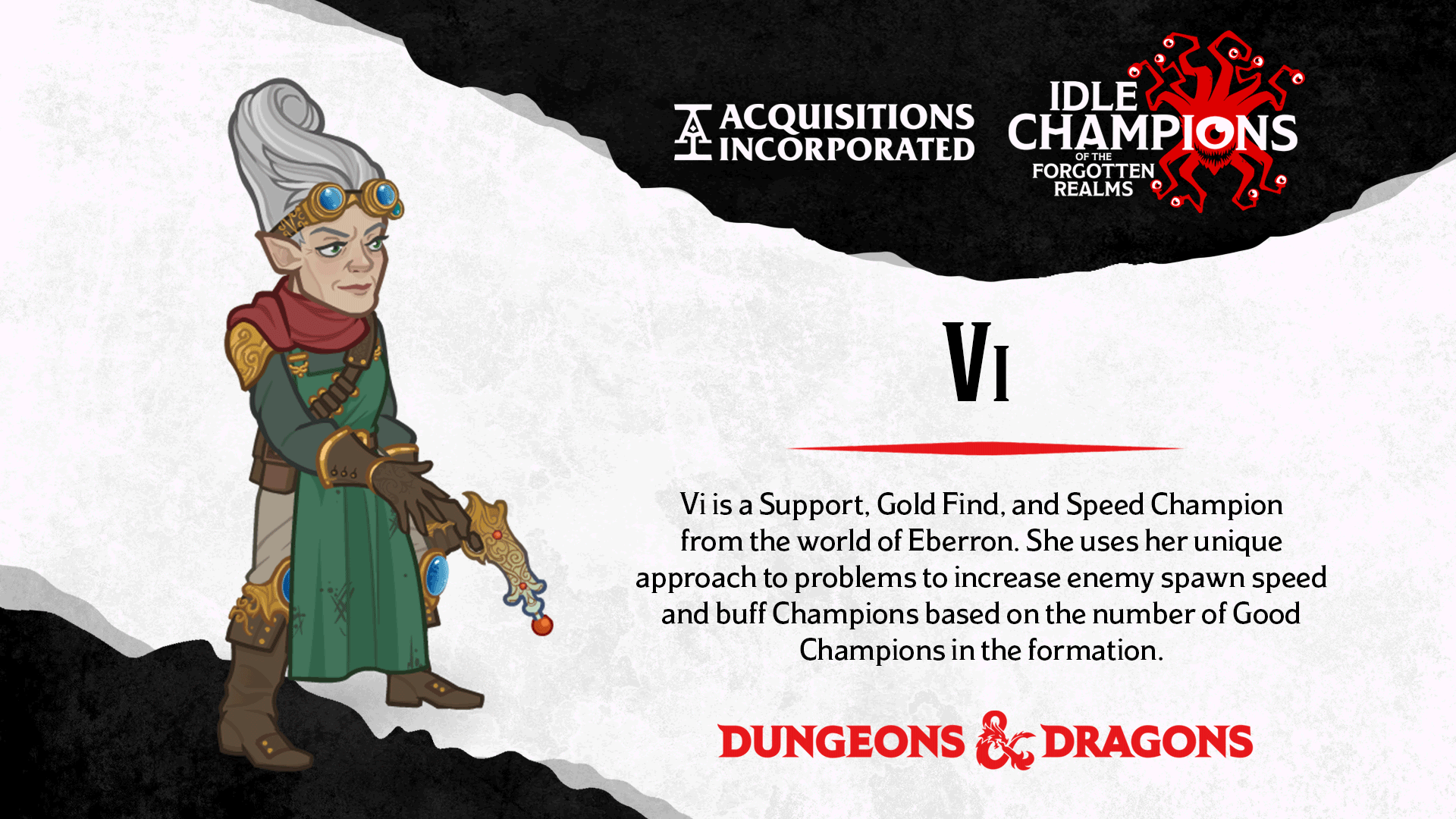 III. Vi's Design
As the Principal Rules Designer for Dungeons & Dragons,
Jeremy Crawford
has helped craft much of the D&D content fans know and love, and as the Dungeon Master for Acquisitions Incorporated he's lead the liveplay games in moments that range from hilarious to touching. So it's no surprise that he has used his plethora of knowledge and experience to draw upon when creating characters filled with warmth, intelligence, and sass! He's played Vi in a variety of livestreamed games, and she's appeared offering information in
Eberron: Rising From The Last War
.
Vi does her best to assist people on various worlds learn to help themselves, and believes she can encourage others to use their talents and skills to fix problems throughout the multiverse. So she tries to set
A Good Example
by surrounding herself with other good Champions to help Neutral ones do more damage. If there are only a few enemies left, Vi will gain some
Sass
and decide
I'm Too Old For This #*&!
, impatiently waiting for her friends to finish the final creatures off. In a flourish of brilliant artificer engineering, Vi's Ultimate Attack is an
Arcane Cannon
in the shape of a massive metal Cockatrice!
For more information on Vi and her abilities, check out her
Champion Spotlight
!
Year Five Variants

Adventure Variant 1: Timing is Everything — Vi starts in the formation. She can be moved to other slots, but she can't be removed from the formation. Vi's Arcane Cannon ultimate starts out unlocked. All Champion Base Attack cooldown speeds are increased by 8 seconds. If you activate Vi's second use of her Arcane Cannon ultimate in the last 5 seconds of the ultimate's duration, its cooldown is immediately reset.
Complete Area 75.
Getting to know Vi: Vi's ultimate has a second stage that you might lose if you forget to activate it. Learn how to get the most out of it!


Adventure Variant 2: Time For a Good Hug — Vi starts in the formation. She can't be moved or removed from the formation. You can only use Neutral (on the Good/Evil axis) and Evil Champions that have the DPS role, and you can only use Good Champions that have the Support role.
Complete Area 125.
Getting to know Vi: Vi likes formations where you surround a neutral Champion with good ones. Figure out how to use it to your advantage!


Adventure Variant 3: Double Our Efforts — Two Explorers join the formation. They deal no damage and can't be moved. Good Champions deal no damage with their base attacks. All non-boss area quest requirements are doubled, twice as many monsters spawn with each wave, and monsters drop half the amount of gold.
Complete Area 175.
For information on previous years' variants, check out the
Grand Revel 4 blog
. And if you have feedback, let us know in a Community Q&A or Champion feedback post on the
Idle Champions Subreddit
, on the
Steam forums
, or on the
Official Idle Champions Discord
!