You are amazing. No, really. Every one of our players is awesome. That awesomeness has lead to one awesome player nominating another awesome player for this month's player interview.
Zodi is a Crusaders player who has created one of the most popular fan-created resources for other fans since the launch of the game:
Zodi's COTLI Spreadsheet.
In Zodi's own words, "This spreadsheet is specifically meant as an on-line resource for COTLI players to learn about the game and crusaders they have or want to collect." It's a free Google spreadsheet available to anyone who wants a little more help in getting the most out of the game.
We spoke with Zodi to find out more about this labour of love.
Please tell us about yourself (name, background, location) that you're comfortable sharing.
My username is ZodiPhd, I live in Wisconsin, and enjoy working with spreadsheets and databases.
When did you start playing Crusaders of the Lost Idols and how did you discover the game?
I started playing COTLI in March of 2016 just looking for an on-line game through the Big Fish platform. I wasn't sure I liked it at first because I didn't understand the goal of the game. This was the first time I was exposed to the "idle" game genre. I played for a few hours, then left the game for a few weeks.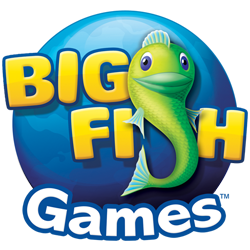 When I got a bit bored with other games, I came back to COTLI and was surprised to see the game picked up where I left off. I decided to continue playing and then started paying attention to the chat.
What is it about Crusaders of the Lost Idols that keeps you playing?
The chat was fairly quiet back then, but occasionally I'd see someone post a tip and, soon after, I started asking questions. The friendly chat and informative answers from other players is what kept me going. Once I understood the goals and started advancing in idol collecting, the game became a bit addictive. We, in the Big Fish chat, fondly call it "idol fever." LOL
What was it that inspired you to create your spreadsheet?
Over several months of playing, I started keeping track of questions and answers, as well as learning tactics and strategies for making the most of the crusaders I had. That led me to start a spreadsheet so I could sift through all that information. I noticed there seemed to be a pattern of questions that all newbies asked. As I became knowledgeable enough to start answering questions myself, I also kept track of those Q&A's. Pretty soon I had enough information for a dynamic spreadsheet that I thought might benefit other new players.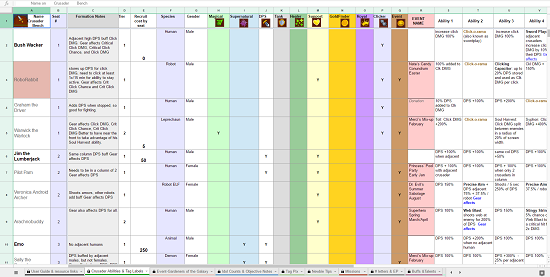 Zodi's Crusaders Spreadsheet can be found here.
I did look into uploading it into the wiki, but wiki only accepts static tables. However, I found out that Googledocs did allow for multiple users (max 200) to share the spreadsheet, each with their own personal "view." So that was a better option for players that want an interactive experience setting up their objectives and missions.
November 25 of 2016, I contacted Erika via "Help and Support" and told her of my desire to share the spreadsheet with others and obtain authorization or blessing to do so. To my delight, I was told to go ahead. I uploaded the spreadsheet and posted the link in the Big Fish chat. A multi-platform player (she knows who she is and a shout out to her) also posted it in Kong and I had almost 100 views in the first 48 hours! Then the link appeared in the COTLI Twitter feed and the response blew me away and let me know that this is something that players were interested in viewing. Consequently, I started expanding it by adding tabs with more information.
*** Shout out to all the players in the Big Fish Chat, and Erika, who answered my COTLI questions! ***
What was the most time-consuming part of creating the spreadsheet?
The initial time spent on setting up the "Crusader Abilities & Tag Labels" tab and the on-going maintenance for new crusaders.
What kind of feedback have you had from other players who have used the spreadsheet?
I've received amazing feedback from the Big Fish chat players, which makes me feel grateful that others are getting benefit from what was once just a personal spreadsheet.

Do you have plans to make a new spreadsheet or resource for another part of the game?
One player had the idea to start a tab for legendaries, which got a lot of support from others. I said I'd do it only if I got info from others. I have received a lot of information from other players for that tab, another shout out to all of them. But the wiki also has legendary info uploaded now, so I will only finish out the level one info as I get around to editing it. It is an on-going editing process to maintain what's there.
I haven't hit the maximum viewership yet (200 at a time) and I don't need to duplicate all the other resources out there. I mostly wanted a spreadsheet that could sort and filter crusader information to be available on-line, along with event info, general info, tips, tactics, and strategies. However, if someone wanted to pay me to do more, well, I'd definitely consider that!
You can check out Zodi's COTLI Spreadsheet
here.
Zodi has included a guide to learn how to filter and perform keyword searches to get the most out of the spreadsheet.
If you'd like to be interviewed for the official Crusaders blog, email us at
crusaders@codenameentertainment.com.