Actually, the fun is just getting started! It's the first weekend of the third year of
Carnival of Sorrows!
Let's earn ourselves some sweet, sweet new Crusaders!
The following Crusaders will get a buff this weekend starting from today until 12 pm PDT on Monday October 9th.
The Washed Up Hermit - Base DPS +400%
Mister the Monkey - Gold found +100%
Pete the Carney - Bad Joke ability +200%
Queen Siri - Queen's Decree ability +200%
Merci, the Mad Wizard - Deflect Evil ability +200%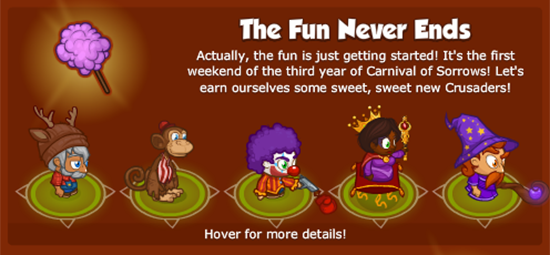 Check out these limited-time Neverending Chests that contain equipment for just the five Crusaders above!
(Only for previously-unlocked Crusaders)